Everest Base Camp is a paradise situated high among the clouds, quite literally. Everest Base Camp lies at an elevation of 5380 m and boasts spectacular views of the mountain giants. Mount Everest Base Camp trek is one of the most famous trekking trails in the world along with Annapurna Base Camp trek, Annapurna Circuit, and Ghorepani Poonhill trek. It holds a special value in the hearts of not only trekkers but people from different backgrounds. A sacred landmark and source of revenue for locals, a formidable conquest for adventure-seekers, a journey to lose and find yourself for casual trekkers, a utopia of diverse flora and fauna for biologists- the list goes on and on. We have prepared a detailed overview of trek to Everest Base Camp trek to showcase the immense beauty of the trek.
Quick Facts about the Everest Base Camp Trek
Trekking difficulty: Medium
Trekking duration: 14-16 days
Trekking traffic: High
Accommodation: Teahouse
Permits: TIMS and Sagarmatha National Park permit
Max elevation: 5545 m
Total estimated daily cost per person: Rs.3,000/-
Guides: Optional
Best of Everest Base Camp Trek




Mt. Everest: At a height of 8848 m, Mt.Everest is the highest peak in the world. Though it may seem weird, you cannot actually see it from the Everest Base Camp. Kala Patthar is the best spot to behold the beauty of Mt.Everest.
Tengboche Monastery: The most famous cultural attraction in the Everest region. This iconic monastery has the most amazing mountain views and is also the location of many traditional festivals. If you visit this monastery at the right time then you can also see skating monks!
Mani Rimdu: Mani Rimdu is a festival to celebrate and recreate major events in the history of Buddhism. It takes place at the Tengboche Monastery. A great opportunity to experience Tibetan and Sherpa culture and tradition.
Tame Wildlife: The wildlife around Everest region is surprisingly tame thanks to the conservation efforts of the National park and traditional benevolence of the indigenous Sherpas. Rare and beautiful wildlife such as Snow Leopard, Red Panda along with common ones such as Himalayan Monal and Musk Deer are found here.
Sherpas: Sherpas are known not only for their courage and high altitude climbing expertise but also their generosity and benevolence. More than being guides, Sherpas are also notoriously famous for charming foreigners with their cheeky humour and befriending them.
When to go to Everest Base Camp

We believe any season, any time is suitable for Everest Base Camp trek. Each season has its own pros and cons. Winter has cold temperature and high snowfall probabilities but the highest density of wildlife, spring has temperate climate but frequent afternoon showers, summer has harsh monsoon rains but beautiful blooming of flora, fall has absolute perfect weather conditions but extremely crowded trekking trails.
Getting to Everest Base Camp

The starting point of Everest Base Camp trek is Lukla. There are many different ways to reach Lukla. The most popular one is to book a flight to Lukla and starting your trek. It takes roughly 40 mins to reach Lukla from Kathmandu in an airplane. Do spare an extra few days to fly to Lukla as flights are highly weather-dependant and cancellations are a regular occurrence.
Alternatively, one can also take a bus to Jiri from Kathmandu and start the trek a little early by walking either from Jiri or Shivalaya,
Another option is to fly/drive to Phaplu and then reach Lukla which will take roughly 3 days walking time.
Hotels and Lodges in Everest

If you think that Everst Base Camp Trek route will be utterly desolate and accommodation will be limited to trekking camps in the middle of nowhere then we have some news for you. Though EBC trek does provide its share of remote sceneries and environment, the infrastructure along the trekking trail has been immensely developed. There are plenty of hotels and lodges; low range, medium range and also 2-3 star quality ones which provide you with the lap of luxury. However if you are going during the peak seasons, do expect a crowded trail. There will be less hassle if you are on an organized trekking group. If you are an independent trekker then be warned that hotels and lodges during peak seasons will be fully packed. First preference is usually given to organized groups so do book well in advance or go during shoulder seasons or off seasons.
Safety Tips while doing the Everest Base Camp
Though trekking is for everyone and does not require special expertise, some handy travel tips will surely help make the whole trekking experience more convenient and less troublesome.
-Invest in a proper trekking bag and research trekking bag packing techniques. You can see our blog article for all trekking equipment needed for trekking in Nepal.
-Wear sunglasses at all times in high altitude snow-covered areas. UV rays easily pierce through the atmosphere and cause snow blindness and eye problems so it is never a good idea to not have sunglasses.
-Include resting days in your trekking itinerary to allow your body to properly acclimatize and prevent Acute Mountain Sickness(AMS).
-Research and respect local customs and etiquettes. Some etiquettes in EBC trail;
Always stand mountainside instead of streamside when passing Nepalese yaks and mules.
Keep Mani walls and chortens to your right when you pass them.
Avoid giving money to begging children. You can instead donate to local charities or development organizations.
HoneyGuide Everest Base Camp trekking app also has a whole cultural etiquette section which covers major culture and etiquette along the trekking route.
Mountain seen during the Everest Base Camp Trek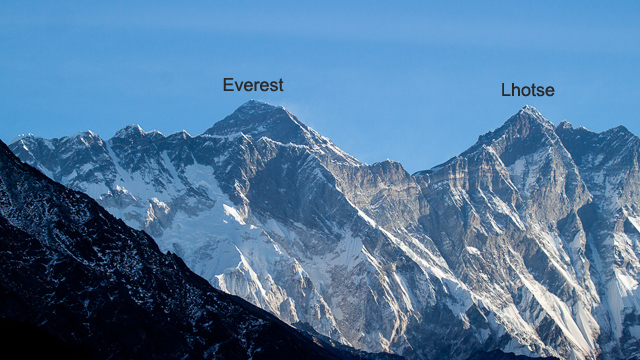 Mountains are the main stars of the Everest Base Camp trek. A whole variety of mountains are found in the Everest region; photogenic one, sacred ones, high peaks and the dangerous ones. We have selected some major mountains in the Everest region;
Mt.Everest
The name Everest speaks for itself. Known as the world's highest peak, Mt.Everest was formerly known as Peak 15 among surveyors and as Chomolungma(Mother Goddess) among Tibetans and Sherpa. It was first climbed by Sir Edmund Hillary and Tenzing Norgay in 1953 A.D.
Lhotse
Lhotse(8516 m) is the fourth highest mountain peak in the world. The southern part of this mountain boasts one of the most impressive sights in the Himalayas. It was first climbed in 1956 by a Swiss team.
Khumbila
Khumbila(5761 m) is considered as the most sacred mountain in the region. A popular rumour about this mountain is that Guru Padmasambhava(a historical and significant figure in Buddhism) himself meditated in a hermitage in its southern slopes for three days. An interesting fact-Khumbila is represented anthropomorphically as a white horse rider. Due to the reverence people have for this mountain, climbing is strictly forbidden.
Cho Oyu
Cho Oyu translates to 'Turquoise Goddess' in the Tibetan language. It is the sixth highest mountain in the world. It is popular as being the easiest mountain to climb among the eight-thousanders. It was first climbed in 1954 A.D by an Austrian team.
Ama Dablam
Ama Dablam means 'Mother's Necklace' since the ridges coming from the peak resembles the arms of a mother holding a child and the shape of its glaciers resemble a necklace. It is a favourite among photographers as it boasts the most photogenic sights in the Himalayas. It was first climbed in 196 A.D by members of a scientific expedition led by Sir Edmund Hillary.
Animals and Plants seen in Everest

Flora found in the Everest region changes in relation to rising in altitude. In the lower altitudes such as the route from Lukla to Namche, Blue Pine dominates the region along with tree rhododendrons. Namche onwards, Blue Pine is replaced by Silver Fir which in turn is supplanted by the Himalayan Birch around Tengboche. With the hike in altitude, dwarf rhododendrons and dwarf junipers steal the show which ultimately leads to an almost desolate landscape.
Fauna in the Everest region is famous for being tamer than other popular trails such as Annapurna Circuit, Annapurna Base Camp, Dhaulagiri Circuit, etc. Since the Everest Base Camp trail also ventures into the Sagarmatha National Park, one can see a great variety of wildlife. Himalayan Tahr, Musk Deer, Common Leopard, Himalayan Monal, Blood Pheasant, Himalayan Griffon are common sights. However, rare species such as the Snow leopard, Red Panda, Golden Eagle, etc are only for the lucky ones.
The diversity of flora and fauna is so huge that one can write a whole book about it. In fact, HoneyGuide has done something along those lines with the innovation of 'Placecards'. Placecards are packets of relevant information about flora and fauna, in context to time and place. Just go trekking with Everest trekking app by HoneyGuide apps and you will experience the usefulness of 'Placecards'. If you are planning a trek to Everest Base Camp and want some personal advice, then HoneyGuide organizes weekly trekking briefings on Everest trek and other popular trekking trails.