We at Honeyguide Apps believe in being transparent, providing in detail and precise information while having fun at the same time. We being a travel app company have not restricted our contents on our blog to trekking and travel in Nepal only, rather, we have covered and published wide array of topics which include national/international news, myths and other topics which are just "too cool for a category". Writing blogs and providing fun content for you guys has been an amazing experience for us. We thoroughly enjoyed researching and publishing blogs for you and during this six months time, from publishing our first blog to our latest blog, we believe we have given you some food for thought which we hope was fun for you guys as well.
So without further ado, let's take a moment to relive some of our interesting blogs, talk about some factual data (from our secret arsenal: google analytics which is not much of a secret at all), and celebrate the completion of our six months of blogging. (Phewww! for today at least)
First of all, we would like to thank all of our 19,828 awesome readers from 134 different countries for all the love, support and criticism you have shown. Must admit, this was 'THE' only element that kept us motivated to write the blogs.
We were able to post 73 blogs that included articles, infographics and videos. Our top 5 countries on the basis of the number of readers are Nepal, USA, India, Australia and the UK. Here is a list of some of our blog posts categorized on the basis of number of views:
Bronze Medalist
(Blogs that did well)
Embassy and Consulates in Nepal – Contact Information
– An alphabetically ordered list of the contact information of various embassies and consulates located here in Kathmandu, Nepal so that extra difficulty is not added to an already adventurous trip.
Nepal Earthquake: Heritage Sites in Kathmandu
– Features the status of the heritages in Kathmandu, read this blog for detail information on what is still standing and what has turned into rubbles.
Kathmandu Valley then- Toni Hagen's Photographs
– A collection of Toni Hagen's 1950-57 photographs that were exhibited at Patan Museum, April 4-8, 2015. See the pictures and I bet you will surely fall in love with the exotic valley back then.
History and Origin of Machindranath Temple – Lalitpur, Nepal
– If you love digging the ancient stories and myths, may be this blog and it's related blogs will surely serve you with good information.
Annapurna Base Camp – Introduction
– You can imagine how the Annapurna Base Camp must be even if you have not been to the Base Camp yourself. And even if you have been there you will surely get nostalgic. This blog explains the beauty of Annapurna as it is.
Kirtipur, Nepal
– A city of glory, rightly so, as it encompasses many beautiful vihars, chaityas, temples and age-old buildings. Anyone who admires a location with rich history, mythical stories, good food and interesting structures will love Kirtipur for sure. Go through the blog for details.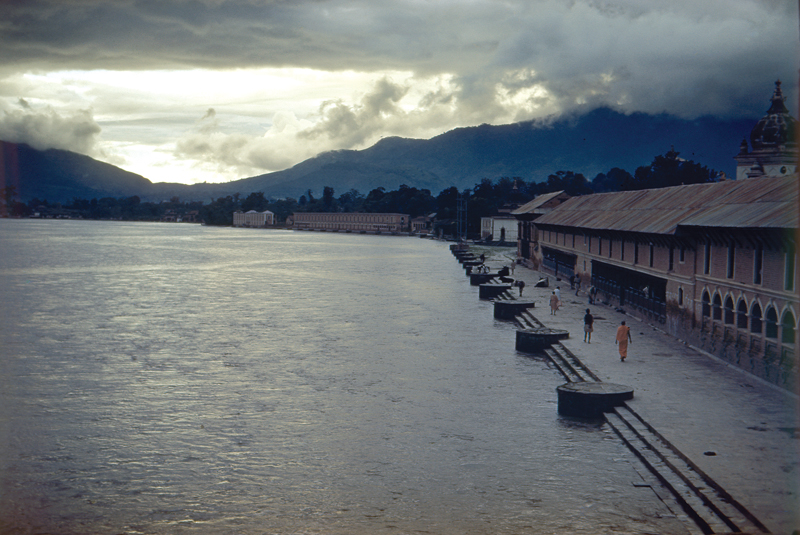 Bagmati river near Teku, Kathmandu by Toni Hagen
Silver Medalist
(Blogs that did very well)
10 Things Women Should Know Before Trekking in Nepal
– Some advice that one can take as a woman before and during a trek that can help avoid bad or awkward situations that only a women may face
Local Drinks Of Nepal
– Some of the popular local drinks are listed with the explanation of taste, odour and appearance. If you have the craze for the local drinks of Nepal then this is the perfect blog to read.
Your Guide To Independent Trekking In Nepal
– Highlights the good, bad and ugly part of trekking Independently in Nepal. Planning to visit Nepal independently? You just found a jackpot here!
Everest Base Camp – Best time to go (seasonal breakdown)
– Different colors of Everest Base Camp in different seasons. Everest region has something unique to offer just about every month. It all depends on what you are looking for. Read the blog for detail information.
The Darling Tower of Kathmandu: Dharahara
– In the memory of Dharahara that was destroyed by the powerful 7.8 magnitude earthquake of 25th April 2015. It talks about the history and highlights the interesting facts related to Dharahara.
Langtang- A great Tragedy
– Talks about the level of damages in villages of Langtang valley as seen by reconnaissance team after the Great Earthquake.
Yulin Dog Festival? Ermm…NO! Nepal's Dog Festival is Awesome
– Points out the difference on how dogs are treated in two distinct countries, Nepal and China. Relates the Yulin 'Dog Festival', a 600-year-old annual festival in China which practices mass slaughter of thousands of dogs with 'Kukur Tihar', again a very old annual festival in Nepal where dogs are worshipped and served with good food.
Why Visit Nepal Now? Limited Impacts of Earthquake on Tourist Hotspot
– If you are fed up of reading other blogs on 'Why Visit Nepal Now' with not so detail content then here is a blog with thorough study and a table that list out the affected District and the level of damage with other detailed information.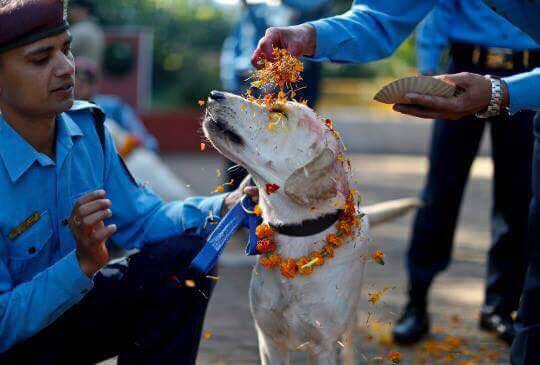 Dog day celebration in Nepal
Gold Medalist
(Blogs that did amazingly well)
5 Weird Things You See Only in Kathmandu
– This is a satirical picture based blog where we have tried to show raw Kathmandu. If you are a local citizen or have visited Kathmandu, you will somehow be able to relate with the pictures.
How Did Pashupatinath Temple Survive the Great Earthquake of Nepal?
– Everyone has their own assumptions about how did Pashupatinath temple survived the earthquake, here we have some information backed with some researched data.
The 8th wonder of the world: Tribhuvan International Airport
– Nepal is a country full of hope and a long wish list: To win a World cup; Football or Cricket you decide, to become Switzerland someday, to actually have a constitution. But the most viable and realistic dream seems to be grabbing the first place in the World's worst airport in 2015. 2015 could be our year folks. Read the blog for some more fun.
5 Local Places to Enjoy Food & Drinks in Kathmandu
– This blog gives you the idea of some of the local cuisines of Kathmandu. It is a first part of the local food and drinks' series. If you have no clue on what you should be eating in Kathmandu, this blog can be your guide.
12 Varieties of Momo – Have You Tried Them All?
– Now this one describes the varities of momos that can be found in Kathmandu, Nepal. Click the link, check it out!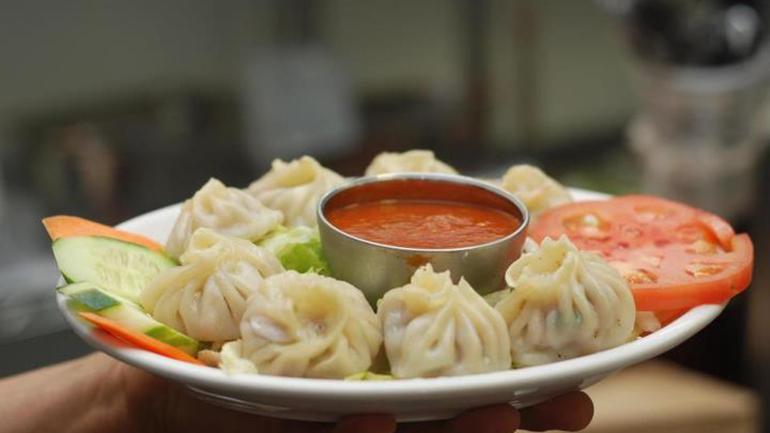 Chicken steam momo with achar and salad
(pic: checkplease)
And this is not the end, this is just the BEGINNING!
Subscribe us and follow us on Facebook, Twitter and Instagram, as we have a lot of interesting ideas and blogs to offer that will cover all aspects for travelling in Nepal and more. So, let's go places together – Let's GO NATIVE with our Honeyguide travel app.