Located at the base of the tallest peak of the valley, Phulchowki, the botanical garden park, open grounds for picnics, lush forest for bird watching and wildlife, the holy sites, along with cool weather attracts many to make it a frequently visited place among Kathmandu residents. In some auspicious days, it easily becomes one of the most crowded place in the whole valley. Among holy sites of Godawari are Godawari kunda, Gauri kunda, Lav kunda & Pancha dev temples, Bishankhu Narayan temple and Naudhara Kunda.
As per the folktales and religious scriptures, the core of all the nearby religious sites is Godawari Kunda while the other mentioned sites are simply seen as secondary ones, at least in practice by the pilgrims numbering thousands. Oldest record of Godawari stretches back to 13th century A.D. during the Licchavi rule. The whole area is named after a famous holy river in India that originates in the western state of Maharashtra and flows into the Bay of Bengal in Eastern India.
Story or Godawari
Its folklore begins with a humble sage and also a cowherd named Gontam, resident of an area now known as Godawari below the mighty hill of Phulchowki. As a sage and devout Licchavi person he revered and worshiped cows profoundly, a common trait and practice during the days of Licchavis which is still alive and well to this day in Nepal. To earn the virtue he well known for his hands-on approach to cow herding and caring for the cow dearly.
On his watch when herding, a cow fell off a small cliff and died. Fearful of being labeled as a cow killer and his fear of consequences from both human and deities he kept looking for omens to guide him in repenting his sins. One night he dreamt of meeting a stranger who suggested him to make pilgrimage to Godawri River in Nashik in India and to cleanse himself of sin. Considering it an omen from God, he set off to the holy site the very next day after performing all the daily rituals.
In Nashik, he took many dips and performed many rituals every single day with utmost conviction. Ganga, Goddess of water, after whom the biggest river of India is named, paid a visit to Gontam. After confessing all to Ganga, she released him from all of his sins. Not satisfied by this, he sought permission to serve her for the rest of his life. Such devotion touched Ganga even more but water is everywhere and hence she is everywhere indirectly suggesting that he could be equally devoted to her from any place he wished to be. Ganga promised to be near his home so he can perform both his sage duties and serve her directly as well. When quizzed on how Gontam would know if it was actually the water from Godawari river, Ganga made a surprising order.
She ordered Gontam to immerse his stoop, pouch, sandals, necklace and forceps into the Godawari and then promised him that it would be returned to him at a place where she would surface from the ground. Before departing she ordered Gontam to change his name to either Gautam or Bahadur Swami (brave sage).
Upon reaching home, he immediately began reshaping his life to suit to his new level of devotion in worshipping and serving Goddess Ganga. One mid-night a loud explosion was heard at Gautam's hut coming from South-east. He immediately headed towards the source of the explosion and to his astonishment he found all the belongings he immersed in Godawari River floating up in a newly formed spring pond.
The area quickly came to be known as Godawari and has been a pilgrimage site to wash off sins of hundreds of thousands to date. While the story is widely believed and historical archives can trace it back to 13th century but many claim that religious texts such Skanda Puran, Padma Puran and Garud Puran, are evidence of its existence since "days the Gods walked the earth".
It must be noted that the story of the origin of Godawari River in India is uncannily similar to this story. It could possibly be inspired from this 'original story' that is mentioned in Shiva Puran
NauDhara
While none of the modern day texts available to HoneyGuide mentions the story of Naudhara in details, there are mentions of it in many such documents but none so far we have encountered has delved into the depths.
A story suggests that after people were granted to bathe in the holy waters of Godawari river of India when leaving Kathmandu valley or modern day Nepal. High priests, sages, kings, aristocrats and the common people began wondering if the same divine act could be bestowed to everybody to bathe in the water of the most popular holy river, Ganga itself. The loose movement, after gathering steam led to a congregation of many highly accomplished sages and performed an intricate ritual to make river Ganga flow from Naudhara.
Still the site remained overshadowed by Godawari Kunda in popularity and religious significance. The complex, as it is today was built during Rana regime in Nepal. To escape the summer heat, many Rana families built houses and mansions in many locations of Godawari many of which still exist today. Juddha Shumsher commissioned the construction of Naudhara in today's form as per the locals.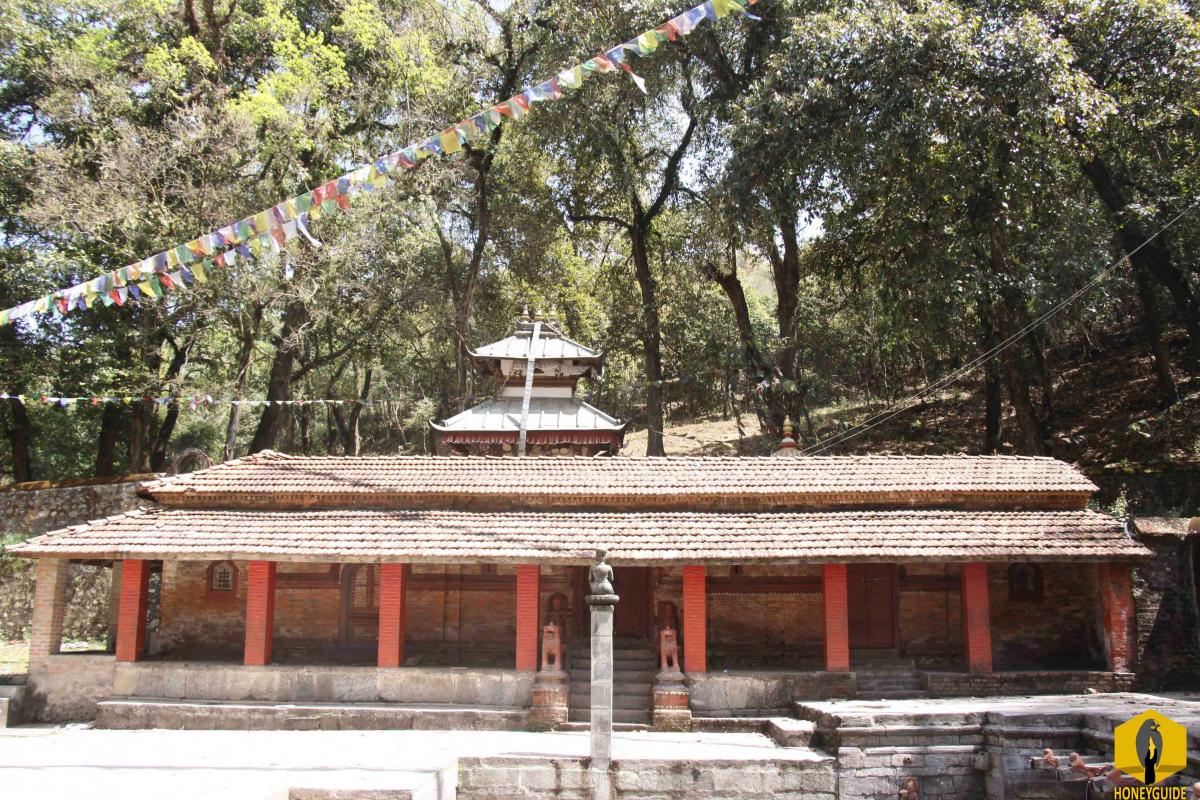 Bhairab temple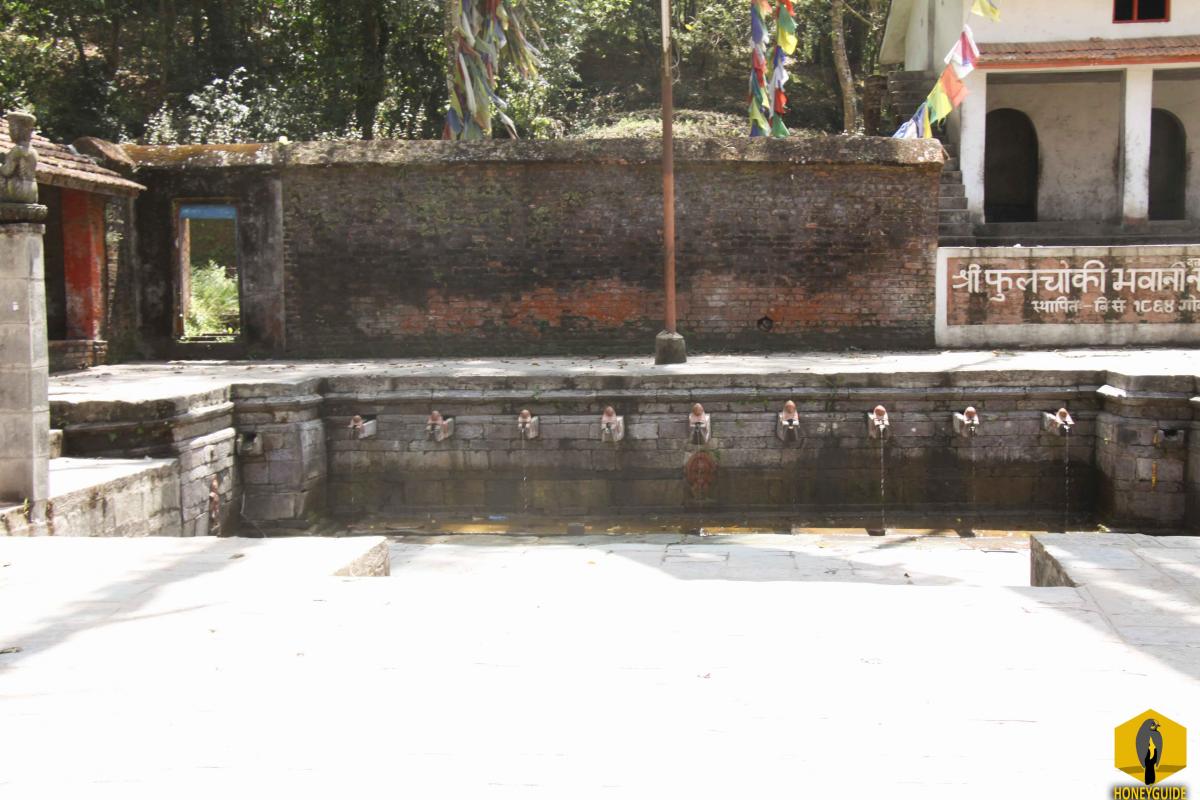 Nau dhara which translates to 9 (nau) tap (dhara)