What would a tourist first conjure in his/her mind when they hear the word 'Nepal'?Trekking-through and through. Nepal has many other attractions such as the birthplace of Gautam Buddha, significant religious and pilgrimage sites, almost every ecosystem found on Earth, etc but trekking or especially mountain trekking dominates the image of Nepal to the world. Nepal contains part of the Himalayas, the highest mountain range in the world. Trekking in the mountain ranges is a superb experience with the moderate climate(in appropriate seasons), breath-taking views, diverse ecosystem and long preserved ancient cultures and traditions. But due to a rather large selections of trails available in Nepal, tourists can and do get confused about which trail to choose. The best trail for a tourist usually depends upon their tastes, available time, budget, physical fitness and expectations among other things. We have also compiled a list of some of the best trails in Nepal. We hope the list helps you select the best trail suited for you:
1. Rara Lake Trail
The Rare Lake Trail revolves around the biggest and deepest lake of Nepal, the Rara lake. Located in Rara National Park(Mugu district), the trail takes the trekker off the beaten path and through black bear and musk deer habitats. The trail is a calm and serene haven specially for bird-watchers as many species of bird can be observed on this trail. Chuchemara Dauda is the best vantage point in the trail from where magnificent views of the deep blue lake, highly forested area and snow-capped peaks can be seen.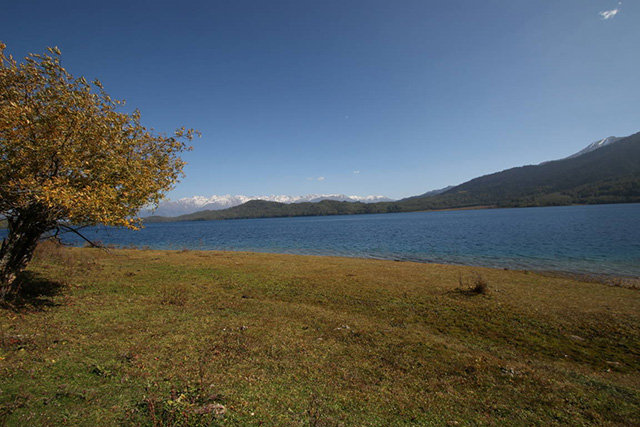 Season
This trail is available throughout the year. However, the time period of December-February is not recommended.
Permits
No special permit is required for this trail but a guide is required to lead through the thick forest areas.
2.Annapurna base camp trail
Annapurna base camp trail leads trekkers deep into the heart of Annapurna mountains with the Annapurna base camp as the target destination. If you plan your trip carefully and reach the base camp during full moon then it will be your best decision yet. Assuming weather conditions permit, the sight of 360 degree view of colossal mountains can be seen glowing under the moonlight; an experience simply inexpressible satisfyingly through mere words. This trek is favourable for trekkers who are short on time as this trek can be completed in 11 days. HoneyGuide apps has also created an Annapurna base camp trek app which acts as a travel assistant with dynamic safety features, comprehensive information of all the lodges along the trail, mountain finder feature and many other significant features.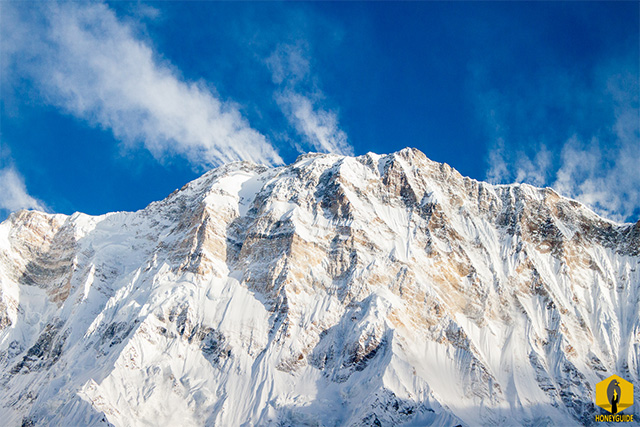 Season
Autumn(Sept to Nov) and Spring(March to May) are the best season to plan your trek as the weather is relatively reliable with temperate climate and clear view of mountains. Winter(Dec to Jan) is unfavourable with harsh climates. Comprehensive information regarding favourable time periods can be found in Annapurna Base Camp trekking app of HoneyGuide Apps.
Permits
Annapurna Conservation Area Project(ACAP) and Trekkers' Information Management System(TIMS) permits are required which can be arranged by a trekking company or personally. Guides are optional but guides are recommended to get a more authentic experience as well as more security.
3.Manaslu Circuit Trek
The superb valleys and breath-taking views of mountains in the Manaslu Circuit rivals any other mountain trail in Nepal. However, since the Manaslu Circuit Trek is a relatively new trail, there is comparatively less crowds of trekkers so one can get an unhindered authentic trekking experience. The main attraction of this trail is definitely Mt.Manaslu, 8th highest peak in the world which can be best seen freely from Larkya Pass.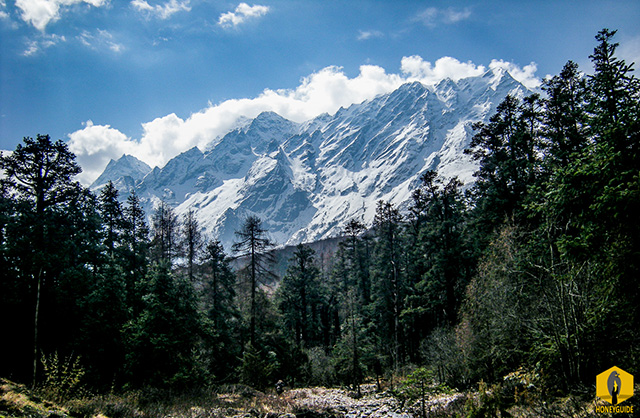 Season
Oct-Dec is the best time period as the mountain views are unobstructed with crystal clear air. But this time period is also the busiest. March-April is also a favourable time period with a temperate climate but relatively less popular and less better than Oct-Dec.
Permit
Minimum two trekkers are required to get a permit for the Manaslu Circuit which includes Annapurna Circuit Area Project(ACAP), Restricted Area Permit(RAP) and Manaslu Conservation Area Project(MCAP) permits.
4.Annapurna Circuit Trek
Annapurna Circuit is arguably the second best trekking trail in Nepal being bested by only Everest Base Camp Trek. The Annapurna Circuit is special for its range of diversity from jungle areas to high alpine forests. Along the trails are ethnic villages which provide authentic close peek into the culture and traditions of local people with the jaw-dropping views of Machhapuchhre, Dhaulagiri, Manaslu, Annapurna, Langtang, etc mountains as the backdrop. HoneyGuide apps is creating a dedicated trekking app for Annapurna Circuit Trek to fully help trekkers on the trail from logistics planning, safety precautions, lodge information and many more features.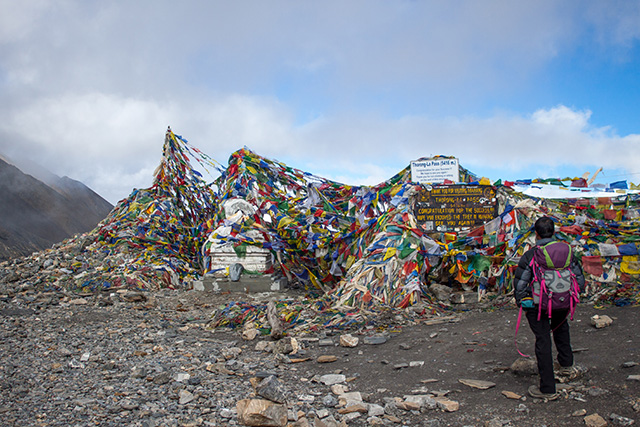 Season
Autumn(Sept to Dec) and Spring(March to May) are the best seasons to go for trek as the weather is relatively more reliable with clear skies and less chances of rains.
Permit
Similar to Annapurna Base Camp trek, Annapurna Conservation Area Project(ACAP) and Trekkers' Information Management System(TIMS) permits are needed for Annapurna Circuit trek. Guides are not compulsory for this trek but they are a much safer alternative.
5.Everest Base Camp Trek
Everest Base Camp Trek is one of the most well-known trail of Nepal thanks to the immense popularity of Mt.Everest, world's highest mountain. The view of Mt.Everest may be the prime attraction of this trek but a relatively less known attraction of this trail is that the wildlife along this trail is very interactive. Along other trails, the wildlife is extremely cautious whereas in Everest Base Camp trek, trekkers can get up and personal with the wildlife. The unique culture and traditions of Sherpa community is also a lasting experience along the Everest Base Camp Trek. Complete information about all the birds, animals, butterflies, trees, mountains and all wildlife and vegetation found in Everest Base Camp Trek can be found in HoneyGuide's Everest Base Camp Trekking app.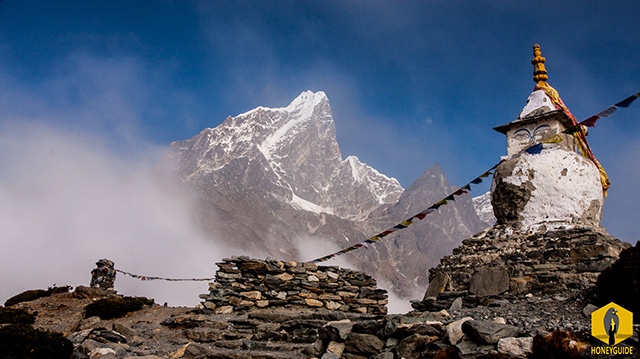 Season
Autumn(Sept to Nov) and Spring(March to May) are the ideal seasons to go for Everest Base Camp Trek with sunny weather and outstanding clear views. Monsoon(June to Aug) is not recommended due to chance of heavy rainfall and obstructed views.
Permit
Trekkers' Information Management System(TIMS) permit is needed for this trek. Guides are optional for this trek. Due to busy crowds of trekkers during peak seasons, trekkers are relatively much more safer on this trail.
6.Kanchenjunga Base Camp Trek
Kanchenjunga, world's third highes peak and Nepal's second highest peak is on a class of its own in terms of beauty and environment. Kanchenjunga range consists of five individual peaks which are considered holy peaks. Kanchenjunga Base Camp Trek can now be done through teahouse basis as Nepal government is prioritizing the infrastructure along the trail so trekkers do not have to camp by themselves along the trail.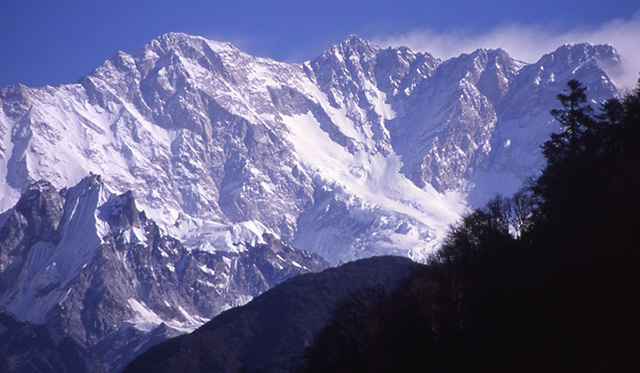 Season
September to November and March to May are the best and busiest time periods for going on Kanchenjunga Base Camp Trek. January and February are not recommended as chances of heavy snowfall and rainfall are very high.
Permits
Atleast a team of two trekkers are needed to obtain the permits which include Restricted Area Permit(RAP) and Kanchenjunga Conservation Area(KCA) for Kanchenjunga Base Camp trek. A registered government authorized guide is also needed for this trek.
7.Ghorepani Poon Hill Trek
Ghorepani Poon Hill Trek is the perfect trek for trekkers who have limited time and do not want to compromise on an awesome trek. The trek's prime attraction is the magnificent mountain views from Poon Hill where trekkers can view multiple mountains from Dhaulagiri range and Annapurna range in one place. Gurung communities along the trail provide authentic cultural experience to travellers with Ghandruk village being the most famous village. Ghorepani Poon Hill Trekking app is also developed by HoneyGuide apps so that trekkers can get all information regarding Ghorepani at the touch of their fingertips.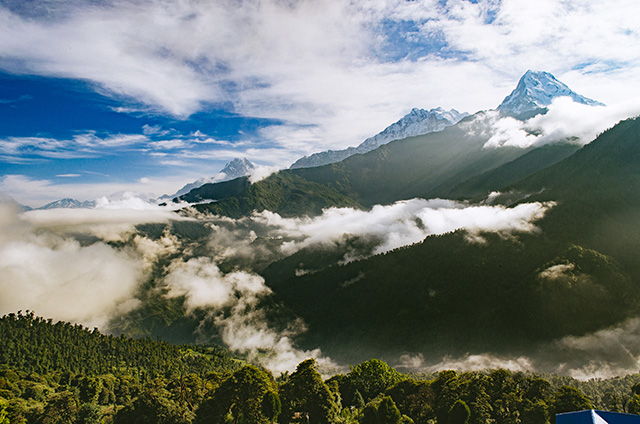 Seasons
Detailed description of feasibility of Ghorepani Poon Hill Trek for every season is provided in HoneyGuide apps. But the gist is that even though Fall(Oct-Dec) is the most famous season, other seasons such as Winter(Jan-March), Spring(April-June) and Summer(July-Sept) are also a possibility though with some additional preparations and some advantages.
Permits
Trekkers' Information Management System(TIMS) permit is needed for this trek. You will need your passport and 2 passport size photos for the permit which can be acquired from Nepal Tourism Board and Trekking Agencies' Association of Nepal. All these information and more details can be found in Ghorepani Poon Hill trekking app of HoneyGuide Apps.