Pasang Salaka Sherpa, popularly known as Instructor Pasang among the Himalayan climbing fraternity, has a hearty boisterous laugh. Disarming and contagious, the laugh is the hallmark of the people of the high Himalayas. It is not the measured and polite laugh of a Kathmanduite or the shy and meek laugh of the lowlands. It is the laughter that shows openness, confidence and love of life that is so characteristic of the people of the mountains. It is part of the allure that keeps bringing adventurers back to Nepal, for in the 15 days in the Himalayas, they get to make believe that life isn't complicated or stressful at all but rather as simple as the laughter they hear along the trails.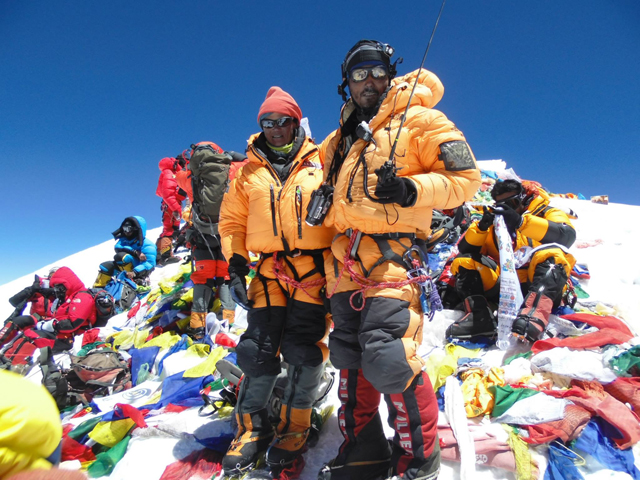 Behind the laugh however is a highly accomplished person. Pasang is one of a few IFMGA certified mountain guides in Nepal, Vice-President of Nepal National Mountain Guide Association (NNMGA), Executive Board Member of Nepal Mountaineering Association (NMA), multiple Everest summiteer and a highly respected climbing instructor. As a guide, he is as knowledgeable about the terrain as about the temperament of the clients. Lively, open and gregarious with his clients, he is the antithesis of the older crop of guides who interact very little with the clients. Also, with his deep knowledge of the land and his endless curiosity, he isn't exactly like the new crop of guides from the cities. It will perhaps come as no surprise that he is a favorite among the travelers he leads and a role model for other guides. However, days weren't always so kind.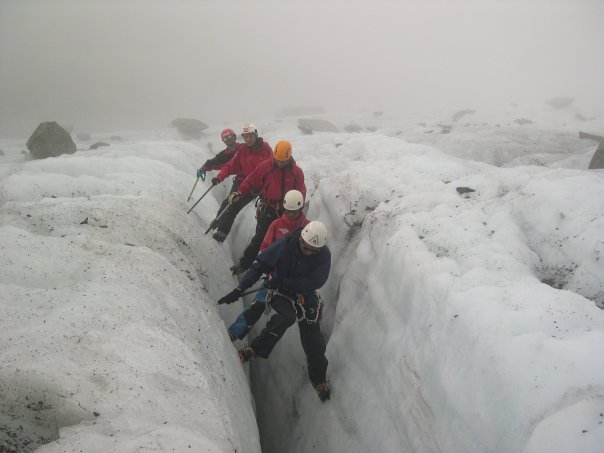 Back in 1989, he started his career as a spare boy, the guy responsible for carrying the daily food ration of the group. Humble as it might be, the lessons he learnt during that trek would be instrumental in shaping his outlook and career. Times were such when the sirdar (the lead guy responsible for all logistical work and staff) and the cook had the ultimate authority. And that became a problem for young Pasang when the cook asked him to kill a chicken for the camp. Since killing is against the Sherpa cultural more, he said he wouldn't do it. Young Pasang tried to make his case by asking how he could kill a chicken when he couldn't even kill a fly? The cook responded with three days of food deprivation when Pasang was carrying a 45 kg load in rarefied atmosphere. Also, as the only crew member who knew English, the trekkers wanted to talk to Pasang in order to understand more about the land and people. This unfortunately didn't sit too well with the sirdar who felt threatened by the spare boy for if he got too close with the clients, the spare boy might be next in line for the job of a sirdar, or so he reasoned. Hence, he did everything in his power to stop young Pasang from talking to the trekkers.
This attitude didn't make sense to Pasang who very simply reasons that if you know something it is your responsibility to teach others and if someone is deserving s/he deserves a break. No wonder Pasang is now an instructor who teaches various climbing courses to aspiring mountain guides.
From 1989 when he was a spare boy to 2005 when he first set foot on the highest mountain on earth, he had to overcome many hurdles. From guiding lone trekkers to running small groups to  managing large groups to a senior sirdar, it was always his dogged perseverance that carried him through. And throughout this journey, the rampant nepotism that so characterizes the Nepali society was his chief hurdle. For example, despite being highly qualified he was denied entry to Basic Mountaineering Course in 1999. Pasang's reply: He climbed Pisang Peak with Polish climbers without pay just so he could learn the ropes (no pun intended of course). He completed the course in 2002 with help from his mentor, late Iman Gurung. Also in 2005 despite having been the preferred candidate to attend the First Instructor Course run by ENSA in Chamonix , he was put in the third spot by NMA. The implication was that he would have to bear a sizeable brunt of the finances. Undeterred, he managed. Finances were a recurring problem to be overcome either through ingenuity or luck. For example, for an Instructor Upgrading Course- Rock Climbing, he used the slip of a friend whose name was also Pasang Sherpa. Having signed up for the course, the other Pasang had to leave for the United States which gave our Pasang a free opportunity. He aced the course with flying colors even though he hadn't signed up for it!! Having 'Pasang' as a common Sherpa name sure has its perks!! Also in the lead up to his first summit bid, Pasang was given Rs. 60,000 to collect gear for himself and he didn't know how much he was getting paid either. He looked at the opportunity as the biggest break he possibly could get in his career and hence monetary compensation and lack of resources was no excuse to turn it down. He would have to manage somehow. Down suit was out of budget; he managed with his own down jacket and borrowed down trousers. He couldn't get the ideal boots in that budget range, so he climbed in boots that was cleared for use only till 8,000 meters. Also despite being the last climber to arrive at Everest Base Camp that season due to strikes in Nepal, he was the first out of 135 to set foot on the summit in the 2005 climbing season. But rather than the summit itself it is the lead up to the summit that is intriguing.
Between Mt. Everest Base Camp and the summit, he helped rescue two people, one a foreign climber who perished at the Ice Fall's popcorn zone and another a fellow Nepali mountain guide who was injured in an avalanche at Camp II. In both cases he didn't have to help as he was leading a Mongolian expedition and neither of the guys were in his group. Actually he shouldn't have helped because his group had arrived at Base Camp last and a lot of work still needed to be done. But he feels grateful that he did, not only because 2005 set the tone for climbing code of conduct in Everest for years to come but also saved his life. The thing was after helping bring down the guy who perished at the Ice Fall, Pasang was too tired to keep up with his original schedule. As such, they had to defer climbing to Camp I by a day. The next day when he got to Camp I, a huge avalanche the night before had flattened the entire area. He remembers how if it weren't for the rescue operation he would have been in Camp I a day earlier and under the avalanche during the night. Also during the two rescue operations he realized that the skill level of a lot of guys who work the Everest route wasn't good enough. Once back in Kathmandu he started work to change that.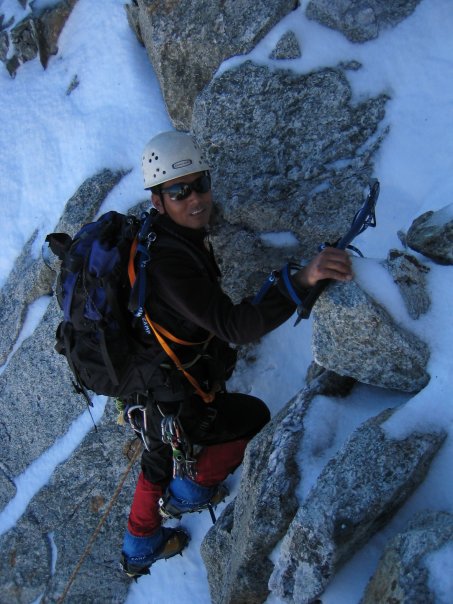 As a member of the technical committee of Nepal Mountaineering Association he made sweeping changes in the NMA training syllabus in 2005 which has made the slopes of the Himalayas safer. The rules until then were very informal. For example, any Everest summiteer could teach mountaineering and climbing courses here. After 2005, only qualified instructors were allowed to teach mountaineering and climbing courses. And as an instructor he has worked hard himself to bring the best techniques to the up and coming mountain guides. He says, "Trainings like these are very important, because going forward guides without certification and practical training will not be able to compete in the adventure market."
However, training is not the only aspect that people in the industry need to be wary about he says. The single most important problem facing the tourism industry in Nepal is cost cutting. Despite the huge inflation in Nepal, the price of travel packages has been decreasing. Hence the people involved are making less money and the quality of service and guides is decreasing every year. If this state of affairs continues, he opines that tourism will come to zero very soon. As a case in point he mentions that back in 1989 porters daily wages was Rs. 72 and on average a porter would  save about Rs 35. Today even when the daily wage of the porters is at Rs. 1200, they barely manage to save Rs. 100. The only money a porter actually takes home are the tips. The only way out of this he suggests is to regulate prices along the trekking regions and put the brakes on the cost cutting. We need to compete on quality not on price he says.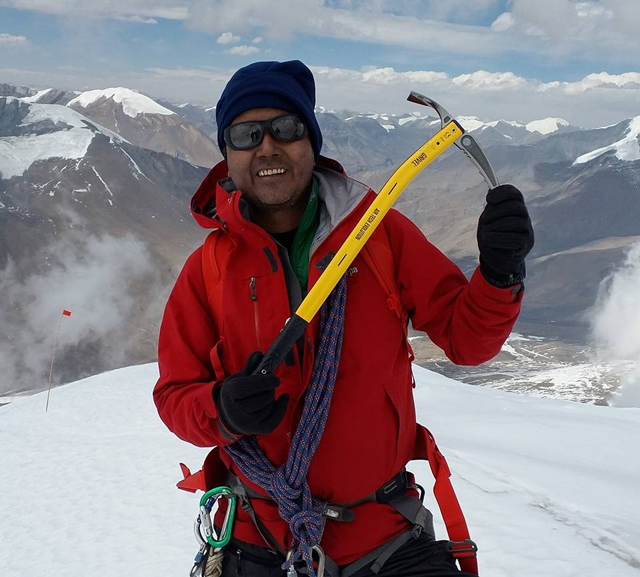 He is also unhappy about how Mount Everest is increasingly being depicted in the media as being very polluted and very dangerous. While he admits the fecal problem in Everest is real, it is blown way out of proportion either in search of a headline or simply to raise funds for one more cleaning campaign. He opines that while this has short term value, in the long term it erodes the overall brand value of the destination. He also takes issue at the depiction of Everest as a dangerous area especially after the avalanche of 2014 in which 16 Nepali guides lost their lives. Sure Everest has become a lot more commercial than it once was, but the number of annual deaths here is markedly lower than Mont Blanc which has better safety infrastructure and larger number of accredited guides. Also consider the fact that Mont Blanc at 4,810 meters is about half the height of Everest and is a good 570 meter below even Everest Base Camp. So why isn't the press all over Mont Blanc rather than Everest? Pasang recalls that during that disastrous season a reporter from a popular newspaper had asked, "Why wasn't anything done to avert that disaster? Why were so many allowed to go into such dangerous territory?". He had answered, "Let us meet up in Kathmandu and let's run a simulation of the slopes of Everest. If anyone can predict what is going to happen in those slopes at what time, then you will have your answer. Will that be alright?". To this the journalist simply replied, "I don't have time for that."
As he recalled this event during our interview, Pasang wasn't laughing any more and his eyes had a bewildered look with a sad tint.
Book Guides directly for your next trek.