May is the end of spring, and as spring comes to an end, the number of tourist starts declining. Pre-monsoon rain invites greenery everywhere. If you enjoy walking in the rain and breathing the greenery, then May is the right time. You will have more variable weather with clear mornings and cloudy afternoons.
Buddha Jayanti, a day when Lord Gautam Buddha was born, is celebrated as a festival in Nepal that falls in May. Also, First of May, May Day, is celebrated as the Labour Day. Adding more on May and Nepal, May has more sunny days compared to rainy ones so it is comfortable to trek in high altitudes including Everest Base Camp Trek, Annapurna Circuit, and Annapurna Base Camp. The temperature in May motivates you to trek in Nepal and enjoy the view of mountains.
Also see Trekking in Nepal in March and April for a better perspective.
Remember trekking in Nepal involves a wide variety of altitude and temperature and conditions can and will vary drastically with the altitude. A helpful rule of thumb is that the temperature goes down 1°C/1.8°F for a 100 m/ 300 ft climb. Check our article on gear for details. Here we have some popular trekking routes' weather condition in May that can be helpful.
Everest Base Camp Trek in May
Edmund Hillary and Tenzing Norgay Sherpa reached the summit of Mount Everest for the first time on 29th May, so it got to be something special of all the month for the Mountaineers. But due to global warming change in the weather condition has been noticed and May has become a month of unpredictable weather.
As all the month is about one promise or the other, May promises the new life for the year. The Fields look greener, calves and lambs are born giving another reason for rejuvenation plus, and men return home from trekking for the Mani Rimdu celebration at Thame in May. There is a ritual usually performed by old and pious to cleanse the worshippers' sin in late May or early June called Niugne rite. It involves meditation, fasting, silence and the circling of the village chortens and mani walls. And, how can we forget about Tenzing Hillary Everest Marathon. The world's highest marathon is one of the most exciting and adventurous trail-run in the world and is held every year on the 29th of May.
Afternoon showers are not infrequent which translates to snow at high altitudes. Increasingly, the weather about this time is getting more unpredictable due to global warming and precipitation for days on end is not unheard of especially from May onwards. Invest in a good waterproof boot. Since flight disruption is very likely, plan in a flexible way, or you can also consider Jiri – Lukla trekking option.
The table below might  be helpful for planning your Everest Base Camp Trek:
Place
Rainfall
Avgerage
Temperature
Minimum
Temperature
Maximum
Temperature
Lukla
(2829 m/9281 ft)
98mm
12.3℃
54.1℉
7.2℃
45.0℉
17.4℃
63.3℉
Namche
(3463 m/ 11361 ft)
55mm
8.8℃
47.8℉
3.4℃
38.1℉
14.3℃
57.7℉
Dingboche
(4483 m/ 14708 ft)
16mm
3.8℃
38.8℉
-3.5℃
25.7℉
11.1℃
52.0℉
Annapurna Base Camp Trek in May
Annapurna Base Camp trekking is an experience for adventurers, beginner and expert alike. ABC attracts almost 70,000 trekkers a year by its dazzling view of mountains. May is late spring so there can be pre-monsoon rain. Be ready for both sunny and rainy day. However, the weather will be warm at lower altitudes and single layers will be comfortable to trek. It will get cooler as you ascend and more layers will be needed.
Out of total trekkers coming to ABC annually passing by Ghandruk about 7% of trekkers come to ABC in April by that route. Annapurna Base Camp trek does not get any 'rain shadow' coverage like other higher parts of Annapurna Circuit and May is a pre-monsoon season so you can expect rainfall in some of the places. This does not mean you are finishing your entire trek on wet clothes as it will not rain every day. Avalanche risk might high check with the ACAP (Annapurna Conservation Area Project) office in Chhomrong for a report on current trail conditions. Plan your trekking accordingly!
Leeches can be troublesome, put on cloth that covers all part of your body and long boots so that you don't become their brunch.
Here is the rough approximation of the temperature:
Place
Rainfall
Average
Temperature
Minimum
Temperature
Maximum
Temperature
Ghorepani
(2970m/9744 ft)
34 mm
13.0℃
55.4℉
6.5℃
43.7.0℉
19.6℃
67.3℉
Ghandruk(1982m/6502 ft)
240 mm
17.6℃63.7℉
11.2℃
52.2℉
24.1℃
75.4℉
Annapurna Circuit Trek in May
High Passes become increasingly hazy and may be obscured by the odd afternoon cloud. At higher altitudes, however, the skies are clear and the temperature pleasant: May is a rather under-trekked month in Nepal.  As the heat builds up on the plains with the approach of the monsoon, trekking at lower altitudes become very uncomfortable, and you may sweat profusely. If you will be trekking for several days at these lower altitudes bring one or two packets of oral rehydration to replace the salt lost.
May is a pre-monsoon season, so if you love walking in the rain this is the perfect time to do the circuit. Out of total trekkers doing circuit annually about 6.13% do it in  April. Weather is mild entire the trekking routes so pack your bags lightly. For details on gear, check out our article.
If you are crazy about numbers here is the temperature you will be passing by:
Place
Rainfall
Average
Temperature
Minimum
Temperature
Maximum
Temperature
Besisahar
(764 m/2506 ft)
277mm
24.7℃
76.5 ℉
18.8℃
65.8℉
30.7℃
87.3℉
Manang
(3517m/11538 ft)
14mm
9.9℃
49.8℉
3.1℃
37.6℉
16.7℃
62.1℉
Jomsom
(2729 m/8950 ft)
11mm
14.5℃
58.1℉
47.6℃
45.7℉
21.5℃
70.7 ℉
Beni
(883 m/2896 ft)
160mm
25.0℃
77.0 ℉
18.8℃
65.8 ℉
31.3℃
88.3℉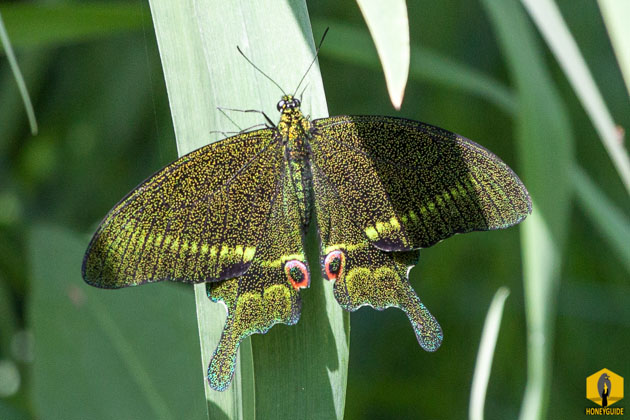 Paris Peacock, a species of swallowtail butterfly.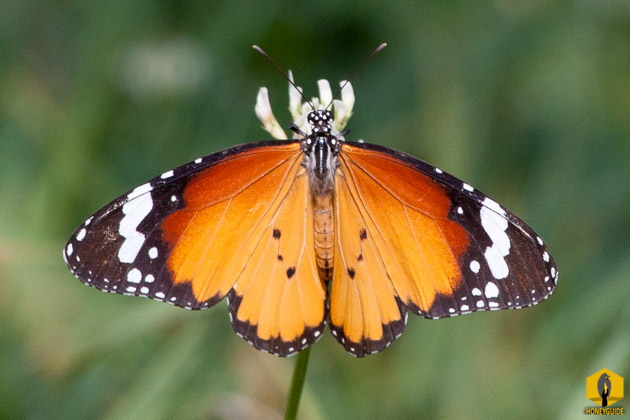 Plain Tiger, also known as African monarch or Danaus chrysippus.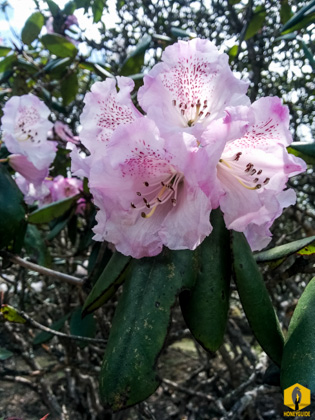 Bell Rhododendron  is a wild species of rhododendron found in the Himalayan alpine regions.