As a known destination for Trekking and Hiking for about four decades, a major pending issue in the Adventure travel industry in Nepal is dedicated products and ensuring services only for women, trekking in Nepal. For anyone even vaguely familiar with Nepali culture, despite its traditional patriarchal value base, it is evident that Nepal easily earns the right to be Safe for Women, especially for foreign travelers.
Adventure travel in Nepal, especially in the remote Himalayas, is naturally and instantaneously seen with masculine connotations. In Nepal's context, even though a substantial minority of trekkers from the early days have been women, the clientele are men in the vast majority. A fact emphasized even today by the lack of women only daily goods kept in shops in various trekking zones. Also being a physically challenging activity, such perceptions are amplified even more.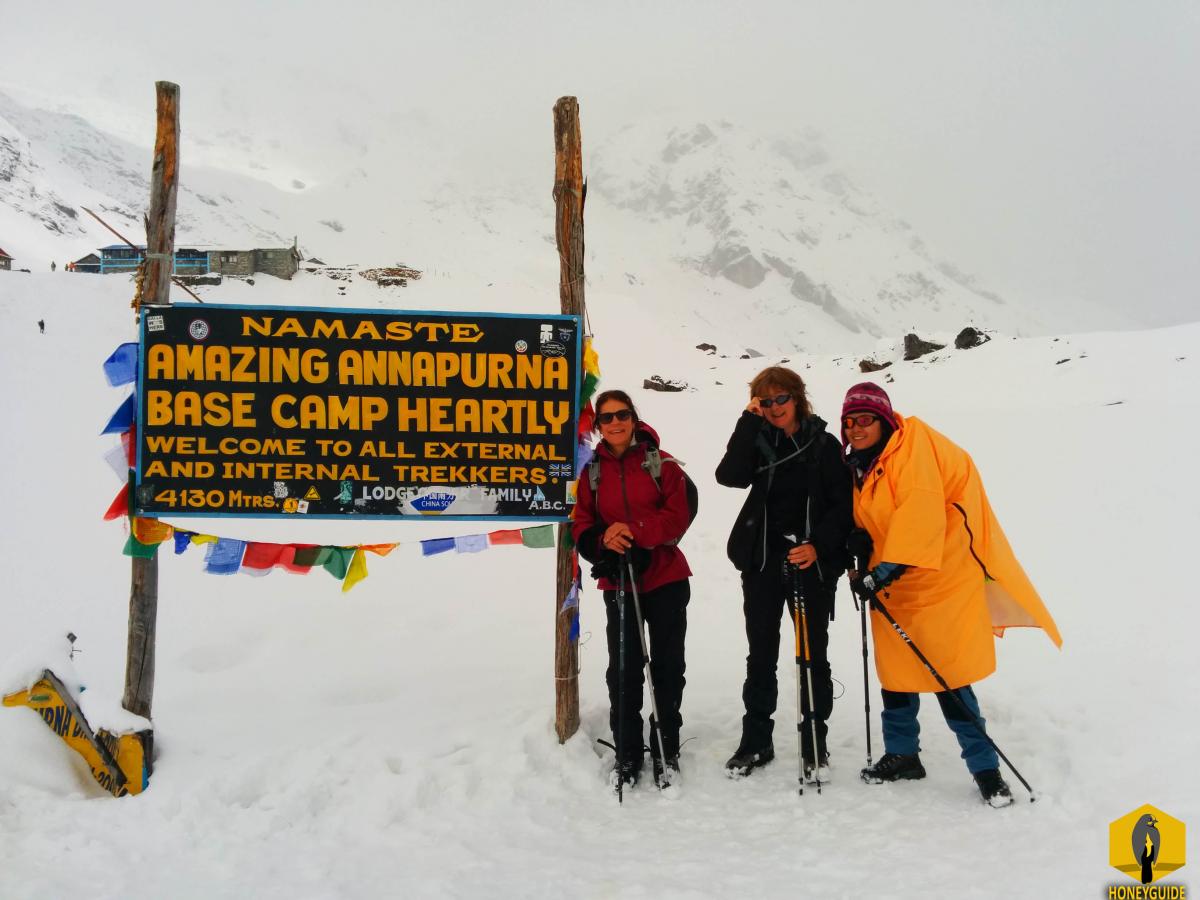 Despite all the lacking suggested above, a large number of women still regularly trek in Nepal, whether trekking independently or, in women only group or in groups with other men. There are literally hundreds of travel companies that regularly cater to such markets. To sum it up, in short, "trekking services in Nepal are suitable enough for women but not designed for women."
Women can and do the trek alone; many such trips are handled by the crew comprised of men only with any negative events or vibes disturbing their holidays. However, there are many measures one can take as a woman before and during a trek that can help avoid bad or awkward situations that only a women may face.
Here are some advices for women trekking in Nepal:
1.     Do Research on the Trek zone:
A no-brainer!! Besides researching on all necessary and unnecessary aspects of a place, do some research on the Internet regarding specific topics, safety for women in Nepal, relevant past incidents, etc. One of the more convenient and effective ways is to search for any past incidents that might be relevant to any given area of the chosen itinerary. Of Course, one needs to put any positive or negative stats into the correct perspective, especially if you are an independent trekker. Whether solo trekking can be done on a particular route is easy to find out. A place with a high number of tourists and numerous lodges, tea-houses, etc will always be more suitable for solo trekking than other trails. There are excellent sources of information available today that make doing such research extremely easy and relatively quick; for instance Tripadvisor.com, thorn tree forum, etc.
2.     Try and Avoid trekking Alone: This could be seen as contradicting to the point above or even the whole article but it's not. Dangers of crime or immoral acts are not the only dangers. Accidents do happen, and it is the danger of not being found in time to get help. Common injuries like sprained ankle or broken bone, especially if they happen in a rarely frequented location or even in a hidden location close to the busy trail, could easily be catastrophic.
This is not to deny a safe possibility for an independent trekking experience, but there are ways to adapt to the situation. Talk to the lodge manager of the place you are staying or even trekkers, or local guides leading other people, etc to find out in advance if there are any lonely or topographically dangerous stretches of trail. If yes, you can always tag along with other trekkers, for the day or just for the bad stretch of the trail. It is a very common practice and if you are lucky, Himalayas could even do a matchmaking for you as every now and again people tend to find Soul Mates during treks.
If you prefer not to trek alone, there are means to find a trekking partner in advance. Sites like Trekbooking.com and Trekkingpartners.com are good options. You can also scour notice board of many Hotel & lodges in tourist zones of Kathmandu, people traveling alone are always looking for partners to trek along with.
Besides the safety issue, having someone to talk to constantly will keep your mind occupied enough to divert attention from all the physical challenges and difficulties of trekking. As a writer with relevant experience, trekking is so much more enjoyable when there is someone to chat with.
3.     Preference for references: If you know people who have experience of trekking solo or just a relevant experience of trekking in Nepal, try to get as much advice from them regarding places to stay and eat. If you do not have such people in an  immediate circle, make an effort to get hold of someone who does. If all else fails, there are many websites with tons of information on such issues. Besides the suggestion on hotel, lodges and restaurants, thousands of feedback usually covers all the immediately relevant topics.
Here are some insightful personal experiences about female trekking in Nepal from Appalachian Trail Girl, Avalon McLean-Smits and Celina, who have tasted the trails of Nepal.
4.     Choosing Guides & Porters: Even for people who love to trek alone, sometimes there are no other healthy options other than to take a guide or a porter along. Especially if you are trekking in one of the less trekked areas (such as Dolpo, Kanchenjunga, etc), lack of basic tourist facilities such as lodges, restaurants, or even people who can speak Basic English, is guaranteed. Solo or independent trekkers usually prefer Guides who also function as porters, in places full of tourist facilities like Everest and Annapurna, solo trekkers can often be seen with porter's only. Obviously, there is where most scrutiny is needed and for obvious reasons.
As suggested in the previous point, the best method is to choose someone who is recommended by people with experience. Many domestic companies also provide guides only services and such options are also usually affordable. It is best to choose reputed companies in such cases; big & reputed companies are lot more reliable in this context than compared to unknown smaller companies as they have a lot to lose from a bad occurring. Sites like trekbooking.com among others also give option to buy guide services only. There are a few companies that cater to women only, like 3 sisters and Malla Sisters.
5.     Drink Responsibly: Probably one of oldest and the most obvious of issues but never gets old!! Not just in Nepal but a universal problem. Rather than the drinking itself, it is the place and the company you drink with that can create problems. If the problem is universal, so is the solution as well. Trekking lodges are like any publicly open place brings in all sorts of people. Although, drinking with people around you can help you strike up a conversation and help you make a new friend or perhaps, even, find you a soul mate but it may be best to avoid places where drinking goes on till late night. If such situation arise in lodges, its best to take your thing to your room. Nepali culture, a more hospitable one in itself, sees less of such harassments and people in Tourism sector are largely helpful in such cases. There are many cases where local community has pro-actively handled such situation to improve tourism.
6.     Dress Modestly: Nepalese women dress modestly and such dressing sense are respected and admired here, in Nepali culture. Don't be center of attraction due to your different attire.  Dress decently and you will be respected which will be very helpful to start up a conversation and keep going. In remote areas it is better to put on long skirts, loose pants and decent shirts and t-shirts, as too much skin exposure is not taken in a good way. Tight pants, trendy t-shirts, fashionable shirts, half-pants and even shorts are cool in city areas but bikini is a no-no in Nepal.
7.     Pack your bag smartly: The key to a comfortable trek is knowing how to pack. Pack in as much as necessary and as little as possible. Too many clothes will create problems; if suggestions from gear list may seem inadequate, take a little extra but keep it as small as possible. Do not load your bag with beauty products you will not need. Moisturizing lotion and sunscreen will do the job. Pack your bag with warm and light clothes, enough socks, comfortable trekking boots, trekking glasses and trekking friendly undergarments. Also wearing long skirts will be helpful if you have to answer nature's call in remote trekking routes. Check trekking gear checklist for more details. Methods of packing bags can be found on the net and YouTube. Even for a trekker with moderate experience, anything over 7 kg for backpack and over 20 kilos for main bag (requires porters) will be problematic. As far as solo trekking is concerned, a backpack is all you carry with all your supplies.
8.     Carry lots of Feminine Products: Common items like tampons along with many other daily goods used by women throughout the world are difficult to find in trek zones, even in the popular and develop trails like Annapurna Base Camp and Everest Base Camp. What such items you need, be sure to bring in adequate amount from your home country or the last city before you begin trekking.
9.     Carry Important Medicines: You may have some allergy or other health issues, carry medicines for all possibilities. Unlike western countries, buying most types of medication is easy and open but as far as medication is concerned it is best not to experiment especially when in remote places. Carry medicines for any type of conceived situations. Carry medicines for menstrual problem, and other general medicines. Try to avoid unprotected sex or have preventive measures packed in your bag.
10.     Don't be Judgmental: Don't bring assumptions fixed inside your head. Other cultures will always seem inferior or alien when viewed with strict pre-conceived ideas. Be empty and decide for yourself rather than believing mere gossips. Step out; Nepal is the best place to start off your trekking experience. People here being generous and humble, you will enjoy trekking experience even if you are an independent women trekker. Nepalese male are decent and helpful leaving some of the misguided ones so don't let doubts spoil your trek.
Women are welcomed courteously in Nepal. They have much more freedom here than in many other countries. Even with so few companies, products and services catering exclusively to women, women trekkers, in general, have never felt insecure despite all the shortcomings. In most trekking areas, lodges are mostly run by women, and even the ones run by men mostly operate with many women employees. There will be lots of such women to help you in case of any issues. Being a Roman in Rome will make a lot of things go easier. Kathmandu, Pokhara, Chitwan and some other city areas, you are safe to go and enjoy late night clubs and bars. But make sure you are with your guide or your own small group for safety measures. Women are respected, cared, loved and given much more priority here in Nepal, it is in our culture by default. You will have an awesome trekking experience and return home with a desire to come back again in your next holiday.