Kalinchowk, which lies in Dolakha district is an increasingly popular trekking destination in Nepal. It is relatively close to Kathmandu (approx. 132 km from Kathmandu) and hence, popular amongst domestic travellers. 'Kalinchowk' is named after a hill-top temple in the area known as Kalinchowk Bhagwati dedicated to Kali (a Hindu goddess associated with power and destruction). Kalinchowk trek is an ideal short trek as the whole trek can be comfortably completed in 2-4 days. It is also a perfect 'warm up' trek if one is planning for more difficult and longer trekking trails such as Annapurna Base Camp trek or Everest Base Camp trek.
Pre-trek information
Trekking difficulty: Easy~Medium
Trekking time period: 2-4 days
Accommodation: Tea house lodges
Permits: None
Max elevation: 3700m
Total estimated cost per person: Rs 6000-7000
Best season: All year round
Guides: Not required
Best of Kalinchowk
Kalinchowk trek is a blend of both biological and cultural attractions. We have compiled the best of Kalinchowk Trek to help showcase the beauty of the trek:–
Kalinchowk Bhagwati Temple
The Kalinchowk Bhagwati temple, a famous Hindu pilgrimage site is the highest point of the whole Kalinchowk trek. This temple, which lies on top of a steep hill is the best spot for the perfect panoramic view of the mountains.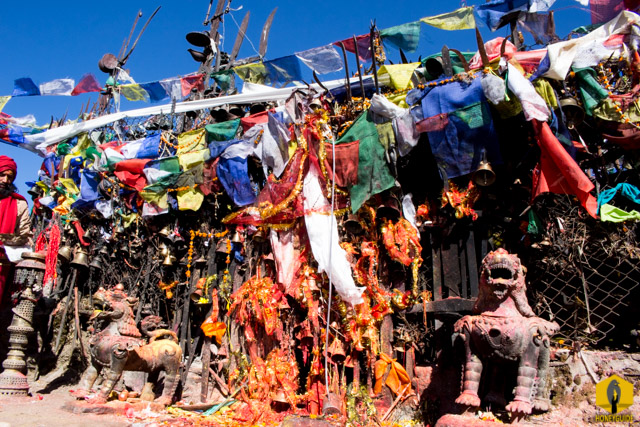 Rhododendron Trail in Spring
The majestic beauty of Rhododendron has the power to awe everyone who lays his/her eyes upon it. Kalinchowk trek gives the perfect opportunity to savor the beauty of various kinds of Rhododendrons like Sunpate (Rhododendron anthopogon) and Tree rhododendrons all over the trail to Kalinchowk. You can also see Bell rhododendron (Rhododendron campanulatum) in Kuri village.
Traditionally, people used rhododendrons as medicine for the treatment of inflammatory conditions, gastrointestinal disorders, common cold, etc.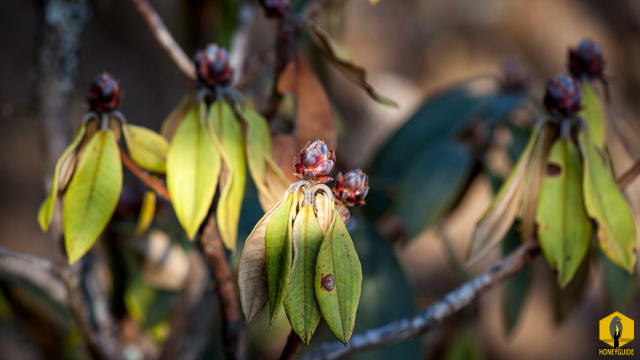 Magnificient Panorama of the Mountains
From the top of Kalinchowk, one can bask in the beauty of the stunning panoramic view of different mountains. Gauri Shankar, Dorje Lakpa, Gurkarpo Ri, Langtang Lirung, etc. are some of the stars of the panoramic scenery.

We have prepared a special treat for our readers with a 'Mountain Finder' for all the mountains seen from Kalinchowk. You can double-click on the image to zoom in.
How to get to Kalinchowk
The convenient route to go to Kalinchowk is to rent a private jeep from Kathmandu and ride directly to Kuri village then hike to Kalinchowk hill. If one starts the journey early, then one can reach Kuri village before nightfall in a private jeep.
Another option is to take a bus from Kathmandu to Charikot, then take a jeep from Charikot to Kuri village. If you take a bus from Kathmandu, you will have to spend a night in Charikot. Since Charikot is the headquarters of Dolakha district, it is adequately developed in infrastructure. Dolakha Bhimsen temple is also a possible side-trip which is about 20 minutes driving distance from Charikot. The trek from Charikot to Kuri village takes around 10-12 hours which can be strenuous. The trail doesn't go downhill at any point and there aren't any hotels or lodges from Deurali to Kuri village, so it is recommended to start the trek in the early morning and reach Kuri before nightfall. The route from Deurali to Kuri village is the best spot for wildlife enthusiasts and birdwatchers.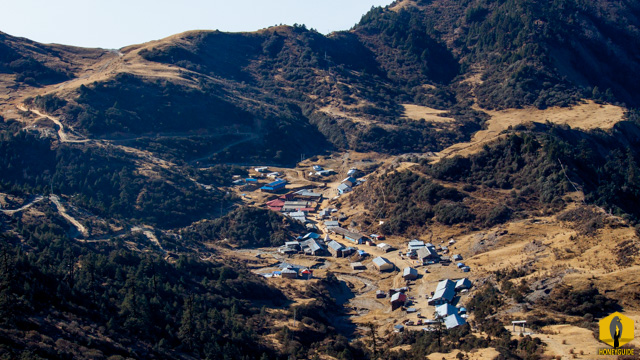 Kuri village
Route
Kathmandu- Mude- Charikot- Deurali Bhanjyang- Kuri- Back to Charikot
Alternate route
Kathmandu- Charikot- Kuri(Kalinchowk)- Dolangsa- Karthali- Barahbise- Kathmandu
One can get buses from Old Buspark with a choice of either public or Super Express bus to Charikot. Araniko Express, Gaurishanker Yatayat, Sagarmatha Yatayat are the regular buses that depart from Kathmandu to Charikot every day. Super Express buses usually leave at 6 am in the morning, but local buses leave in 2-3 hours' time interval.
Daily public buses go from Kathmandu to Charikot. It is, however, advised to inquire about the availability of buses and departure timings before starting the journey. It takes around five hours on a public bus to reach Charikot. The price range of a public bus from Kathmandu to Charikot is Rs.350-400/-. Once one reaches Charikot, you can find off-road jeeps that go to Kuri village. Jeeps regularly traverse in the tourist season. The road to Kuri village was built recently so the ride may get bumpy at times.
Super Express buses provide better convenience than public buses, but they are known to be notoriously punctual. So, if you arrive late then do not hope to catch the bus. It is recommended to reach the old bus park half an hour before the bus leaves. The ticket counter for Super Express is in the north-western corner of the bus park. Word of caution: The bus stops only once in the middle of the forest to allow passengers to relieve themselves then drops them off at Charikot, so it is a good idea to relieve oneself and be comfortable before boarding the bus.
If you are in an organized group, it's better to arrange an off-road jeep from Kathmandu to Kuri village. There are no such jeep or bus counters in Kathmandu which go directly to Kuri village, so one has to rent a private jeep to reach directly to Kuri village.
Hotels and Lodges in Kalinchowk trek
It is recommended to plan and reserve hotels and lodges before you start your journey. If you plan to spend the night in Charikot, then you will have no problem reserving a lodge or hotel as Charikot has abundant facilities of hotels and lodges. However, you may have a hard time if you are planning to spend the night in Kuri village. There are a few selections of hotels/lodges and information about the hotels and lodges in Kuri village are hard to find. Below is the detailed list of most hotels and lodges in Kuri village to help potential trekkers:
Sangam Hotel and Lodge
Contact number: 049-691274, 9844406414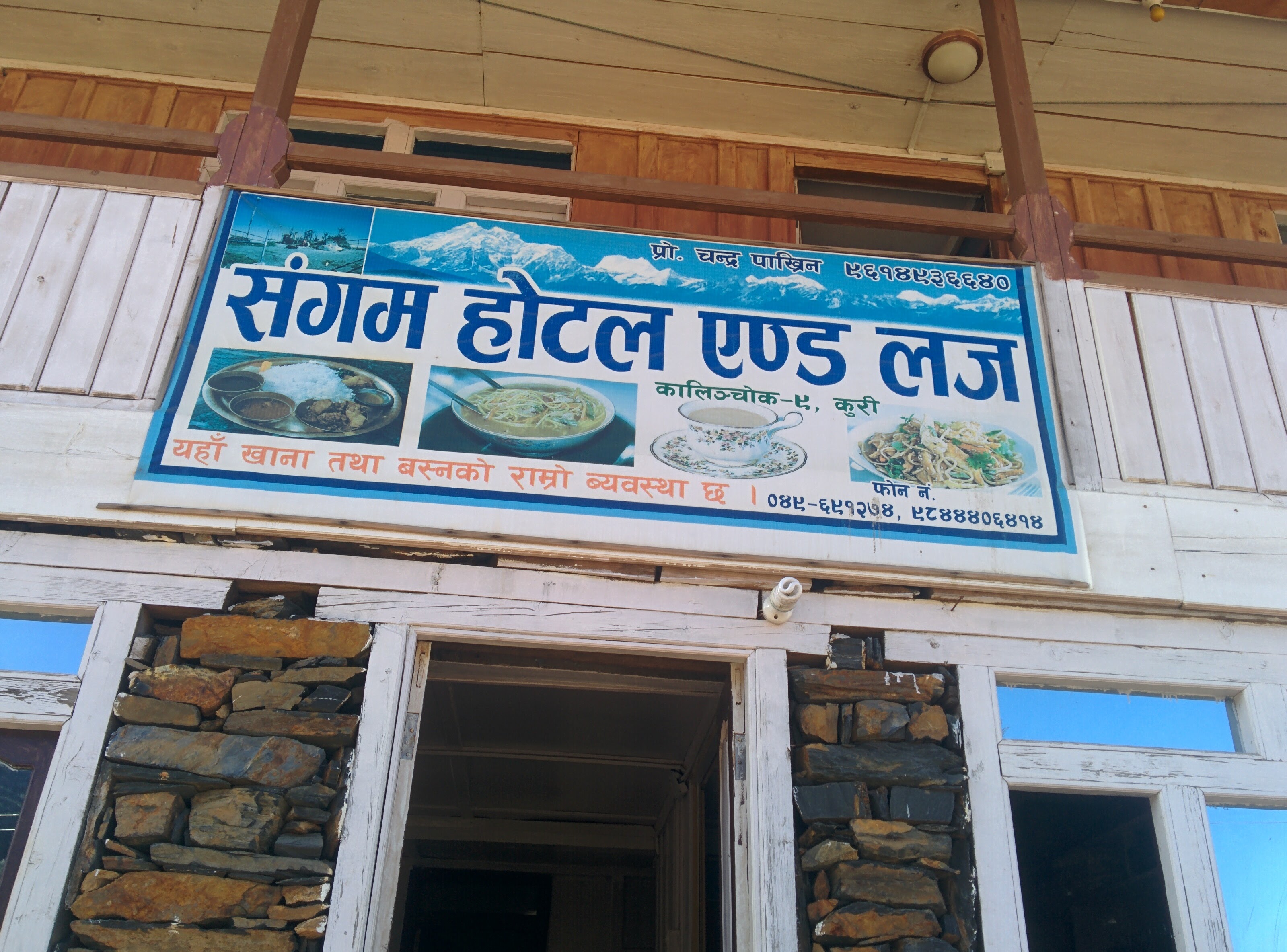 Danphe Hotel and Lodge
Contact number: 9844406858, 9844406864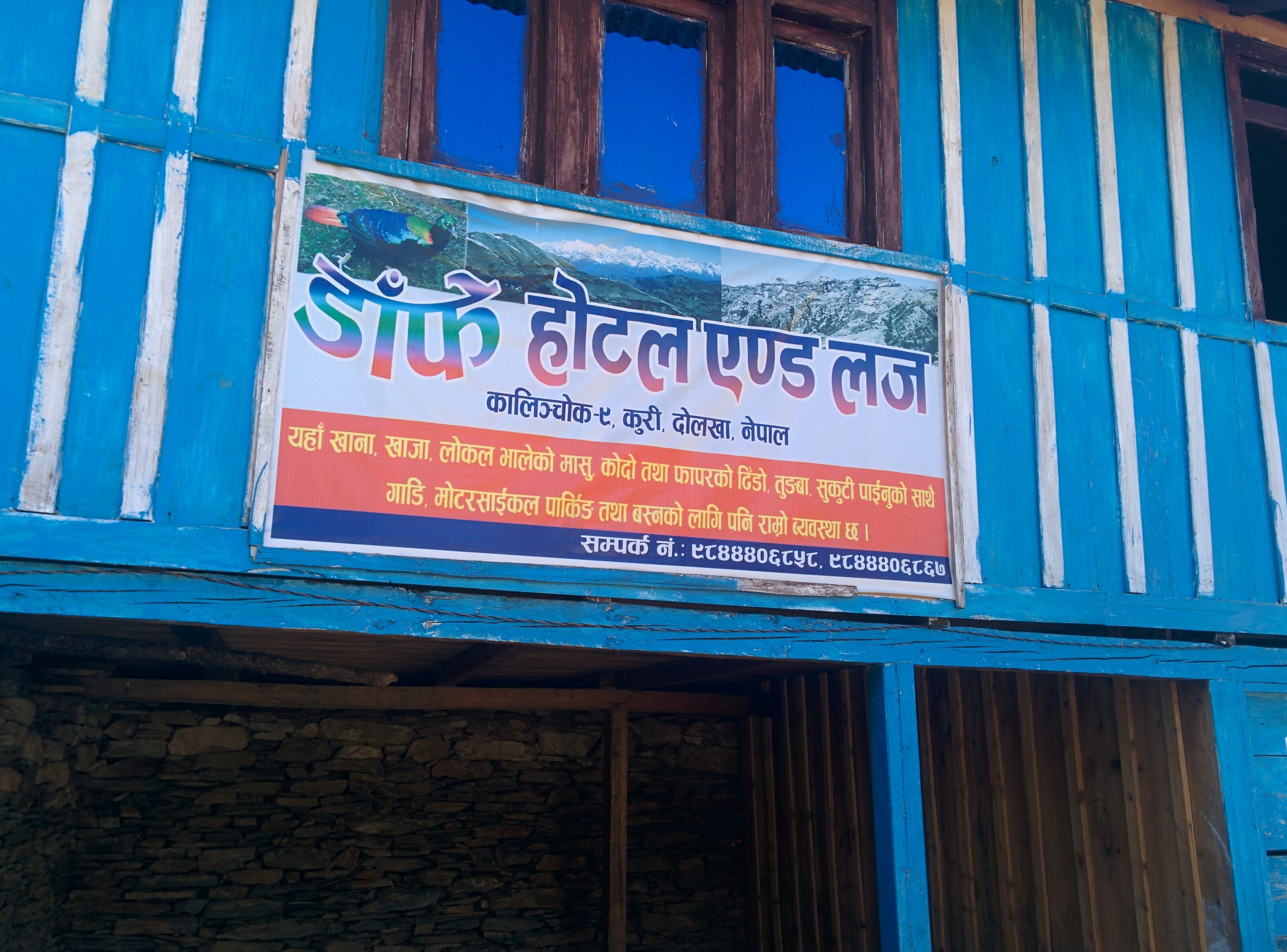 Ganga Hotel and Lodge
Contact number: 9844301480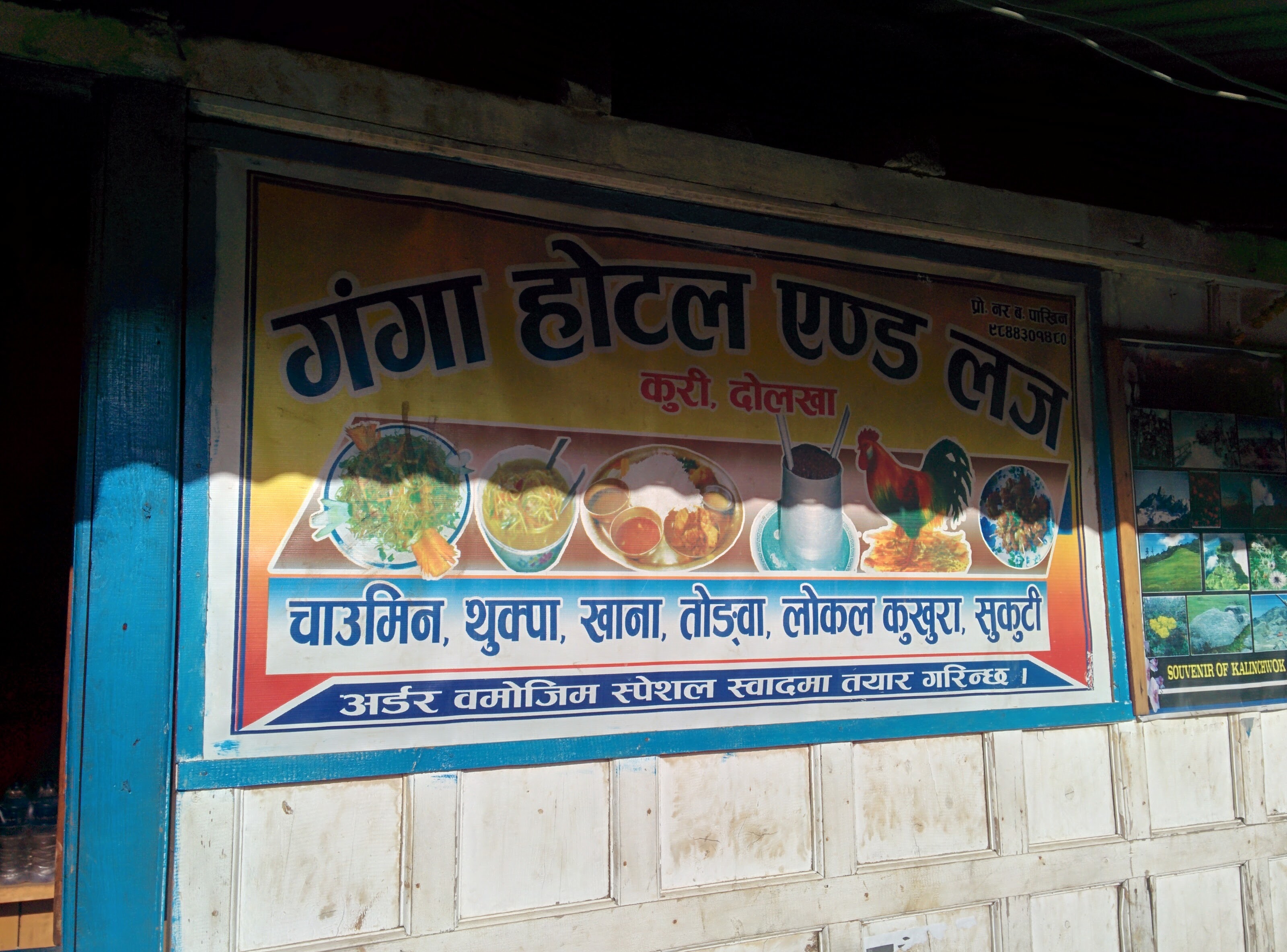 Kalinchowk Country Villa Pvt. Ltd.
Contact number: +977-049-691096, 9844013948
Email address: kcvhotel1@gmail.com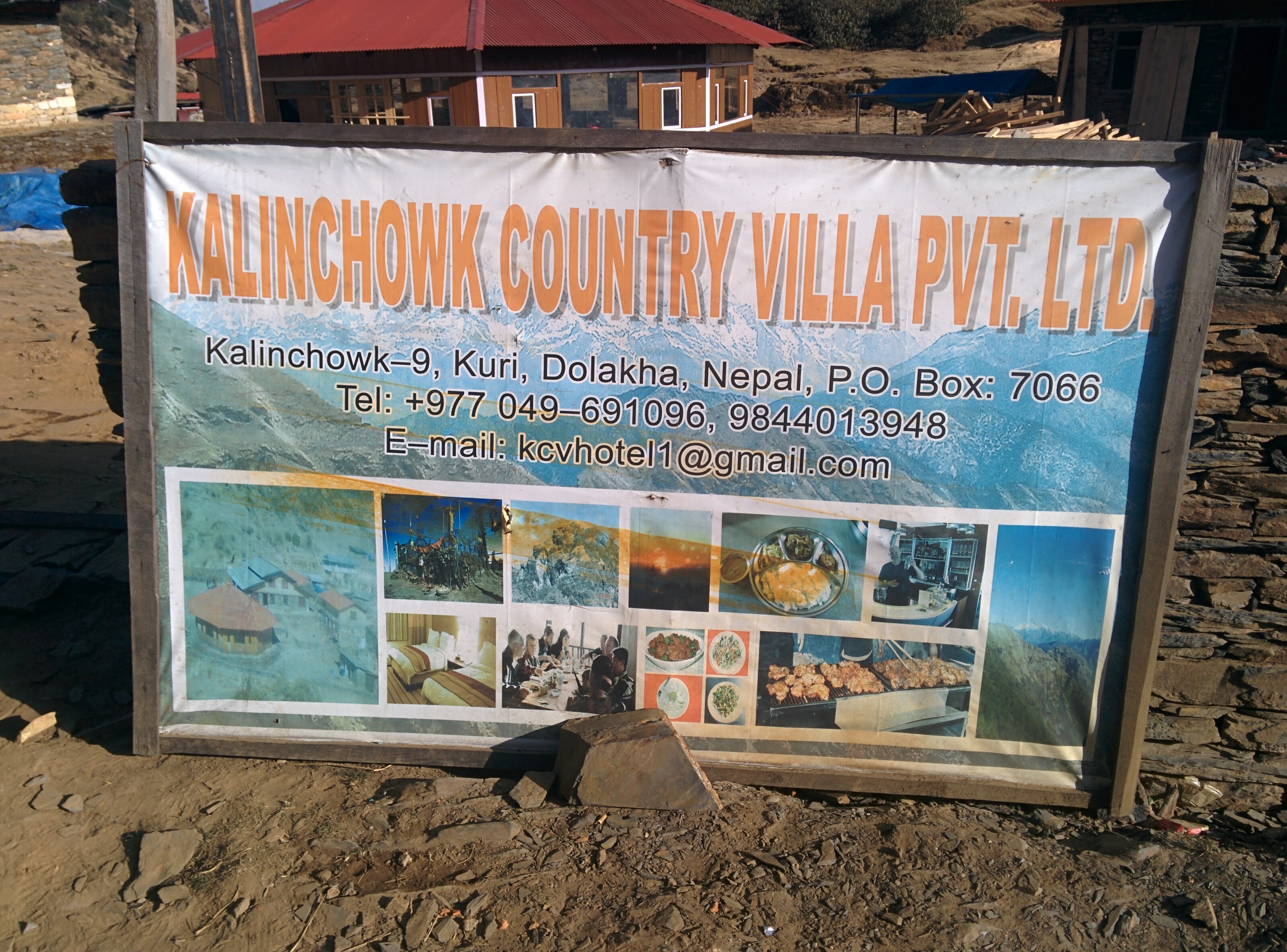 Diki Hotel Pvt. Ltd.
Contact number: 049-691116, 9851071627, 9848050153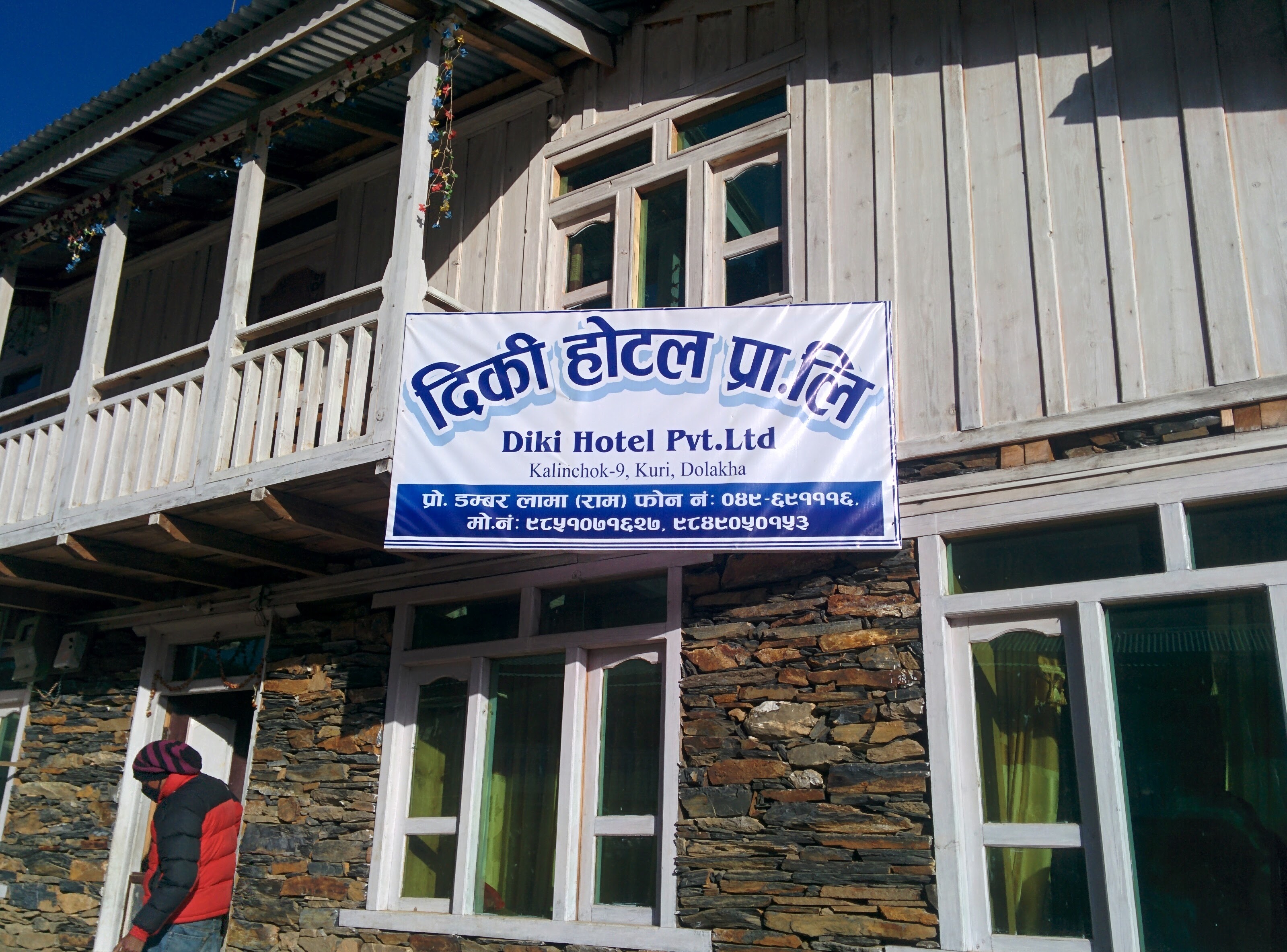 Gauri Shankar Hotel
Contact number: 9844406863, 9614934604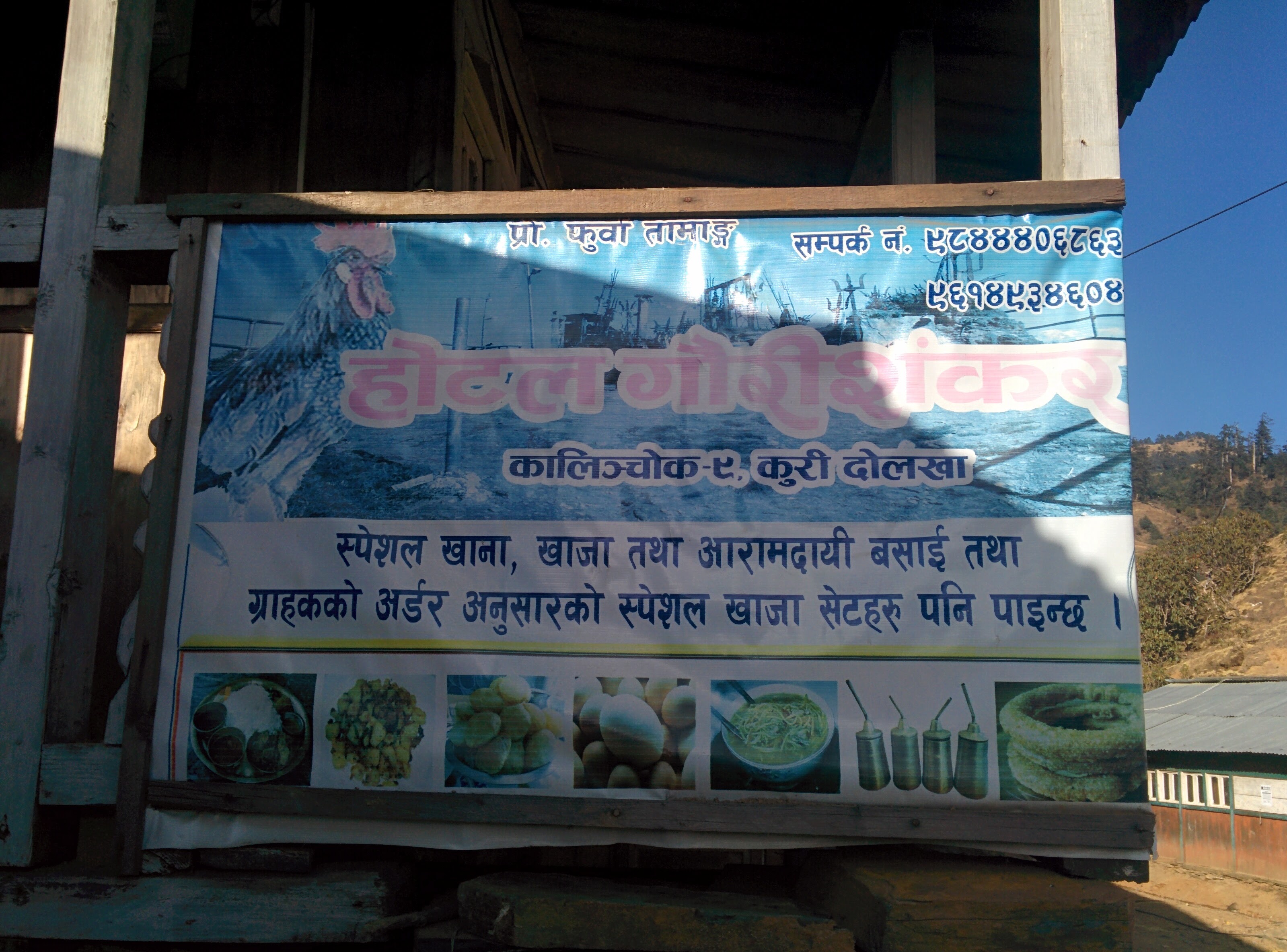 Shri Laxmi Eatery and Lodge
Contact number: 9749004085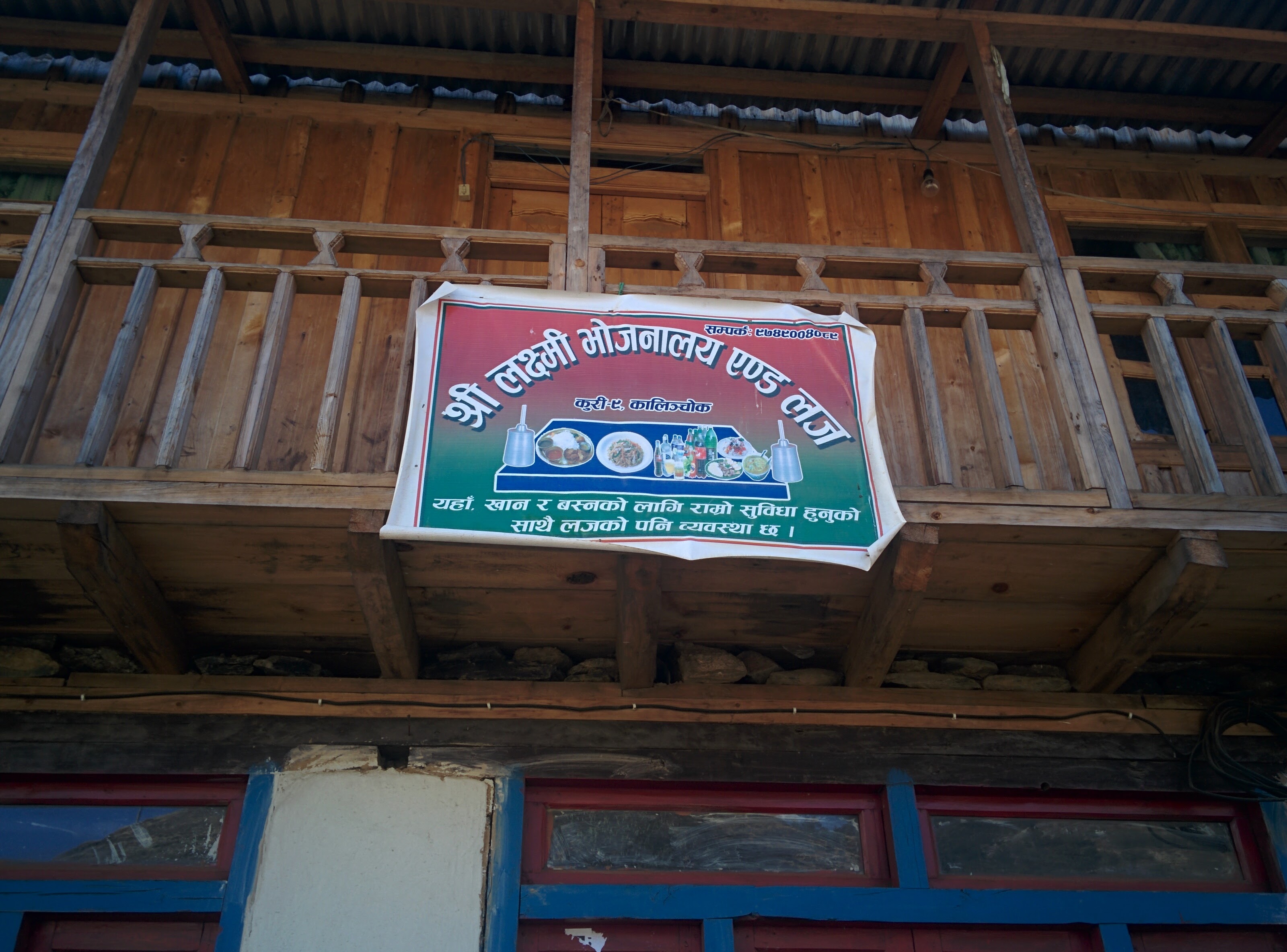 Safety 
Though Kalinchowk is a short trek, one should never compromise on safety precautions. Acute Mountain Sickness (AMS) is a common problem as Kuri village lies at an elevation of about 3450m. At 3,000 meters (10,000 feet), 75% of people have mild symptoms from Altitude Mountain Sickness. If one reaches directly to Kuri village via off-road jeep, then the sudden elevation increases the risk of AMS. Proper precautions for AMS is advised.
Medical facilities in Kuri or Kalinchowk are non-existent so one should take care of all the medical needs in Charikot. The details of some major medical institutions in Charikot are given below:
Tsho-Rolpa Hospital
Charikot, Lamabagar Rd
049-420904
Gaurishankar hospital
Charikot, Lamabagar Rd
049 – 429130
District Primary Health Service
Charikot, Lamabagar Rd
049-421125
Equipment and Clothing
Down jackets and broken-in hiking boots are essential as the trekking trail is quite steep. During the winter season (Dec-Feb), there is a probability of snowfall so gloves, sunglasses, and extra clothing can be necessary. It is recommended to check the weather reports and temperature to prepare suitable equipment and clothing for the trek.
Local Treats
The mountain scenery and Kalinchowk temple aren't the only attractions in the Kalinchowk area. We have compiled a list of relished local treats available in Kalinchowk:
Tongba
Tongba is one of the famous local drinks of Nepal. Famous for being known as 'Hot Beer,' Tongba is essentially brewed millet, but the brewing process is almost waterless. Hot water is added to a traditional large wooden container called 'Tongba' (hence the name of the drink) filled with brewed millet before consumption. Tongba is the perfect drink to warm up one's body quickly during chilly weathers.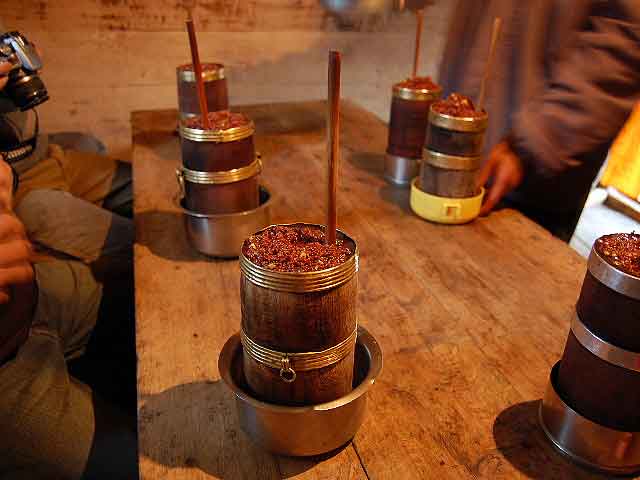 Durkha or Chhurpi
Durkha or Chhurpi is a hardened cheese consumed mainly in the Himalayan regions. It is usually made from Yak milk. Chhurpi is to Nepalese what chewing gum is to the outside world. A small block of Chhurpi, which generally has a bit tangy taste can be savored for hours. Chhurpi can be bought from shops in Kuri village at a reasonable price. Small tea houses in Kalinchowk also sell Chhurpi.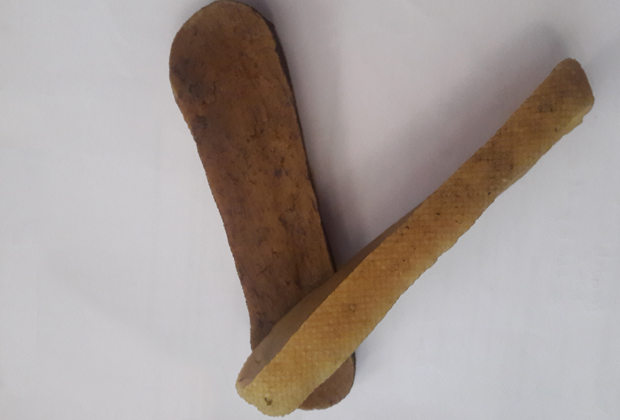 Yak sukuti
Yak sukuti is basically the dry meat of Yak. Since Yaks are only found in the highlands above 3000 meters, Kalinchowk trek can be a convenient option for tasting yak sukuti. It is available in Kuri village lodge settlements.