Annapurna Base Camp trek is one of the most popular trekking trails of Nepal and rightly so. Comparatively less duration of the trail(7-9 days if one wishes) coupled with low maximum altitude of 4120 m, unparalleled mountain views, authentic cultural experiences and diverse wildlife leads to Annapurna Base Camp trek being a haven for amateur or casual trekkers.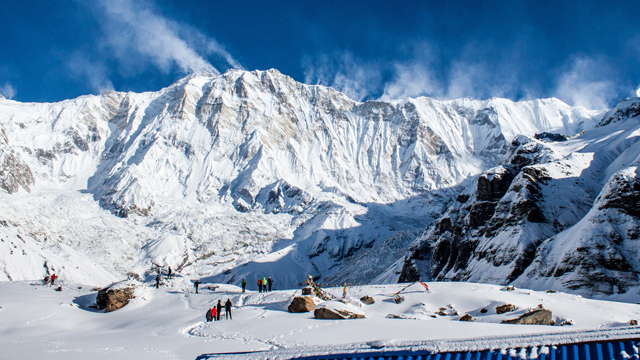 Best of Annapurna Base Camp (ABC)
Mountain scenery is the main attraction point of Annapurna Base Camp Trek. However, there are also several other attractions which are equally incredible to the mountain scenery. These attractions are listed below:
Mountain views during the day while trekking in Annapurna sanctuary are amazing enough but if you plan your trek carefully and reach Annapurna Base Camp during a full moon night then you can witness the majestic mountains glowing under the soothing moonlight.
Chhromrung's Mothers' group organizes evening cultural program which gives a peek into authentic Gurung culture.
During late October to November, raptors mostly eagles migrate westward through Australian Base Camp, a part of Annapurna sanctuary.
Sidetrip to Poon Hill from Ghorepani is an unmissable trip as you can view multiple mountain ranges such as Dhaulagiri and Annapurna from a single spot.
Ghandruk, a perfect place to stop and rejuvenate yourself for the trek ahead, is a picturesque Gurung village which has a calm and serene environment.
Start planning your Annapurna Base Camp Trek.
Post Earthquake Update
The 7.8 magnitude earthquake which struck Nepal on 25 April, 2015 and another 7.3 magnitude earthquake caused huge destruction of both human lives and infrastructure. The aftermaths of the earthquake still make potential tourists unsure about entering Nepal. However, contrary to the devastated image portrayed to the world, the country is still functional and most trekking trails are open and safe. There have been sizeable damage but Annapurna Base Camp trek is still safe as ever after the earthquake. On the basis of Miyamoto's Damage Assessment of Annapurna region along with 'non-expert' assessment by HoneyGuide for missing spots and lack of ground assessment, trekkers in Annapurna Base Camp trek with proper caution are safe.
However, please note that trekking in Nepal is, by its very nature, risky with the dangers of rockfall, avalanche and slope failures always being a possibility. Also, assessments such as those carried out by Miyamoto or HoneyGuide apps aren't an exact science and tend to lean towards the safer side.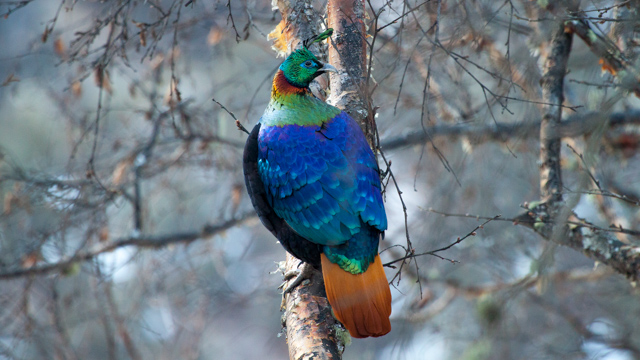 Wildlife in Annapurna Base Camp Region

Wildlife in Annapurna region is diverse albeit wary by nature and as such wildlife encounters are rather rare and fleeting. Placecards by HoneyGuide apps is a tool which perfectly complements witnessing the wildlife by providing right information at the right time to make wildlife encounters memorable and amazing. Placecards are easy-to-access and needed information platform about wildlife, culture, and environment. Some of the captivating wildlife found in Annapurna region are as follows:-
All six species of Himalayan Pheasants; Himalayan Monal, Blood Pheasant, Satyr Tragopan, Koklass Pheasant, Kalij Pheasant and Cheer Pheasant.
Clouded Leopards; considered an evolutionary link between big cats and small cats, endangered species and tough to breed in captivity.
Himalayan Giant Honeybee; world's largest honeybees and Gurung honey hunters are equally famous who risk their lives collecting the honey from honeycombs in precarious overhangs.
Himalayan Tahrs; During breeding seasons, males use their horns as weapons during vicious fights which often end in the death of one or both the competitors.
Mountains in Annapurna Base Camp Region
Mountains are the main reason for people trekking in Nepal. Spending time amongst these giants of beauty is the dream. Annapurna region has its fair share of these amazing giants, some of which are tough, some easy going, photogenic and some sacred. While there may be some difficulty recognizing these peaks, Mountain finder feature by HoneyGuide arises as a savior and makes anyone an instant expert on mountains peaks and their interesting facts. Some of the main stars of Annapurna Base Camp trek are as follows:-
Machhapuchhre (6,993  mm)
Machhapuchhre is seen as a holy mountain related to Lord Shiva. The name Machhapuchhre literally translates to 'fishtail' in English. The reason is that the peak of the mountain is shaped like a tail of a fish which is most distinctly visible from the southwest of the mountain. Regarded as the most photogenic mountain, Machhapuchhre is also called as a 'virgin peak' since climbing is forbidden on this mountain.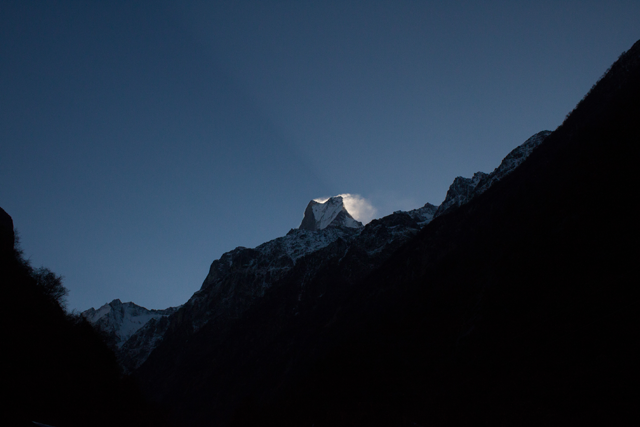 Annapurna I (8,091 m)
Annapurna I is the tenth highest mountain in the world but it isn't exactly beautiful compared with other mountains. It was first climbed in 1950 by Maurice Herzog's french expedition, the first of the eight-thousanders(mountain peaks higher than 8000m) to be conquered.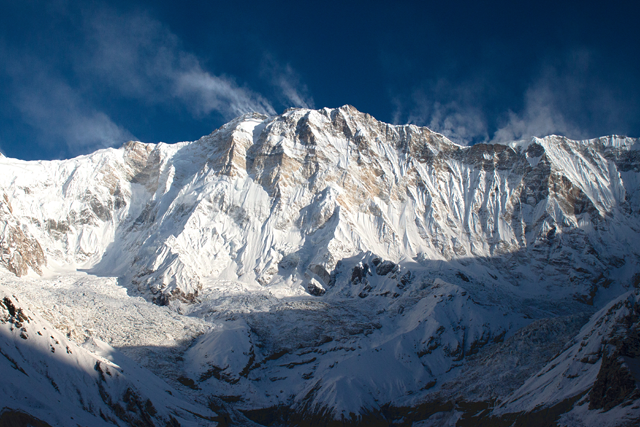 Annapurna III (7,555 m)
Annapurna III lies in the midpoint of the Annapurna mountains and is the third highest peak of the Annapurna family. It was first climbed in 1961 by an Indian team from the northeast face.
Annapurna South (7,219 m)
Annapurna South lies in the southwest of the Annapurna mountains and towers 5000m above Modi Khola valley and blocks the view of Annapurna I. Annapurna South is the most overbearing mountain which dominates your view throughout the trek. It is also referred as Annapurna Dakshin. Dakshin translates to south in Nepali dialect.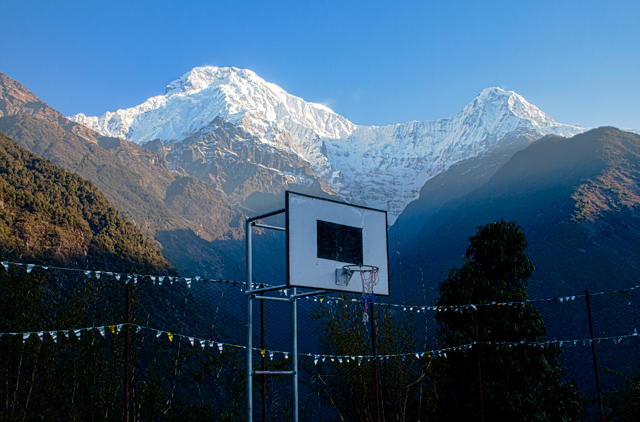 Tharpu Chuli/Tent Peak (5,695 m)
This is the most climbed trekking peak of Annapurna region and is located in the middle of the Annapurna sanctuary. Due to its location, one can enjoy a panoramic view of mountains such as Hiunchuli, Annapurna I, Gangapurna and so on. The easier climbing nature of the peak is the reason behind this peak being the most climbed peak in the Annapurna sactuary.
Ethnic groups in Annapurna Base Camp Trek

The Gurung community is the most prominent ethnic community which you will meet during this trek. Gurungs are usually Buddhists with large minorities of Hindus. Gurungs have traditionally been involved in high altitude animal husbandry. Gurungs had depended heavily on hunting and gathering and their marksmanship and honey hunting skills are unrivaled. Since a few centuries ago, Gurungs started to occupy lowland valleys and started farming. Due to their natural hardiness, they have also served well in the British Army and other armed forces abroad.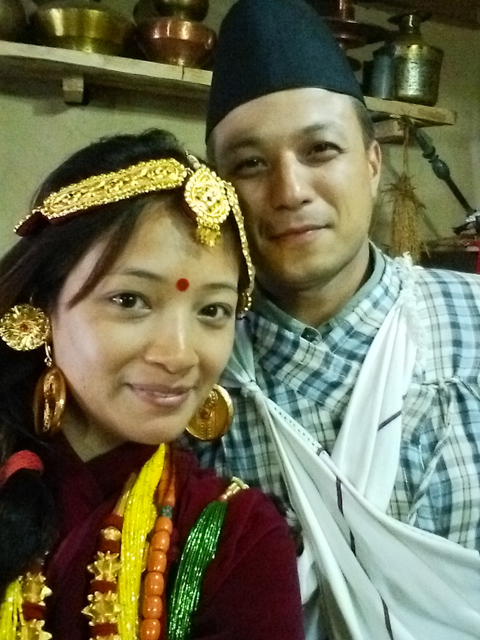 Seasons in the Annapurna Base Camp Trek

The Himalayas don't just have the power to take your breath away but they also have the power to dictate the climate of a subcontinent. The annual burst of monsoon that hits the Indian subcontinent is made even more dramatic by the Himalayas. Moisture laden wind from the Bay of Bengal while rushing towards the north to Tibet is forced to hike up the Himalayas and sweat out almost all of its moisture content leaving Tibet high and dry.
During Spring(Mar-Apr), the day starts nice and clear but progressively gets more windier and cloudier which leads to frequent afternoon showers. This to and fro of weather dance finally ends up to the monsoon reaching its full glory around mid-June.
Monsoon seasons signals a grinding halt to the trekking sector of Annapurna region but in contrast, the wildlife are in full vigor. Wild flowers eagerly anticipate the monsoon, Himalayan Tahrs get busy tending to their newborns and Himalayan Monals work hard displaying to prospective mates. The whole land rejuvenates during Monsoon season which ends in September.
When September rolls around, the clouds leave their hold of the sky creating a perfect backdrop of clear and blue skies. The mountains wake up from their deep slumber during Monsoon season and display their full bloom of beauty. This makes for a perfect trekking season up until November albeit a bit crowdy.
By December, winter is in full swing with occasional heavy snow. Since there are a lot less people and more wildlife, it is a perfect time to trek for the prepared. However, caution must be exercised to its fullest to prepare completely for the winter weather of the Himalayas.
Pre-trek information for Annapurna Base Camp Trek

Trekking difficulty:- Low
Permits:- Trekkers Information Management System(TIMS) and Annapurna Conservation
Area Permit(ACAP)
Accommodation:- Lodges
Max elevation:- 4120 m
Pricing:- $30 per person per day
Best seasons:- September-November and Mar-Apr
Guides:- Optional
Getting to Annapurna Base Camp Trek

In order to travel to Nepal, there are countless portals offering 'cheapest' air ticket. However, it is a good idea to stick to established portals as far as possible for peace of mind and a hassle-free travel.
Once in Nepal, to get to the road head, you will first need to get to Pokhara. There are mainly two options:- Air travel and Tourist Bus service. Air travel will cost around USD 102-106 and takes around 25 minutes. Tourist Bus service is a bit diverse with various grades of bus available but usually you can take a tourist bus from Jamal near Thamel at 7am sharp everyday costing about ~USD 7.
From Pokhara, you need to get to the various road heads to start the trek. Again, the choices are many but the most popular and convenient one will be to take a taxi. Taxis from Pokhara to Nayapul cost about USD 20 and the distance is about 41 kilometers. Similarly, the other entry points Phedi and Kande are at a distance of 19km and 31km respectively and cost between USD 13-17.
Route Options for Annapurna Base Camp Trek

Itinerary is usually prepared by a travel agency for potential travelers before their journey.  However, itinerary are just recommendations and if one is feeling unwell, then one shouldn't think twice about changing the itinerary to one's needs. Itineraries can be many but the main four recommended itineraries by HoneyGuide Annapurna Base Camp Trek  app are as follows-
Annapurna Base Camp Trek-Phedi Entry
This is one of the best itinerary because it trains your legs slowly and presents surprises of Annapurna sanctuary every now and then. Starting at Phedi to spend the night at Dhampus, ridgetop village with expansive mountain views, the trek ends at Poon Hill seeing all the mountains you met during your trek.
Annapurna Base Camp Trek-Ghandruk Entry
The shortest possible way to complete the Annapurna Base Camp Trek, this itinerary starts and ends at the roadhead near Ghandruk. Naturally, you will miss some things but you will not see the main attraction that is the mountain colosseum of Annapurna sanctuary.
Annapurna Base Camp Trek-Ghorepani First
This itinerary shows a teaser first at Poon Hill with an expansive mountain views then the main show of mountains at Annapurna Base Camp. After the end of visiting the mountains, you will treat your aching limbs at Jhinu's hot springs and your thirst at a bar in Ghandruk.
Annapurna Base Camp Trek-Kande Entry
An itinerary almost identical to the Phedi Entry one but the starting point of this itinerary is Kande and you spend your first night at Australian Camp. You will be able to see expansive views of the Himalayan mountains from the Camp and also witness the hawk migration during autumn. The trek will end at the idyllic village of Ghandruk, beautiful forests of Tadapani and beautiful mountain views of Poonhill.
If you are planning to trek on one of the best mountain trails in the world then be sure to download HoneyGuide's trekking app for Annapurna Base Camp.
For more detailed information read Everything about the Annapurna Base Camp Trek.