Ghorepani Poonhill trek is the ideal trek for people who have limited time but do not want to compromise on experiencing the full beauty of the Himalayas. Trekking in Nepal usually takes more than a week in the most trail but this trek can be completed in  7 days. Ghorepani, a village in Myagdi district lies in a northern-central part of Nepal. The  name Ghorepani was coined in the past when the place used to be a rest stop where ancient traders found water(pani in Nepali) for their horses(ghora  in Nepali). Ghorepani Poonhill trek does not offer only panoramic mountain views but also offers a peek into authentic Gurung culture as well as a chance to experience the beauty of Rhododendron in full bloom.
Start planning your Ghorepani Poonhill Trek.
Best of Ghorepani PoonHill Trek
Poon Hill
Poon Hill is undoubtedly the highlight of the whole trek. Poon Hill lies a mere 1.5 hr hike from Ghorepani. Starting the hike early in the morning to reach the hill before sunrise is recommended as one can view a spectacular sunrise along with the sight of pristine mountains being bathed in golden sun rays. Poon Hill is most famous for its panoramic mountain views; Dhaulagiri range to the west and Annapurna range on the east.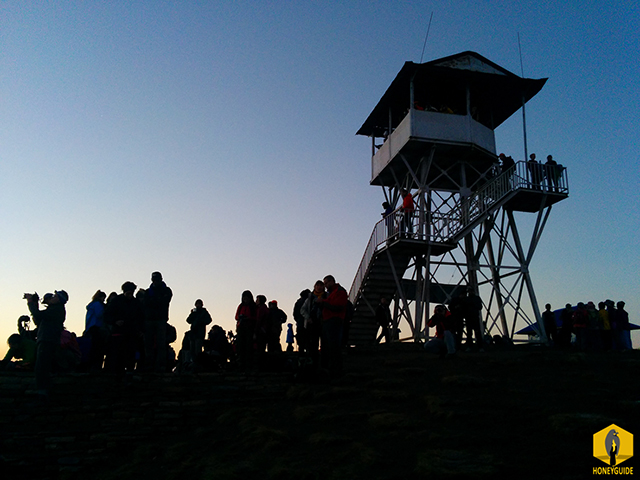 Ghandruk
Ghandruk is a beautiful Gurung village with traditional Gurung homes and environment. Slate roofed houses beside paddy fields with beautiful mountains views as background creates a relaxing and serene environment. Cultural programs organized by the village is the perfect chance to experience Gurung culture while providing funds for the village. This is the ideal place to relax and enjoy mountain views and Gurung culture while rejuvenating for the trek ahead.

Rhododendron bloom
Along the trek, one can witness crimson blossoms of rhododendrons which make whole forests come alive with their bright color. Rhododendron, the national flower of Nepal is also an important medicinal plant. The petals are used to cure menstrual disorder while the bark juice is prescribed in diarrhea and dysentery. Rhododendrons also have white and pink variations which can be seen during the right seasons.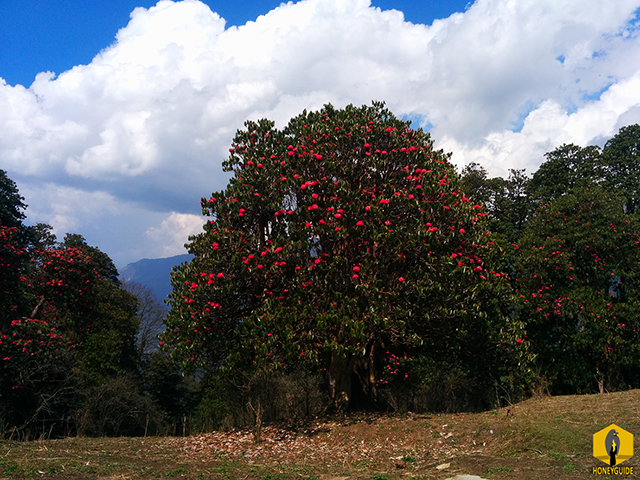 After Earthquake information
A 7.8 magnitude earthquake struck Nepal on 25 April, 2015 which caused both property loss and human loss in a large scale. The post-earthquake news deemed Nepal as completely destroyed and discouraged foreigners from visiting Nepal. However, the effects of the earthquake on most trekking trails(excluding Langtang and Manaslu) and especially Ghorepani Poonhill trail are minimal. Miyamoto's Damage Assessment of Annapurna region including Ghorepani Poonhill is the primary source of post-earthquake information. While the report has some limitations such as blank spots, limited ground assessment, and short survey, it is nevertheless the only expert assessment. In summary, on the basis of the report, trekking to Ghorepani Poonhill is safe but with proper precaution.
However, trekking in Nepal, by its nature, is very risky. The dangers of rockfall, avalanche, and slope failures are always present and unpredictable. Proper precaution is suggested at all times. HoneyGuide trekking app for Ghorepani Poonhill also provides updated information of the trail after the earthquake along with dynamic safety features such as deviation alerts, avalanche-prone area alert, and rockfall area alert.
Fuel-crisis effects
Nepal has been facing shortage of petroleum products and essential goods  due to variety of reasons. This shortage has led to price hike, scarcity of resources and transportation problems.
International flights to Nepal has been minimally affected by the fuel crisis. There are countless portals to arrange international flights to Nepal but sticking to recognized portals will allow a hassle free travel.
Domestic flights have been severely affected as the price of flights from Kathmandu to Pokhara which was in average $127 has risen to about $200.
Other transportation means such as rental vans and cars have also been reduced in quantity and risen in price. There have been almost 100% rise in price as vans now cost Rs.70000(previously Rs.35,000) and cars cost Rs.3500(previously Rs.2000).
Prices in lodges and hotels have also risen to about 25-30% along the trekking trail as well as city areas such as Pokhara and Kathmandu.
In addition, the daily budget for trekking has also risen. Though the budget depends upon variety of factors such as size of the trekking group and quality, duration, location of the trek, a daily budget of Rs. 2500-3000 would be sufficient for a moderate quality level of trekking.
Permits
Permits are needed to access protected conservation sites and trekking trails in Nepal. You will need two permits for the Ghorepani Poonhill Trek; Trekkers Information Management System(TIMS) and Annapurna Conservation Area Permit (ACAP).
TIMS can be acquired in two places;
Nepal Tourism Board- Tourist Service Center
Bhrikuti Mandap, Kathmandu
Trekking Agencies' Association of Nepal (TAAN)
Maligaun Ganesthan, Kathmandu
ACAP can be arranged from;
ACAP Counter-Tourist Service Center
Bhrikuti Mandap, Kathmandu
ACAP Counter- Tourist Service Center
Pardi, Damside, Pokhara
Wildlife and Mountains
Since Ghorepani lies inside the Annapurna Conservation Area, the wildlife and mountains seen are also similar. You can refer to Annapurna Base Camp trek  for more information regarding wildlife and mountains.
Ghorepani Poonhill trek is already one of the most famous treks in Nepal. To furthermore improve the trek, Honeyguide apps has created a trekking app solely dedicated to Ghorepani Poonhill Trek. The trekking app provides features such as contextual wildlife and environment information, offline functionality, comprehensive lodge information, interactive itinerary, mountain finder, maps and much more features.