She lies there motionless just 24 km due north of Pokhara casting a picturesque shadow over the Fewa lake, seducing every tourist that gazes his/her eyes upon this majestic himal and lifting spirits of locals day in day out with its unavoidable fish-tailed nature sculpted pinnacle (Machhapuchhre translates to fish tail, aptly named because of the pinnacle which resembles a tail of a fish). A view so magnifique one shot from your camera simply will not do; especially when the snow glistens with the sunrays hitting on her because it simply cannot resist. So beautiful, yet the government of Nepal banned mountain expeditions on this mountain? Sure enough there were other factors considered. Ever since the ban was put into effect in 1965 this debate has been popping up time and again: Should Machhapuchhre (6993 m) be opened for mountaineering? At Honeyguide, we have tried to cover both side of this age old debate. We leave it upon our valued readers to decide whether this mound of handsomeness should be opened for mountaineering or should the current ban continue as it is.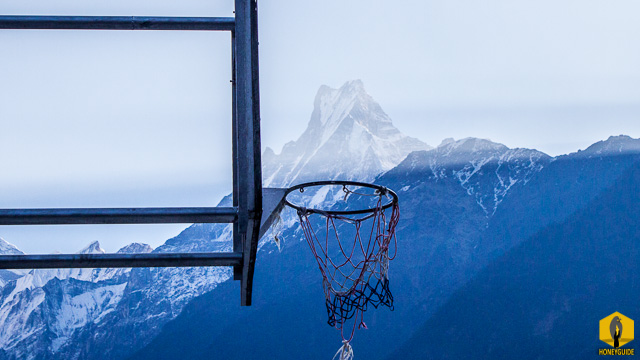 Check out Mardi Himal Trek for awesome Machhapuchhre views.
Religious Significance
The religious importance of Machhapuchhre has always been in the forefront and garnered much attention whenever the debate sparked in the past. Various intellectuals have always struggled to reach a suitable conclusion that satisfies both parties. We couldn't find any sureties but it is believed that Machhapuchhre is a sacred mountain, associated with the Hindu god Shiva. Those who think this mountain should be opened for expeditions have come up with various explanations as to why the fish tail might not be holy at all! One such intellectual who supported opening the mountain for expeditions was Dr. Harka Gurung (1939-2006), geologist, anthropologist, author, known for his conservation works. He too questioned whether Machhapuchhre was indeed a holy mountain or not. His argument being, Machhapuchhre does not have a local name. If you just think about it, this argument can't outright be challenged because if it really is as scared as people consider it to be then surely it must have a history and by history we mean religious significance and a local name by which people used to identify this glorious himal. Surely Machhapuchhre (a Nepali word) which translates to fishtail was coined because of its resemblance with a tail of a fish. But if this mountain really had religious significance then it must have had a local name by which the locals identified it (whose local language was not Nepali) long before the name "Machhapuchhre" was coined. The people living around Machhapuchhre do not have a specific name for it, but call all the peaks 'kling', which means snow in the Gurung language. Since the peak does not influence their lives directly, it does not hold any importance for them as per Dr. Gurung.
He also argues that if the religious significance the mountain holds is true then why are other equally religious mountains open for climbing such as Ganesh himal, Gauri Shankar, Buddha himal etc? Point to be noted! If you go beyond the boundaries of Nepal then you will come to know that Mount Fuji of Japan which holds religious importance to the people of Japan is open for climbing. Not only Japanese but tourists of all age group enjoy the trek to the top (prayers are carried out on the way). The argument here is why ban climbing on Machhapuchhre when there are examples of other sacred mountains open for climbing? Will it really hurt the sentiments of religious devotees and show disrespect towards the culture and belief?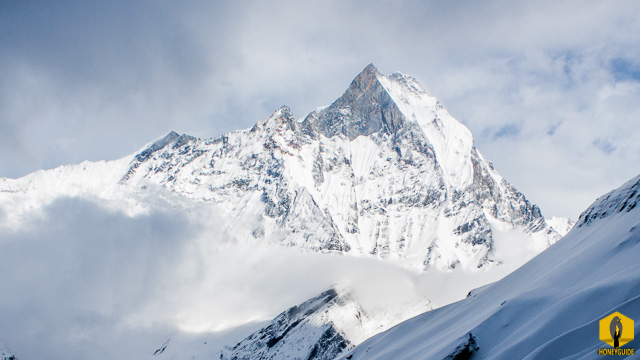 Another thing to be skeptical about is the association of lord Shiva with this mountain. How and when Shiva came to be associated with the fishtail is a matter of discussion in itself. In a an area where majority of the population are non-Hindus, one cannot help but ponder upon why Shiva, a hindu god is associated with this mountain? A question debaters in the past have stumbled upon.
Tourism and economy
It is a known fact that Nepal depends heavily on tourism for its economy; maybe not as heavily as on agriculture but still in significant amount to make an impact. In the fiscal year 2013/14 the income through tourism was Rs. 30.43 billion even though the arrival of tourists decreased by 0.7 % that year which is huge compared to other industries in Nepal. Majority of the tourism industry depends on money earned from mountain expeditions. With royalties ranging from $150 to $50,000 for expeditions in Nepal, the large dependency is justifiable. Given the inevitable advantage Nepal's economy holds by allowing climbers on our prized possessions it should be a no brainer to allow climbing in Machhapuchhre as well. Nepal can only benefit from it with more foreign currency flowing in. The incomes and opportunities of the local people will be increased if Fishtail is opened. This alone doesn't seem to convince some doubters though; what about the side effects such as pollution, deterioration of the beauty etc?
Karna Shakya, a renowned name in Nepal Tourism, environmentalist, conservationist, hotel entrepreneur, writer and philanthropist has his own opinions about why Machhapuchhre shouldn't be allowed for climbing. He says opening the mountain for climbing purposes in expectation of some nifty profits while forgoing other environmental risks is not the brightest decision one can make. Contrary to what Mr. Shakya says Dr. Harka Gurung had a different way of seeing things. He would be excited when talking about the benefits of opening up the mountain by pointing out the attention it would receive amongst elite climbers especially since it is a virgin peak (virgin peak: really? Closing paragraphs might help kill some curiosity regarding this). Imagine the flow of tourists in the area and all the big bucks that come along. Tourism could thrive in this region with the surrounding economy like hotels, restaurants also getting a taste of some benefits by the increasing inflow of tourists.  As Nepal is one of the poorest countries in the world and after all this debate, it compels us to question whether Nepal's identity is at risk by opening Machhapuchhre for climbing or is it time for the country to put its economy first?
The beauty that is the fish tail
There are no different thoughts on whether the Machhapuchhre is beautiful or not; only on the matter of opening up for tourists or not. Everyone agrees that this mountain is perhaps the most photogenic mountain in all of Nepal and even in the entire world. A beautiful monument Nepal can be proud of.
On the one hand there are people who argue that a peak that beautiful should be left as it is. The beauty shouldn't be tempered with; which they believe will get deteriorated once climbing starts. Some beautiful things are just there to be appreciated not touched. A positive thought we say. Karna Shakya mentions in his bestselling book "Soch" that monuments that are unique should be maintained and preserved. This uniqueness will give a certain importance to that particular monument. If you introduce a tourist to Mount Machhapuchhre saying that it has never been climbed then it will be a fact that will interest the tourist and also add a bit of 'cool factor' to it. Words spread like wildfire and through the miracle of time it will have significant importance of its own: A mountain that has never been climbed! (A little surprise regarding the virgin peak still awaits in the closing paragraphs). But once climbed the peak loses its popularity. Dig a bit deeper and you will find arguments like the shape of the Machhapuchhre will get damaged if expeditions take place there. We are not sure how the shape of the mighty mountain will get deteriorated from climbing and thus is not a convincing enough argument but which appears to float around whenever the debate sparks.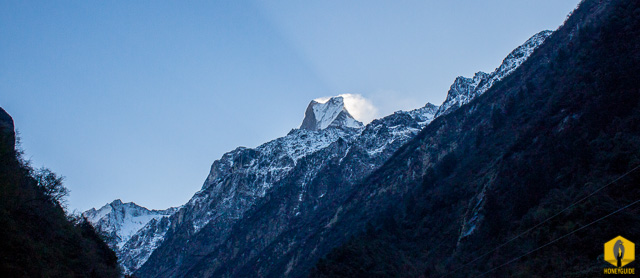 Now we come to the other side. Beauty is a subjective matter.  Are mountains like Everest, Annapurna, Kanchenjunga etc. open for climbing because they are not beautiful? Obviously not. The beauty of a particular mountain is one of the main reasons why tourists want to climb the mountain, along with other reasons such as its height, difficulty level etc. This is in contrast to what George Mallory said in response to a question about why he wanted to conquer Everest; he simply replied "Because it is there". Machhapuchhre is there too, it is going nowhere but surely there are people who would want to climb and conquer this mountain because of its beauty too. A right time to mention that an equally stunning mountain by the name of Ama Dablam (6814 m) is open for expeditions in Nepal. Therefore, banning climbing only because the mountain is beautiful has no rationale.
Environmental Impact/ Management
Another major concern as to why some people are skeptic about opening the himal for climbing purposes is that they are concerned about the environmental degradation that is bound to follow after allowing expeditions on this mountain. A genuine concern too seeing the condition of other mountains open for climbing, Mount Everest in particular. Ask any trekker or mountaineer who has been to Everest base camp or even climbed the mountain about the pollution in the region and they will reply "Lots of poop!" With no proper toilets and management in the base camp you can literally see shit in every four or five steps you take. A concern rightly voiced by people arguing not to open Machhapuchhre for climbing. There has to be proper management and the expeditions should be carried out in a way that won't degrade the environment, only then mountain expeditions can be allowed.
The local's perspective
Through a wider perspective the economic benefits from tourism in this area is evident but the locals believe they would not be able to take advantage of Fishtail's opening because expedition teams carry all the necessaries in from the capital, Kathmandu. Since the locals (mostly Gurungs) don't see any significant advantage for their people and mixing their dissatisfaction with how the mountain is religiously significant to them they are against opening it for climbing. It is also claimed that the royalties the climbers pay to the government of Nepal and the Nepal Mountaineering Association (NMA) do not go toward development in the areas of the mountains they paid to climb. Counting in all the factors that is necessary for a good tourism industry in the Machhapuchhre region the debate does tend to get a tad bit political. A deeper investigation must certainly take place.
All this having been said Dr. Harka Gurung points out a fact that local's opinions were never taken into consideration when other mountains were opened for climbing in the past. So why now? He argues the peak is not the monopoly of individuals of Pokhara Bazar with their sentimental ego. Machhapuchhre must therefore be utilized for the benefit of people living around it.  
The virgin peak
In popular theory everybody seems to agree that Machhapuchhre is a virgin peak, a mountain that has never been climbed. But an event in 1957 seems to suggest otherwise. Colonel J.O.M Roberts, a British Gurkha officer led a team that included climbers Wilfrid Noyce and A.D.M Cox for the Machhapuchhre expedition. The team had to retreat just 45 meters short of the summit. There are two reasons that seems to float around when explaining why the team retreated without conquering the peak. One reason was heavy snowfall cut their climb short and the other reason was that they had promised not to set their foot on the peak respecting the religious significance the peak carried. In relation to this event Dr. Gurung writes "It would seem natural that Roberts should wish that no one should succeed on a mountain he had begun to believe was his own and which he had failed to conquer. In the 1960s, Col Roberts happened to be Military Attache at the British Embassy in Kathmandu and it is not difficult to imagine that his sentimental advice to the Foreign Ministry (that handled expeditions) regarding Machhapuchhre's  sanctity influenced the fate of the mountain." We can't help but only speculate about this statement from Dr. Gurung.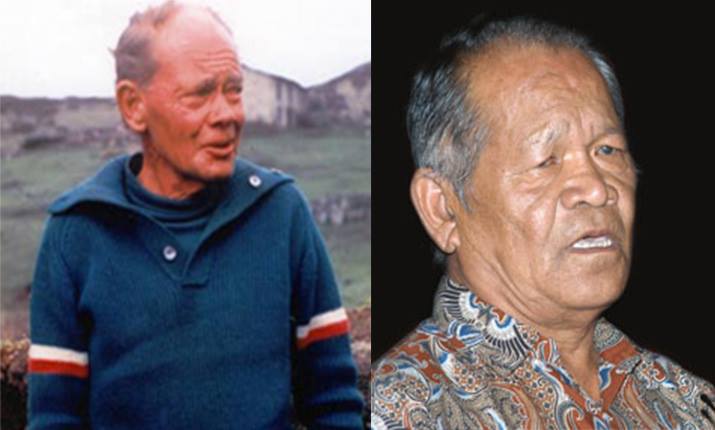 This bit of information just for general knowledge: It is well-known and accepted within certain climbing circles that Bill Denz, a New Zealand climber illegally climbed Machhapuchhre in the early 80s. We don't mean to encourage illegal climbing in any ways; Nepal already has a fair share of rebels!
Everybody is entitled to their opinions. No argument can be outright wrong, it is just their justification for the action they support. Over the years, both side of the debaters have got some very interesting and compelling arguments that support either opening or banning Machhapuchhre for climbing. We would like to hear your side of the argument as well. So what are your thoughts on opening Machhapuchhre for expeditions? Should it be allowed or should the ban stay as it is? If you have an entirely different dimension regarding this debate then you are most welcome to share it in the comments below.