During Mid-January 2015, Ministry of Tourism in Nepal, almost discreetly made a major hike in the price of permits for the most popular climbing peaks in Nepal. It includes most popular peaks such as Mera, Island, Pisang, Naya Kanga, among many others (which mostly lies in the Everest region). For peaks between 7000 meters and 6500 meters, Permit fee went from US$ 500 to four people to US$ 400 per person. Peaks under 6500 meters now cost US$ 250 per person; it was just US$ 350 for four people before.
There are well over 300 mountains in Nepal officially open to climbing. The new set of Permit Fee Structure is applicable to peaks under 7000 meters only. It is peaks in this category that are appealing to mass market or markets that are much larger than the ones focused mostly on 8000 meter peaks. The extremely niche market of 8000 meter peaks brings much fewer visitors than the smaller peaks. The sudden hike in price, now seems destined to lower the number of mountaineers drastically.
All the peaks of 7000 meters that can be counted as popular ones are managed by Nepal Mountaineering Association (NMA), an umbrella organisation established by a unity of private adventure travel operators, most of whom specialised in mountaineering. NMA, with support from the private sector, was successful in gaining the power of attorney over 27 such peaks though not all 27 were gained in a single attempt. With that ammunition, NMA, over many years was successful in promoting the peaks in all adventure travel markets throughout the world. Sure enough, Mera peak, Island Peak, etc came to be more popular than others. Still today, Mera peak see the highest number of climbers than any other in Nepal.
Two months since the decision to hike up prices, impact are beginning to be felt. Revision of projected number of climbers has gone down. Nepal biggest climbing market, Europe, is experiencing uncertain economic future. Not surprisingly, the European market is nearly stagnant and now seem to head toward negative growth. Mountaineering is simply not an idea of travel to growing markets of China, Thailand, and India.
A positive trend can be seen emerging from this. As all peaks under 5800 meters are now free, people who saw themselves as 6000er's are now happily demoting themselves. A sudden hike in inquiries for the peak that will not cost a dime have skyrocketed. It's a great thing for adventure travel operators, a mixed-bag for climbers and bad for royalty-hungry authorities.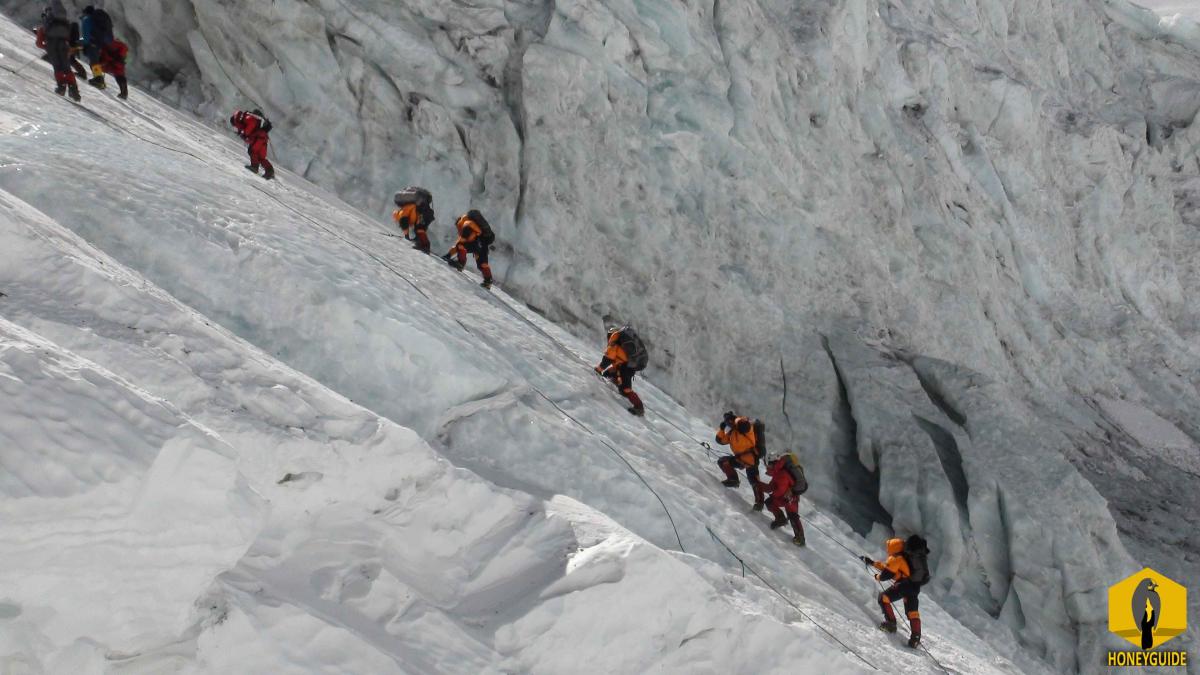 Climber ascending on a fixed line in a walking pace.
Photo: Everest Marathon