Spring is in full bloom in April and is the second most popular month for trekking in Nepal. April is a comfortable period for trekking at higher altitudes and usually has clear weather. Mid-Hills, especially around Pokhara, can be hazy and dusty, thanks to accumulated dust from the dry seasons and increasing humidity.


Lightning and thunderstorms are common at this time of year and sometimes combines with short bursts of heavy rain or hailstones. If you are planning to trek at higher altitudes, weather may favor you. Higher spring temperature relieves you from all the troubles of wearing multiple layers of clothes, especially true for lower altitudes and mid-hills.
Do not forget to pack your running shoes. In warmer temperatures of lower areas, it's much more convenient than trekking/hiking boots. Warmer clothes are needed in as one gain in elevation along the way. Check our article on gear for details. Remember, trekking in Nepal involves a wide variation of altitude and temperature and conditions can and will vary drastically with the altitude. A helpful rule of thumb: the temperature goes down 1°C/1.8°F for a 100 m/ 300 ft climb. March was a promise of good things to come and April is one of those good things.
Rhododendrons and other wildflowers blossoms to the fullest coloring high altitude forests. Birds are flying above, rays of sunlight are way better than even the best works of art. The weather has its charm of unpredictability.  If you come to Nepal in April, you get to see how Nepalese together celebrate New Year of Bikram Sambat (B.S.) i.e. Nepali New Year which is 57 years ahead of A.D. Also Nepalese celebrate Mother's Day in April. So April is full of flowers, festivals and comfortable climatic condition making a perfect setting for you to celebrate this month trekking here in Nepal.
More information on the popular trekking routes for April.
April is the perfect time to see the many varieties of rhododendrons set the forests on fire at around 3,000m. It's also an auspicious period, being the pre-breeding season for most birds and animals, most migrant birds which come to the high alpine pastures to breed are here by this time to get to business. April is one of the better times to appreciate the full spectrum of biodiversity of this region. The sky is generally clear in the mornings, although a bit of haze can be present, excellent mountain views are still there for you.
Just like the rhododendrons set the forests on fire lower down, the colorful tents and colorful trekkers make Everest Base Camp a lively place in April. You will have the opportunity to meet world-renowned climbers as several Everest expeditions will be assembled at base camp around April. It is a festive month for the Mountaineers.
This trek passes by cold, colder and coldest areas so pack your bags accordingly. Though April is not a colder month, its still the Himalayas and its still Everest and the weather suggests a number of layers all around the year.
A Rough approximation of weather in April:
Place
Rainfall
Avg Temp
Min Temp
Max Temp

Lukla
(2829 m/9281 ft)

56mm

10.7℃
51.3 ℉

5.1℃
41.2 ℉

16.3℃
61.3 ℉

Namche
(3463 m/ 11361 ft)

36 mm

6.7℃
44.1℉

0.6℃
33.1℉

12.8℃
55.0℉

Dingboche
(4483 m/ 14708 ft)

13mm

0.7℃
33.3 ℉

-7.0℃
19.4 ℉

8.5℃
47.3 ℉
At ABC, you will be surrounded on all sides by 9 mountains above 20,000 ft. You will be eating and breathing mountains throughout; Annapurna I, Annapurna South, Machhapuchhre, Annapurna III, Baraha Chuli (Annapurna Fang) are mountains on your menu list. However, April offers more than mountains. Different wild flowers especially Rhododendron all over the forest will soothe your eyes and the golden raspberries will give you sweet and sour taste.
April is full of surprisingly changing and unpredictable weather, one moment it's sunny and you get the clear view of peaks another moment can be cloudy. But the record suggests, the unpredictable weather does no harm to the number of the trekker. 13% tourist trek in April  out of total trekkers coming to Annapurna Base Camp annually. April secures third place after October and November in the competition, where number of trekkers is the winning factor.
Avalanche is a very common problem during April. Always check with the ACAP (Annapurna Conservation Area Project) office in Chhomrong for a report on current trail conditions.Plan your trekking accordingly! Trekking in April, means you will have to pack your bags for flexible weather as you will be moving from warmer climates at low levels Dhampus (1750m) to conditions of well below freezing higher up to Annapurna Base Camp (4130m).
A rough approximation of weather on the areas that trekkers pass by:
Place
Rainfall
Avg Temp
Min Temp
Max Temp

Ghorepani
(2970m/9744 ft)

33 mm

10.8℃
51.4 ℉

3.9℃
39.0 ℉

17.7℃
63.9℉

Ghandruk
(1982m/6502 ft)

90 mm

16.1℃
61.0℉

9.4℃
48.9℉

22.9℃
73.2℉
Annapurna Circuit is a classic trek and April adds more flavors to it. April is the second most popular month to do the Annapurna Circuit. About 15% of annual visitors are in April out of total tourist trekking the circuit annually. Annapurna Circuit's main theme is diversity, and no other trail offers the wide variation in terrain, climate, flora, fauna and culture and people. It offers spectacular mountain scenery, and it goes to the north of the main Himalayan range to the dry Tibet-like trans-Himalaya.
Both ends of the trek have climate that is near tropical in behavior: hot, humid and frequent rainfalls during warmer months and pleasantly warm during winter despite being less than 15 kilometers from one of the world's highest ranges.  Trekkers usually begin from the eastern side, from small towns/villages of Besisahar (760m) or Khudi(830m). As the trail goes along the terrain starts to transform into a dense group of high and green hills to more open high plateau very similar to Tibet. The diverse terrain and climate translate to diversity in flora and fauna. In fact between the places named Tatopani and Thorung La pass, the terrain is virtually Tibet. The downside of trekking in April is you won't be getting to see flowers in low altitudes until May. Probably the promise for some more good things is kept for the May. But you will have the company of  Musk Deer, Blue Sheep, Griffons, and Monals if you are lucky enough.
A rough approximation of temperature:
Place
 Rainfall
Avg Temp
Min Temp
Max Temp

Besisahar
(764 m/2506 ft)

108mm

23.8℃
74.8 ℉

17.3℃
63.1℉

30.4℃
86.7℉

Manang
(3517m/11538 ft)

24mm

7.4℃
45.3℉

0.4℃
32.7℉

14.5℃
58.1℉

Jomsom
(2729 m/8950 ft)

23mm

12.3℃
54.1℉

4.9℃
40.8℉

19.8℃
67.6 ℉

Beni
(883 m/2896 ft)

58mm

23.8℃
74.8 ℉

16.5℃
61.7 ℉

31.1℃
88.0℉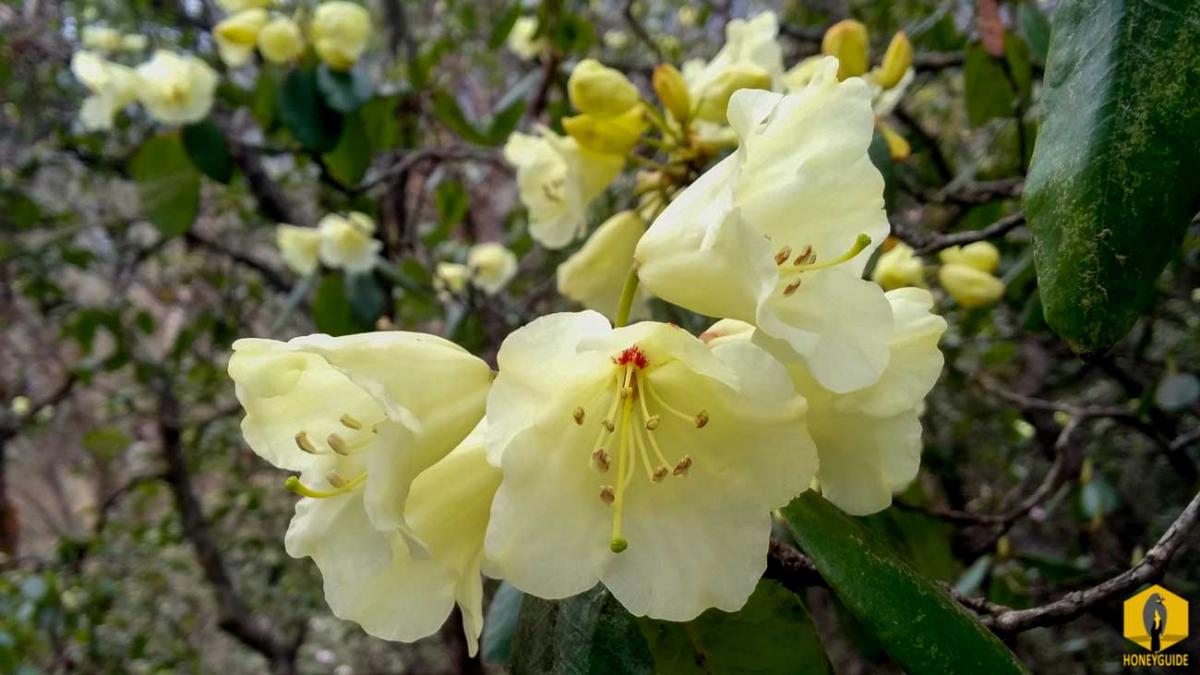 Yellow Rhododendron bloom in the month of April.