As the story goes, it was photographer Basil Goodfellow who gave the first view of the Mardi peak to westerners from his slides when he visited Nepal in 1953. Since then, this trail has been trying to grow out from the shadow of other mainstream routes as very limited travelers have information about this trail. Things have been taking a quick turn since the last decade as it has been getting the attention it is worth because travelers seem to have gotten exhausted by the touristy trails. More trekkers are opting for this route to view the Annapurna and Machhapuchhre ranges, and to walk through bamboo-rhododendron forests. And the best part is that you can have all this natural beauty without having to deal with large crowds. As this trail is gaining popularity, lodges have been operating in the area since 2012.
Where is Mardi Himal?
Mardi Himal Trek is located to the east of Annapurna Base Camp in the Annapurna Conservation Area. It is named after a small mountain which goes by the name of well, Mardi Himal. This mountain (5587 meters high) is on one of the ridges of Mount Machhapuchhre. The trek can be completed within six days (Pokhara to Pokhara). The itinerary in this article is a basic one to give you a general idea of the length and time of each day. The route can be altered in many ways. While returning, you can even exit through Lwang village. (And yeah, you can do this in reverse order too!)
Day 1: Kathmandu – Pokhara
First, you have to choose to take a bus, a jeep or a flight. Tourist buses start from Rs. 600 – 2500 which varies if you book the one with wifi or if you want breakfast and lunch included in it. It will take around 6-7 hours to reach Pokhara. The route that the bus takes is Kantipath – Jamal – Tripureshwor – Kalimati – Kalanki (before leaving Kathmandu valley) which means you one can board on these buses from any of these points. You can also catch a microbus from Old Buspark, which frequently leaves throughout the day, starting at 5 am every morning! Microbuses charge you somewhere between Rs. 400 – 500. If you wish to take a flight, the prices will vary from USD 100 to USD 126.
Day 2: Pokhara- Phedi- Dhampus
Phedi is around 20 km away from Pokhara. This is the point from where we begin walking. It will take about half an hour by bus to reach Phedi. From here it is about 3 hours uphill walk to Dhampus (1600m).
Alternatively, it is also possible to get off at Kande and them climb for about 2 hours to overnight at Kande. While Kande doesn't offer the expansive views of Dhampus, it is a lot quieter and still has some beautiful mountain view.
If you get to Pokhara early, it is actually possible to get from Kathmandu to Dhampus/Kande in the same day.
Day 3: Dhampus – Forest Camp
Forest camp (2550m) is 10 km away from Dhampus. With a good pace, you can reach in 3.5 – 4 hours.
Day 4: Forest Camp to High Camp
The distance between these points is around 7 km. It is going to take 6 hours to reach high camp (3580m).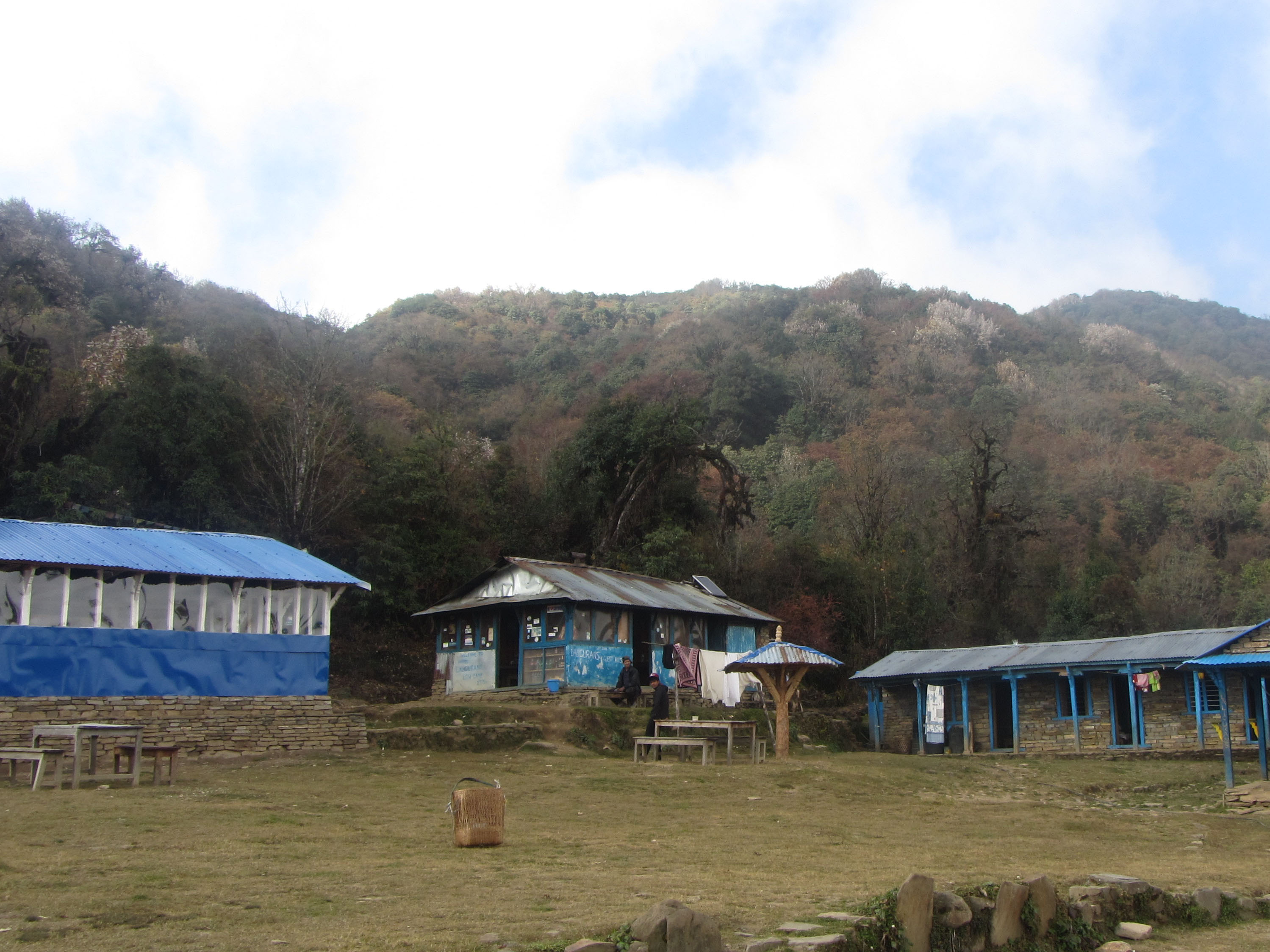 Day 5: High Camp to Base Camp and back to Low Camp
It is going to take 6 hours to complete this length of 5 km. The highest altitude reached is 4500m.
Day 6: Low Camp to Sidhing/ Lwang
You can either rest overnight at Siding which is 7 km or push for Lwang. If you are on a tight schedule then going directly to Lwang is going to take 6-7 hours covering 14 km.
Day 7: Sidhing/ Lwang to Pokhara
Buses begin from a place called Kalimati which is 2-3 away from Siding. From here, you can directly catch a bus to Pokhara. And if you are in Lwang then, stand in line to get a seat because the buses are limited. In monsoon season due to the landslide, muddy roads and chances of tires skidding off, we warn of service not being so fluent as in other seasons.
Day 8: Pokhara to Kathmandu
Plan your Mardi Himal Trek.
Best of Mardi Himal Trek
1. Ridge Trekking
If you look at the route of Mardi Himal Base Camp in google earth, then you can see that the whole route is a straight trail done on top of a hill. After reaching Pothana, trekkers never go below the altitude of 2000m. This notable feature of the trail keeps us posted with amazing views of landscapes that lack in other when you dip into valleys.
2. Rhododendron Forest
Forests filled with rhododendrons of red, white and pink is a treat on this trail. This is one of the major attraction of the region and has always added that extra reason to trek here. But, keep in mind that these flowers only bloom in spring.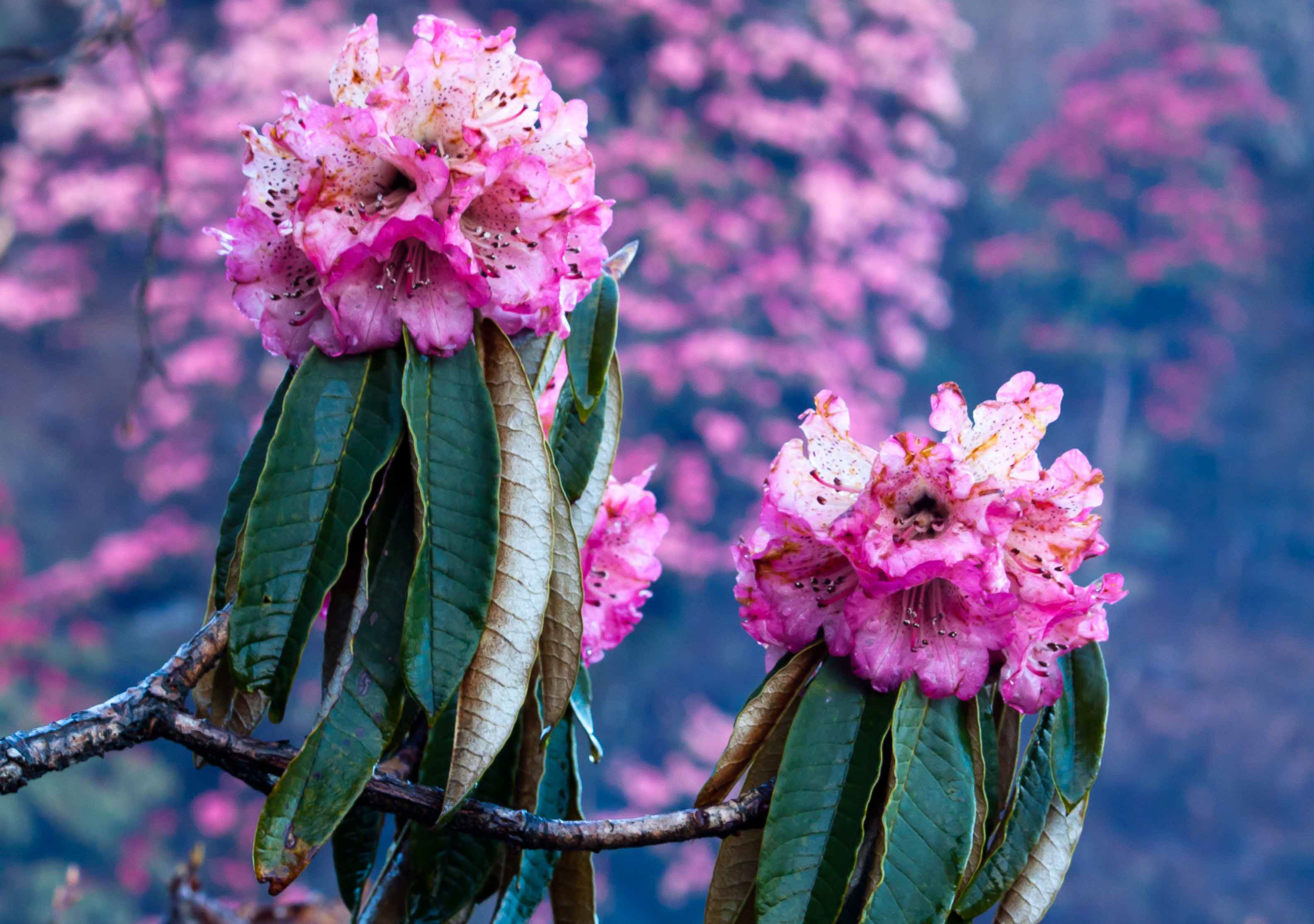 3. Mt. Machhapuchhre
Mount Machhapuchhre (6993 m) is the mountain that has been giving that spectacular touch to the valley of Pokhara since ages. The word "Machhapuchhre" in Nepali means "Fishtail" which is taken from the shape of the mountain. It can be clearly viewed from base camp.
When to go to Mardi Himal?
You can visit Mardi Himal in the following months:
1)      Mid-September  – Early December is the best month because it is the peak season to trek with clear visibility of mountains and to catch amazing landscapes.
2)      January – Mid February have clear blue skies, but because of heavy snow the route is closed.
3)      March-May brings the spring which colors the landscapes green and brings migratory birds back after a long winter.
4)      June- August – This is the running time of monsoon period which is prone to landslides and clouded vistas.
Mountain Finder


Mardi Himal Trek Cost
Costs depend on many factors like using a trekking agency or hiring a guide or travelling alone.
Using a Trekking Agency:
The price starts from USD 490 and varies from one agency to another. The price includes guides, accommodation, permits, and meals. It is advised to talk to multiple agencies before going with one to have a good idea. In large groups, the prices get discounted.
Hiring a Guide:
Guided services come with experience, and that is what matters in these trails. So the more you are ready to pay for a guide, more experience you are going to get. A range for hiring is from USD 20 to USD 50 or even more.
Trekking Independently:
The hotels, food, permits, and meals are to be arranged by yourself as you reach your destination. Here is an outline of the cost:
Food
On season (Dal-Bhat): Rs. 350 – 600
Tea-house with shared bathroom
On season: Rs. 250-400
Water (1 litre)
Highest point: Rs. 150
Normal rate: Rs. 40-80
These prices are to be expected to change depending on the time of year, weather conditions and political situations.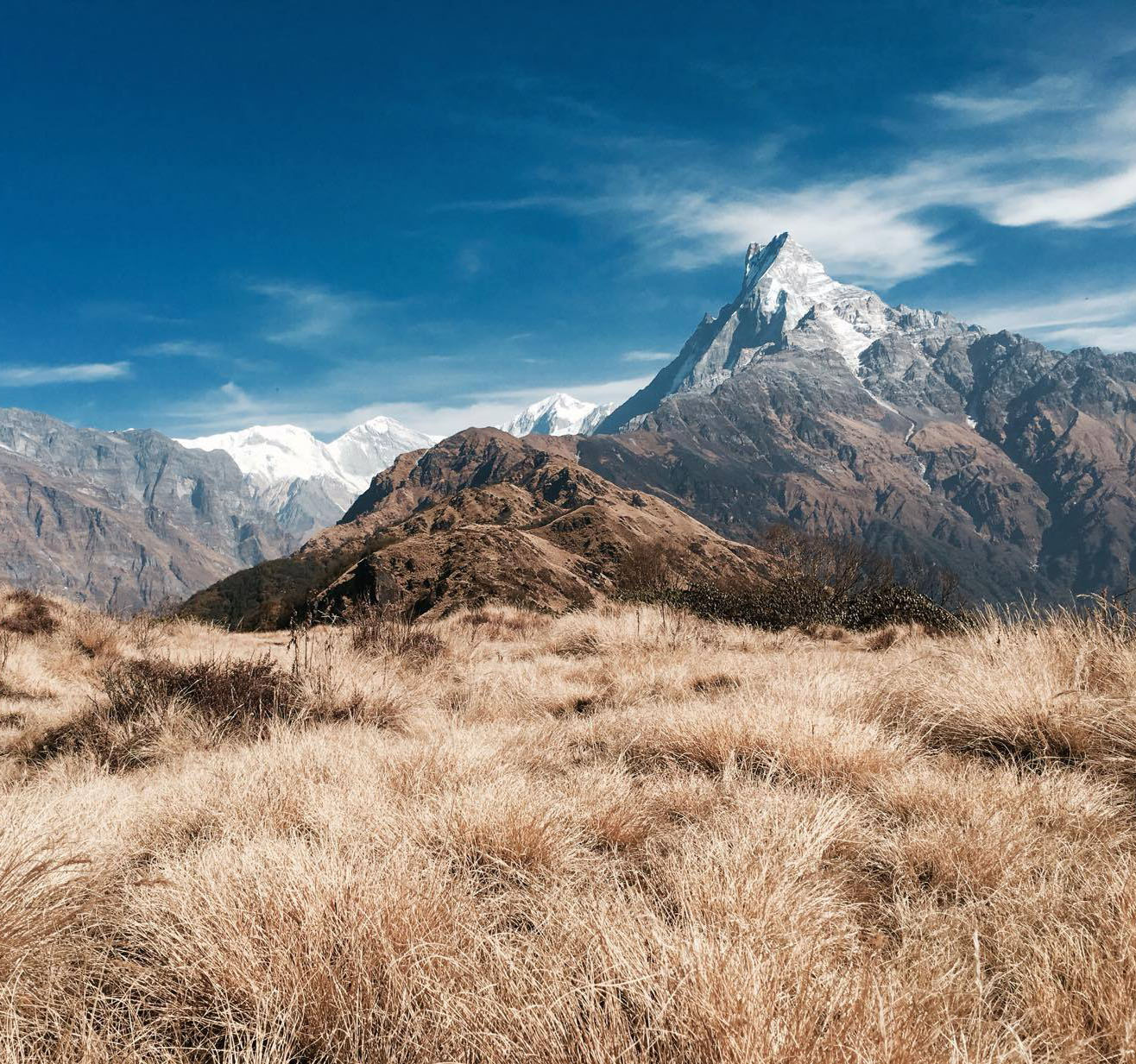 Accommodation on Mardi Himal Trek
Since this is relatively new trekking route, lodges and hotels were not established along the way until very recently. You get good facilities (wifi, hot shower, and food) upto forest camp but beyond that, the facilities are reduced to a minimum. Sharing bathrooms, sleeping on foam mattresses and learning to bathe on buckets of hot water (not running hot water) are some of the skills you will take back after doing this trek.
A list of some of hotels and their telephone numbers are given below:
What do you need to go beyond the trails in Annapurna Base Camp
1)      Permits (only for Non-Nepali passport holders)
Permits are of utmost importance while trekking in Nepal. You need to have an Annapurna Conservation Area Project (ACAP) permit and a TIMS Card (Tourism Information Management System). Your guide or the travelling agency can manage these papers for you. Or you can get them by yourself from the following locations:
The Department of Immigration (in Kathmandu)
Kalikasthan, Dillibazar, Kathmandu
Tel: 977 – 1 – 4429659 / 4429660 / 4438862 / 4438868 Fax: 977 – 1 – 4433934 /4433935
Email: mail@nepalimmigration.gov.np
Web: http://www.nepalimmigration.gov.np
2)      Gears
You should carry some essential gears and equipment. Some of which are mentioned below:
i)     A Good pair of down jacket and shoes
ii)    Sunglasses and sun blocks
iii)   Medicine (for pain, for altitude)
iv)   Light clothes and space for more food
v)    Head Lamp with extra batteries
vi)   Toilet papers
Lwang Village homestay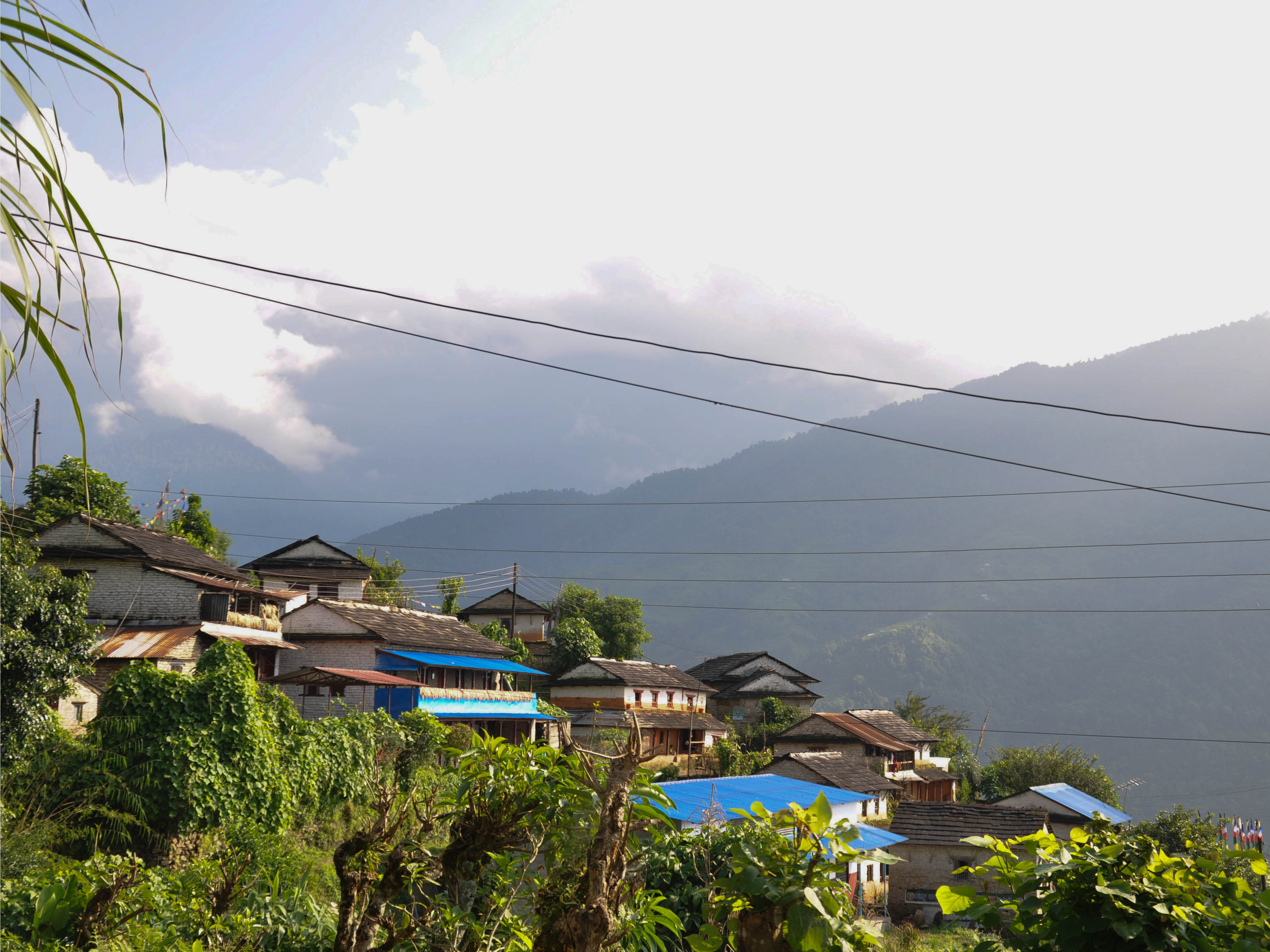 Lwang village has emerged as a rich ground to immerse in the culture with a much more practical approach in experiencing the Nepali village lifestyle. This village has been popularizing the new ideology of travel known as Community Based Homestay which proposes travellers to live in a small stone-roof house, eat typical Nepali food and participate in cultural programs. This hub preserves its originality and lets any wanderer feel it without disguising or heightening anything.
| | |
| --- | --- |
| Traffic | Low |
| Difficulty | Very easy |
| Price | Moderate |
| Style | Home-stay |
| Max. Elevation | Lwang village (1,550m) |
Where is Lwang village?
Lwang village is approximately 2 hours from Pokhara in the Annapurna Conservation Area. The village is easily reachable by bus from Pokhara. You could take many routes to Lwang village. People can reach Lwang from Dhampus or Pothana and many visit it while returning from Mardi Himal trek. Below is one of the most accessible routes which go directly to Lwang village.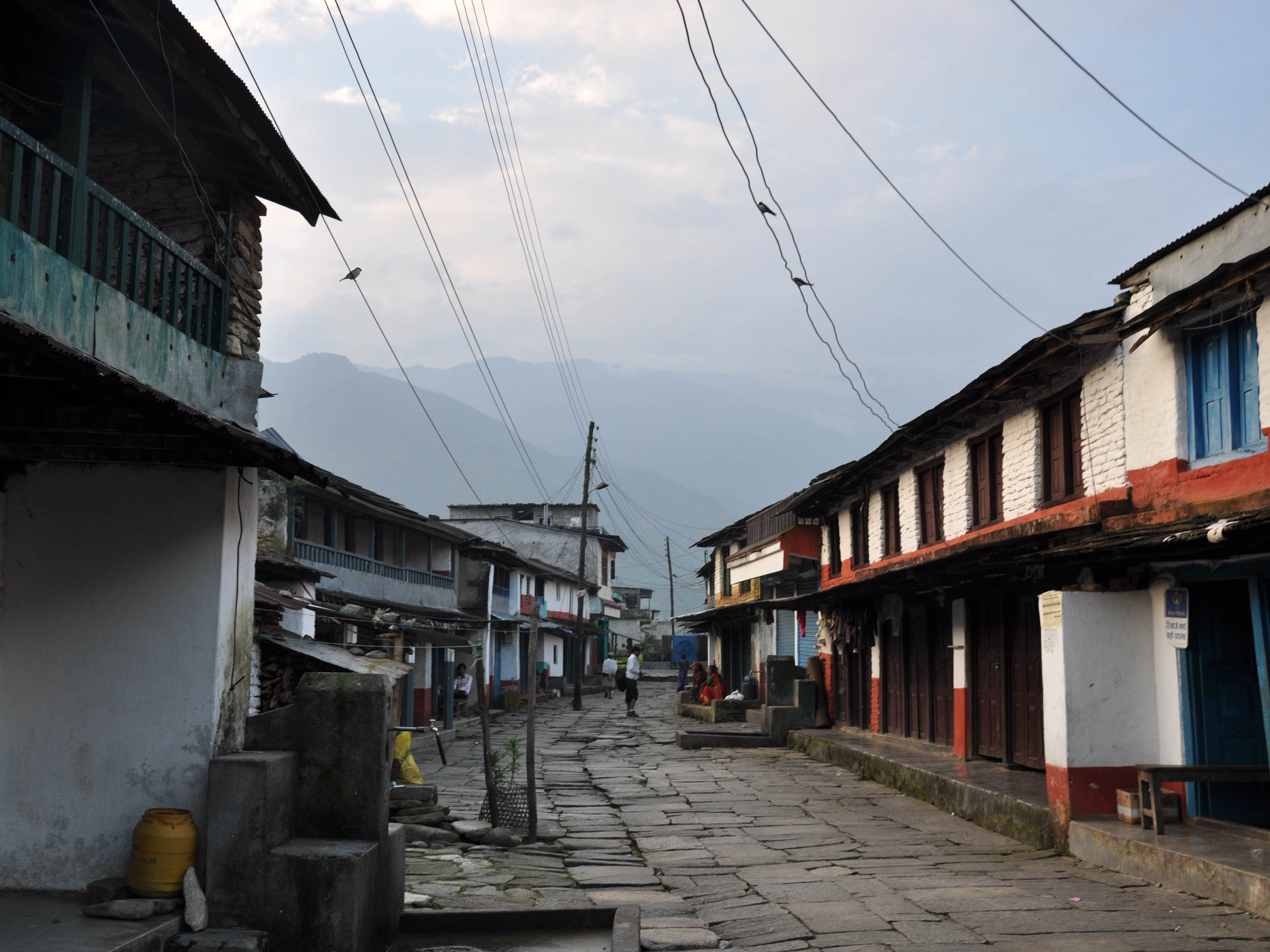 Pokhara – Hemja –Khoramukh – Lwang village

To arrive at Lwang village, you first need to take a bus from Baglung bus park (Pokhara) to Lwang. It will take around 2 hours to reach here. If you don't find a bus directly to Lwang, then you will have to reach Hemja (about half an hour) and then change to a bus to Lwang. If you'd like to trek, then you can get off at Khoramukh (foothill of Lwang village) and then trek to the village. These buses go up to Kalimati (1950m). During the rainy season, the road gets tough but the drivers reel on.
Why would you visit Lwang village?
Homestays
Lwang village is famous for their homestays. You get the chance to wear a Nepali dress (sari, cholo or patuki) and do chores like grinding wheat or go out to cut grass with a Doko (Nepali basket) and Hasiya (Nepali blade) or participate in cultural programs to learn some Nepali dance moves. These foreign ladies dance like a hipster while trying to match high and low swings of Nepali dance moves. Then you get farewell with a "Tika- rice colored in red" on the forehead and "Mala- ring of inter-sewed marigold flower" which is given as a sign of blessings.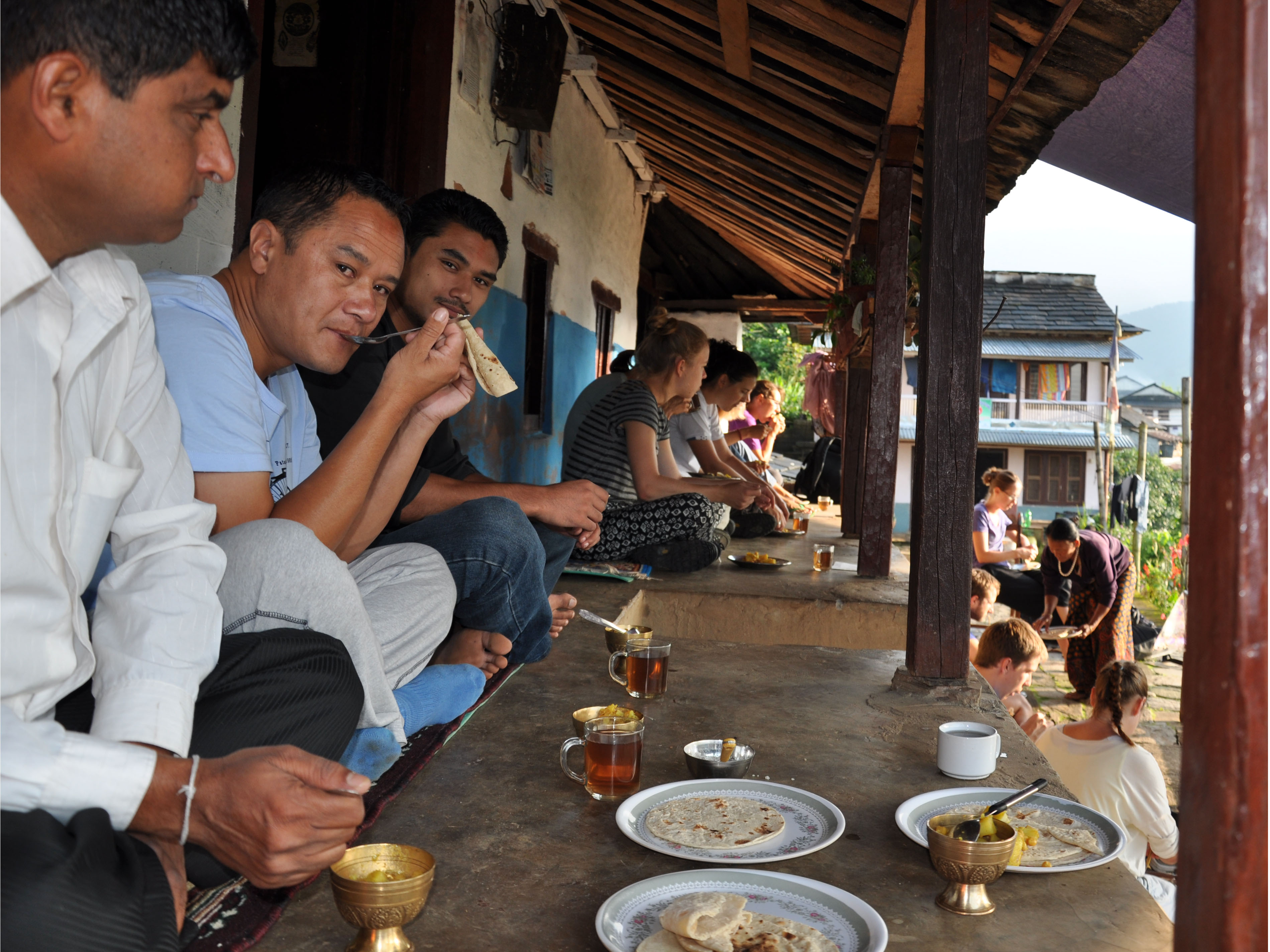 Organic Tea Gardens
Another element villagers of Lwang pride on is their organic Himalayan tea. We pass by beautiful landscapes of tea farming on the way and get to taste them once you enter the village. The organic tea here is exported to Germany in Europe.
Eco-Tourism
This idea is directed towards exposing and conserving the natural and exotic elements found in a particular environment and utilizing them without disrupting their natural state. Eco-tourism is practiced in Lwang village so that development, people, and nature can co-exist together without disrupting the balance and sustainability.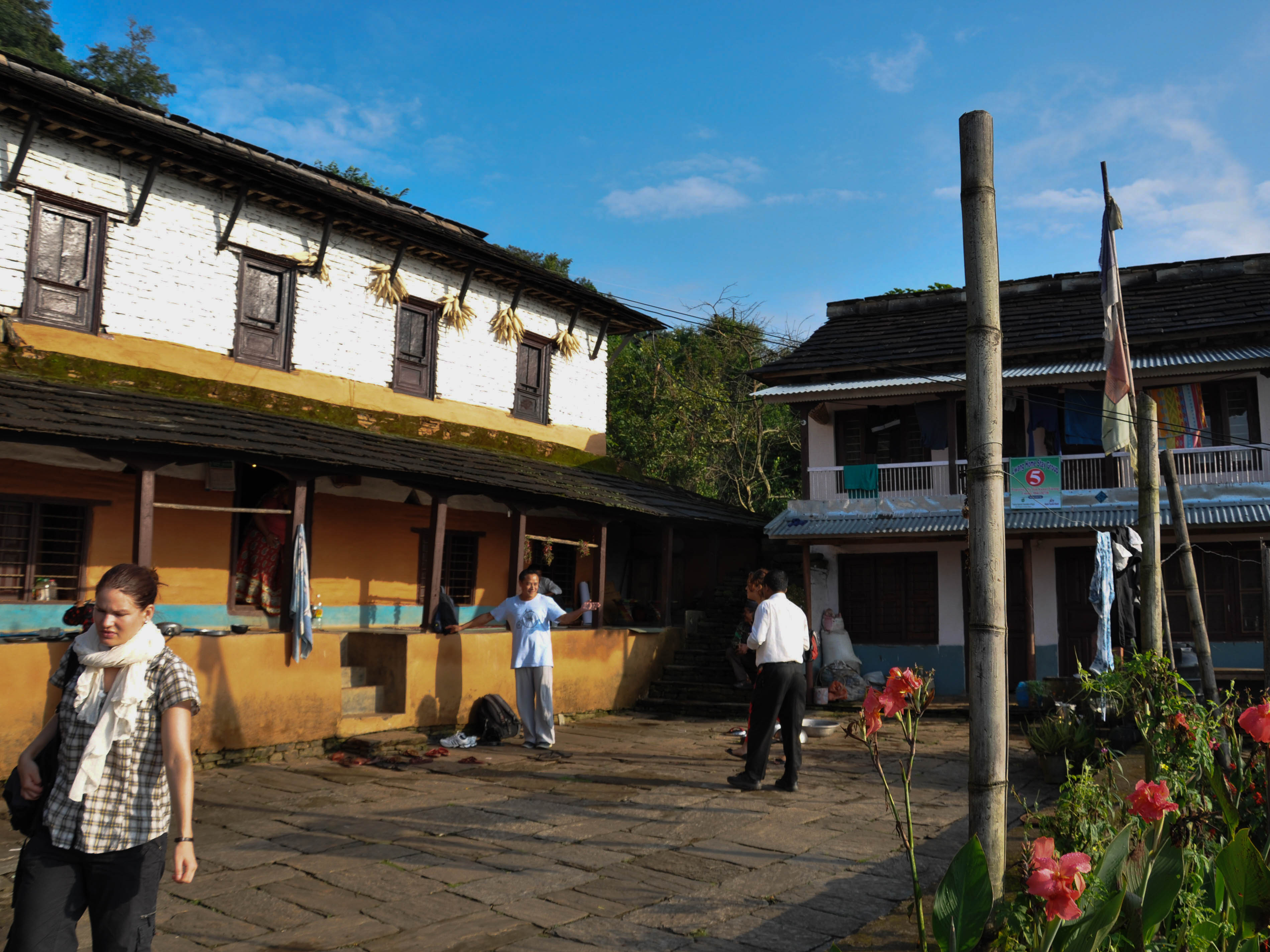 Canyoning
There is a waterfall near Lwang village where the Kudi River falls from a height of 107m. This sport is done under the supervision of trained professionals who have gained a level of proficiency.
Mountain Finder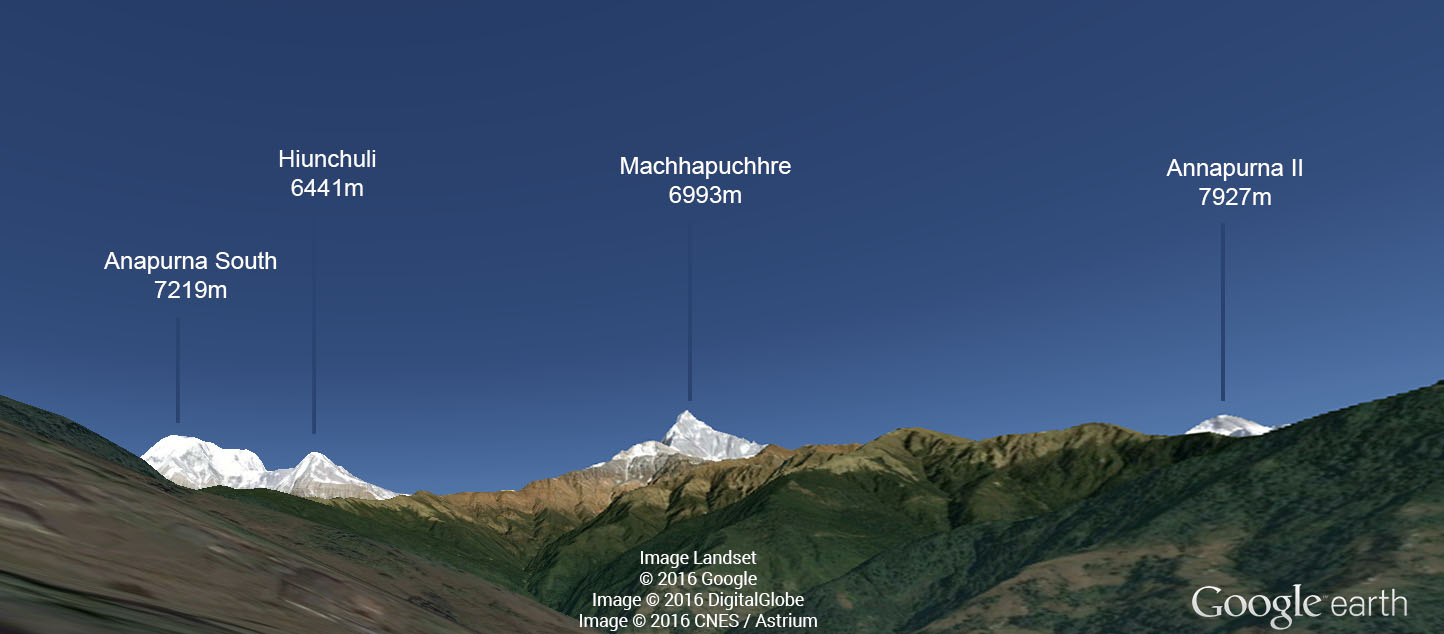 When to visit Lwang village?
1)   Mid-September  – Early December is the best month because it is the peak season to trek with clear visibility of mountains and to catch amazing landscapes.
2)   January – Mid February have clear blue skies, but temperatures get cold so decide on your own.
3)   March-May brings springtime when everything is coming back to life in green.
4)   June- August – This is the monsoon period which is prone to landslides and clouded vistas.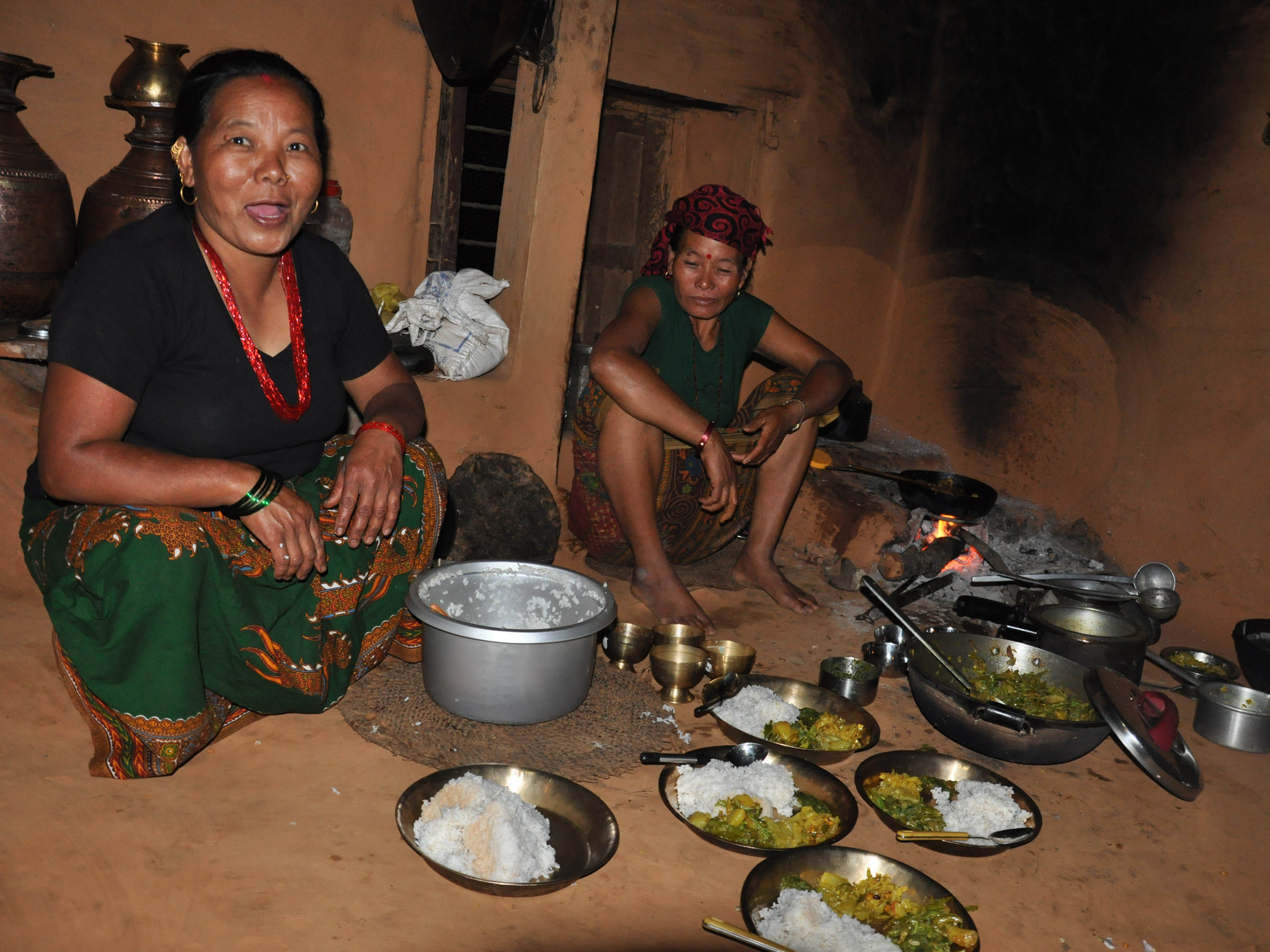 Cost Layout
You don't need the help of a trekking agency or guide to reach Lwang village. With proper guiding material, you can do this by yourself.
Hotels
On season: Rs. 1200
Canyoning
Nepali: Rs. 4500
Foreigner: Rs. 6000
Accommodation in Lwang village
In Lwang village many houses run home-stays, and they are all a member of a centralized governing body known as "Lwang Home-Stays." So, the homestays do not have their unique names. Rooms and environment here are typically Nepali, and people get an original picture of how a Nepali lifestyle flows.
Some information about hotels and their contact address are as follows: