Uma-Maheswor is one of the famous temples in Kirtipur which is also known as Bhavani Shankar. The temple that is 1418m in elevation and offers a great panoramic view of Kathmandu valley and Himalayan range in the north. Ganesh Himal (7606m), Langtang (7234m), Gauri Shankar (7134m) and Cho Oyu (8201m) are the major peaks easily seen from the temple.
The temple was constructed during the reign of King Siddhi Narasingh Malla probably in 1655 A.D, in respect of the divine couple, Lord Shiva and his consort Parvati. The temple stands over four successive plinths. The fourth plinth supports the entire weight of the temple and has twenty big pillars supporting the verandah. Two elephants stand on either side of the lower plinth, erected in 1662 AD, just seven years after installation of the main image. It was normal in those days to install the icons of Bhimsen and Kubera as guardians in a Shiva temple. The lower section of the lintels has figures of Astabhairav (8 form of Bhairav) and at the bottom of the figure are tiny erotic images carved beautifully in the strut. At ground level, in the south, is a Trishula. It is considered to represent Goddess Taleju.
It is said that the bell presently in the temple was originally of Ghantaghar (the famous Clocktower in Kathmandu). This was one among the four quarter striking bells of the tower. The great quake of 1934 did not spare the tower. To preserve the bell, ruling Prime Minister of the time, Juddha Shamsher offered it to this temple. There is a rumor that the original bell of this temple was stolen by a King of Bhaktapur ages ago.
Many assets of temples had been stolen and sold like it happened with countless temples in Nepal in recent times, but there are few cases of stolen items being returned. There was a news about 15 years ago that a 12th century stone sculpture of Uma- Maheshwor which was stolen from Wotol, Dhulikhel in 1982 would be returned to Nepal. According to the news sources, the sculpture was sold to several art dealers and museums before ending up on a lonely pedestal in the Museum of Berlin.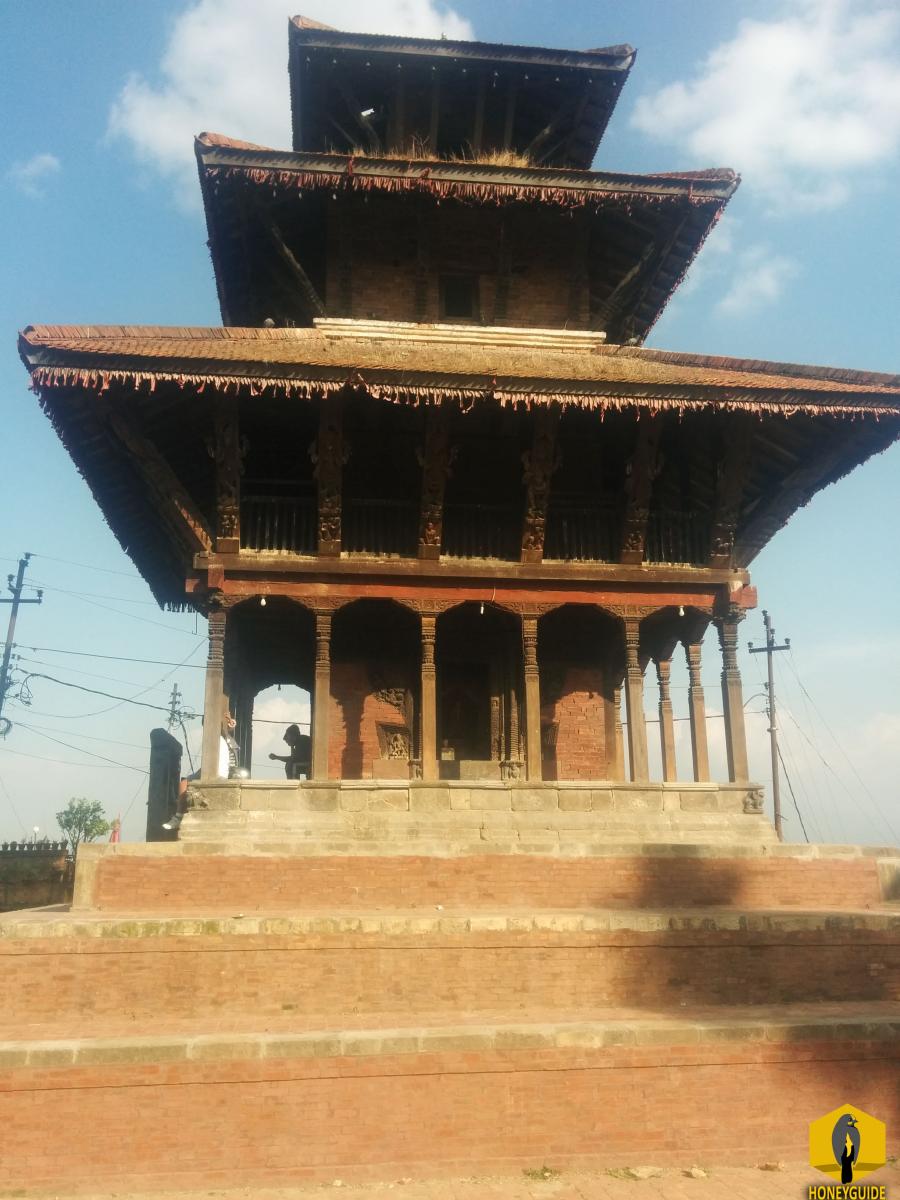 Uma Maheswor temple in Kirtipur