Gone are the days when booking that flight you'd always wanted was a leap into the unknown. There is a lot you can do now to make your travel go smoothly. Visiting Nepal is certainly not travelling to Narnia. Infact, it is much easier to travel to Nepal with the help of internet these days.
There are a million odd portals out there selling the 'cheapest' air tickets. Make your pick. However, it is a better idea to stick to established portals as far as possible. This will become especially important if you have to make changes and the portal providing 'cheapest' fare might not have the best customer service. Alternatively, you can use these portals to browse for the lowest price flights and then book directly with the airline company. Whatever the case, keep in mind, the cheapest fare might cost you peace of mind and hassle-free travelling.
It is also possible to overland into Nepal from India from one of the many border-entry points.
Visa:
While it is possible to get a visa in a Nepali embassy abroad, you will be issued a tourist visa upon arrival in the following entry points: Tribhuwan International Airport (Kathmandu), Kakadvitta, Birgunj, Bhairahawa, Nepalgunj, Gaddachowki on Nepal-India border and Kodari on Nepal-China border.
The payment cannot be made in Nepali/Indian currency or by credit card. One of the following currencies are accepted: Euro, Swiss Franc, Pound Sterling, US Dollar, Australian Dollar, Canadian Dollar, Hong Kong Dollar, Singapore Dollar and Japanese Yen.
All visas issued are multiple entry visas and cost as follows:
15 days: USD 25 or equivalent
30 days: USD 40 or equivalent
90 days: USD 100 or equivalent
Make sure you have the visa amount in acceptable currency along with your passport and one passport size photo while approaching for a visa.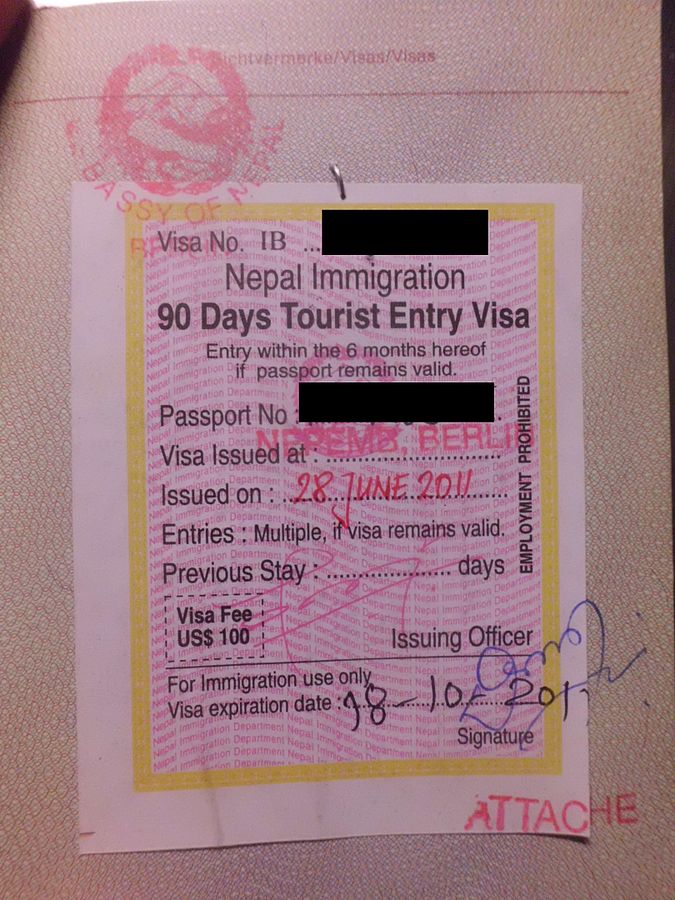 This is how tourist entry visa looks like…
Visa extensions can be done for a maximum of 150 days in a calendar year at:
Department of Immigration
Kalikasthan, Kathmandu
Tel: 977-1-4429660 / 977-1-4438862 / 977-1-4438868/ 977-1-4433934
E-mail: mail@immi.gov.np
Web site: www.nepalimmigration.gov.np
Indian nationals to not need a visa to enter Nepal, but should have a valid photo ID to enter.