We have it on good sources that there are 7 wonders in the world; we don't deny it. We are just gutted that none of the 7 belongs to Nepal. This article could very well act as a plea to include our very own Tribhuvan International Airport (TIA) in this list. But TIA is too special to be in the list of 7 wonders of the world; we want TIA to be the 8th wonder of the world!
Originally built to accommodate 1500 passengers per day, the airport still works flawlessly even for 15,000 passengers, all the while making sure that the service and experience is just tip-top. If that doesn't convince you to root for "TIA: 8th wonder of the world", here are other equally compelling reasons.
Surely any aircraft that lands on the infamous runway of TIA will feel blessed. You don't get to land on a runway of an international airport whose capacity is 196 tons every day. Yes, it was constructed to support some 196 tons of weight, not so long ago in 1967. Fast forward 48 years and TIA still supports 196 tons, Bravo! That's consistency for you. Not to mention, the runway has been landing aircrafts of around 300 tons in recent years. The recent 7.8 magnitude earthquake probably didn't help either as there are even bigger and obese aircrafts landing everyday to provide relief materials. Afraid, that the consistency that has been so well maintained over these years might be in jeopardy, Civil Aviation Authority of Nepal (CAAN) even requested international airlines operating wide body aircrafts in Nepal to limit their landings and takeoff weights to 196 tons. Clearly if the runway cannot support weight of big aircrafts, it is their fault for not listening. TIA surely aspires to be a modelling agency (low on budget of course). It would love to have skinny models on its runway but it can't say 'no' right away to some overweight models. As they say, the show must go on. We can't blame TIA for this; who would want to see an obese aircraft flaunting unattractively on its glorious ramp (which needs timely patching up of the potholes; a bandage here and there and it's fixed) ?
One question leads to another, Do you remember the time Turkish Airlines skidded off the runway and got stuck there and the airport was closed for 4 days? International airlines passengers waited anxiously for days to fly away or fly into Kathmandu. All this trouble because that Turkish airline aircraft could not be dragged off from the only international runway of Nepal. The answer to these types of problems is not those 'expensive', 'modern' equipments but rather the avenger guy, HULK. TIA needs to start a dialogue with Marvel comics and hire this Hulk guy as a field staff. No more aircrafts stuck in the runway thereafter. Also, with that substandard dress up he would be the cheaper option and a bargain! A debate erupted after the runway was shut for 4 days that Nepal should have a second international airport or at least a second runway to garner the increasing traffic at TIA. What nonsense says we. We are not going to tolerate the blasphemy of another airport competing with our beloved TIA. Thats like having two superheroes in one movie. Sorry Marvel but this is Nepal. Besides, no other airport could replicate the various potholes that gives the runway at TIA such uniqueness. It gets better when it rains. You don't even need to go to Pokhara to witness those amazing lakes; TIA will serve up some beautiful small lakes for the pleasure of your eyes right there in their runway. The airport will of course stall the scheduled flights but who cares! Just enjoy the view.
Inside the terminal of TIA is where the real fun begins (our apologies to those who have actually been there). If you have to visit a restroom, either for a short or a long one you will have an experience that you will remember and smell for the rest of your life. If the restroom you visit has a soap, water running in the taps and a toilet paper then consider yourself blessed; not to mention not having to cover up your nose while you are at it. Or perhaps you have already overheard about the consequences one might face in the loo. You decide to avoid this experience and just rest in the departure lounge. Good luck finding an empty seat to actually rest on. The lounge works on a simple rule that the number of seats installed should always be less than the number of persons actually waiting in the departure lounge. One more thing to consider in the lounge: always stay close to the speaker that announces the landings and takeoffs if you don't want to miss your flight. The voice behind the speaker is pretty, it's the speaker's quality that is not so appealing. You have only yourself to blame if you find yourself hustling past the crowds towards your airplane because you didn't hear a clear warning, "10 minutes to departure".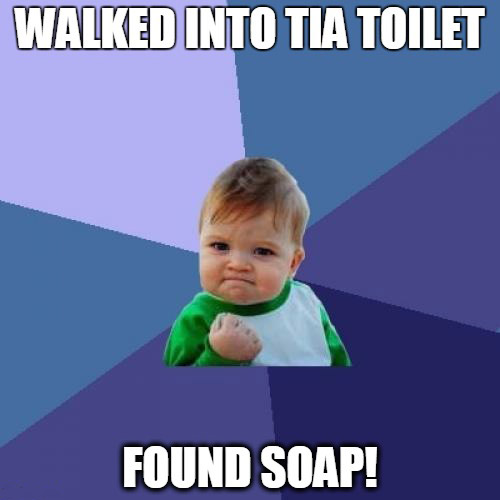 And the queues, wherever that might be, be it in the baggage claim or immigration section. One could finish a movie while in the line, and your turn still will not have arrived. TIA officials will take this as a good news; at least the passengers' time was not wasted. They actually enjoyed their stay in that hour long line. Just a heads up, if you are really lucky you might even have to stay in a queue outside the restroom just to get a load off of your bladder. The Nepali phrase for this act being "halka hunu". However, all is not good in da hood for departing passengers as there is a slight setback. They are only frisked 3 times from check-in to boarding. We consider this a great opportunity lost for through these security checks we can provide our esteemed guests with a full body massage. Hence, we strongly recommend that the number immediately be increased to 5 security checks. Also, while your passport is getting checked do remind the official to hold it upright at least; will save you some precious minutes.
Talking about security checks, Charles Sobhraj, the notorious bikini killer once claimed that he could smuggle an elephant through the TIA. It only became clear later that as cops were searching for smuggled elephants for about ten years, Sobhraj managed to smuggle a lot of other smaller stuffs. However, not all effort was wasted as the airport did manage to stop a number of cows from boarding a plane. If more people knew about this amazing fact, imagine all the publicity TIA would receive. Foreigners would want to visit Nepal just to give smuggling a try. We already see a potential for promoting TIA as a Smuggler's Bootcamp worldwide if we do this right. Also, even if you get caught with some items that you are not supposed to be carrying then some good hard Nepalese notes might come to your rescue. You just have to have the right connections. Don't go looking for a mouth and a tongue in the Rupee notes, but money does talk inside the potential 8th wonder of the world. So much so that some passengers have Rs. 1000 ready in their pockets to be sacrificed just to avoid a long and unwanted scuffle and argument with officials they are dealing with. Outside the terminal taxi drivers, porters will be waiting to welcome you with arms wide open. If you are a English speaking tourist or any other language for that matter you are the beehive for the bees swarming around. "Please use trolleys for free" notices are there for everyone to see but our porter brothers believe in public service. They will not ask for the service, they will give it to you and ask money for it. This mustn't even matter at all because at least you got served! (without even having asked for it)
And how can we forget about the 3rd position bagged by Nepal in CNN's survey, "World's worst airport in 2014". All this hard work and still TIA managed to grab only the 3rd position? What went wrong? Were the lines not long enough? The waiting room not crappy enough? Restrooms not smelly enough? The officials not corrupt enough? Or were CNN not happy with TIA's desire for skinny models on its ramp? Kunda Dixit from The Nepali Times might have the answer for you in his article "World's worstest airport". Nepal is a country full of hope and a long wish list: To win a World cup; Football or Cricket you decide, to become Switzerland someday, to actually have a constitution. But the most viable and realistic dream seems to be grabbing the first place in the World's worst airport in 2015. 2015 could be our year folks.
TIA officials doesn't care if you are in Nepal for Everest expedition or to trek in the Himalayas. The logic is, if you are going to have the thrill of your life, you might as well experience the 3rd shittiest airport in the world in its entire glory. No need to be sad if you fail to have this experience when you arrive, TIA will try its best to leave an impression behind when you leave Nepal. All jokes aside, let's not be too hard on the TIA, but until and unless they hire The Hulk for some construction work, we are not ready to be impressed just yet.