The best way to witness the amazing grandeur of Nepal is definitely by walking but mountain biking provides a great new alternative. Although not necessarily new, since mountain biking in Nepal persisted long time ago; the trend of hiring a bike from different shops, cycling with your buddies to a new location once in a while and participating in an event has just been soaring up.
Regardless of the time, the trend of mountain biking before and after hasn't seen much of a change in Nepal. Though mountain bikes these days are highly advanced and has numerous gears and are designed to make you feel more comfortable, it doesn't change the fact that it is an adventurous sport that'll test your limit and fill you up with fun and adventure, and perhaps, this is the reason why it has been successful to attract a lot of youngsters.
Looking at Nepal's geographic location, it is fair to say that mountain biking has a huge potential and has already been touted as a 'trip-of-a-lifetime' by those who've already experienced it. This untapped potential has slowly been surfacing into the mind of people and hence, as a result, the growing business of mountain bike shops in Kathmandu valley, especially in Lalitpur.
Whether you plan to circle the rim of the valley or plan for an extended trip from Muktinath to Jomsom, you can either hire or buy a bike from the following shops here in Kathmandu:
1)      Marin Bikes (Jhamsikhel, Lalitpur – opposite to British school)
Bikes available: Marin, Merida (Rs. 60,000 above) Marin Full Suspension 10 speed (Rs. 250,000)
Accessories available: Rock Shock, Branded Helmet, Gloves, Light, Locks, Pumps, Bells, Biking Jersey etc.
Hiring charge: Rs.700 /per day ( includes Helmet, Lock, Pump, Tube)
Deposit: Citizenship, Passport Photo Copy
 Full Servicing Charge: Rs. 800
Contact Info: 9813676424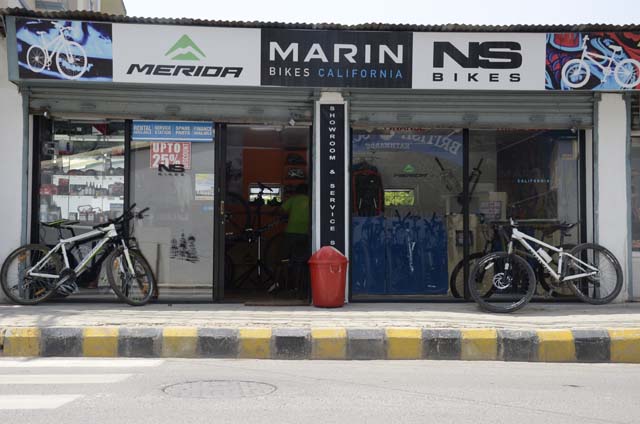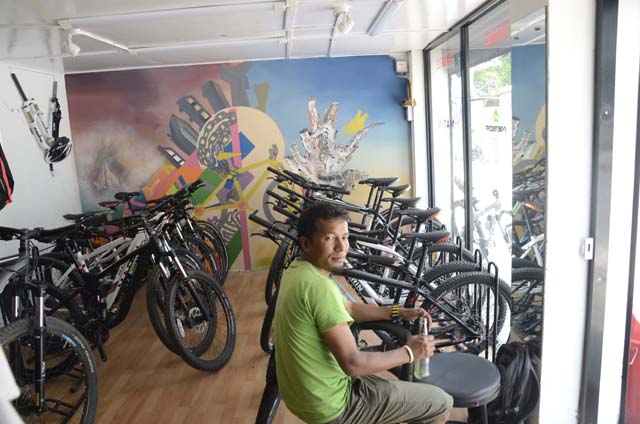 2)      Grind Custom Bicycles (Dhobighat, Lalitpur – opposite of Saraswati Temple)
Bikes available: Specialized, Scott, Dartmoor, NS Bikes, BMX
Accessories available: Rock Shock, Branded Helmet, Gloves, Light, Locks, Pumps, Bells, Biking Jerseys, Chain stay protector, Stand etc.
Hiring Charge: Rs. 800/per day (Includes Helmet, Lock, Pump, Tube, Repairing tools)
 Deposit: Citizenship, Passport Photo Copy
Full Servicing Charge: Rs. 800
Contact Info: 9849618813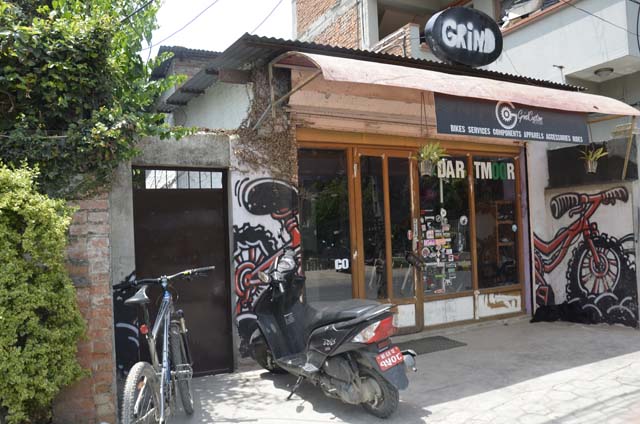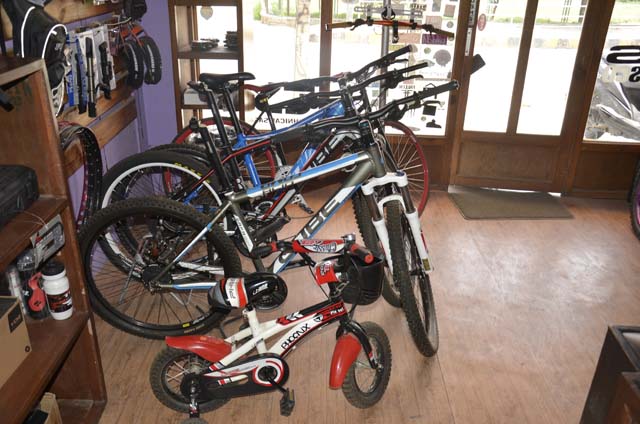 3)      Epic Mountain Bike (Jhamsikhel, Lalitpur)
Bikes available: Chain, Commencal Hard Tail (RS. 82000 above) Commencal Full Suspension (Rs. 314000 above)
Accessories available:  Branded Helmet, Gloves, Light, Locks, Pumps, Bells, Biking Jerseys, Chain stay protector, Stand etc.
Hiring Charge: Commencal Bikes  (All range) starting 1500/day
(Includes Helmet, Lock, Pump, Tube, Multi tools)
Deposit: Citizenship, Passport Photo Copy
Full Servicing Charge: Rs. 1000 ( Hard Tail) & Rs. 1500 ( Full Suspension)
Contact Info: 01-5555021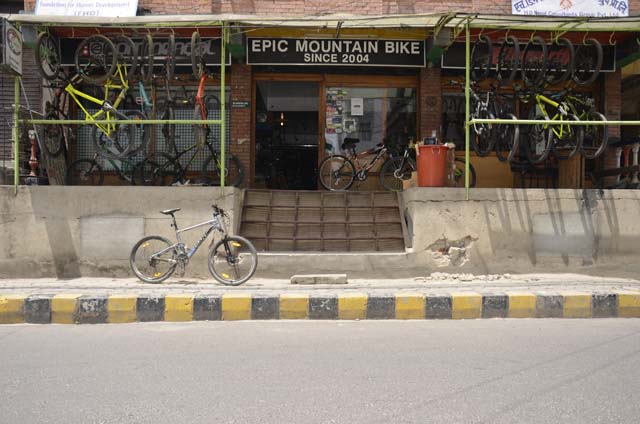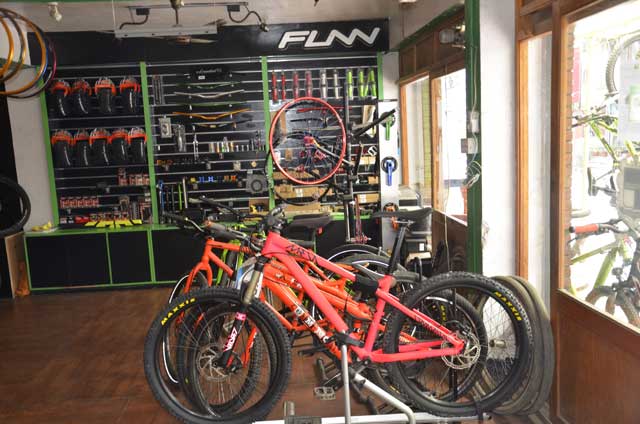 4)      Universal Mountain Bike Shop (Sanepa, Lalitpur)
Bikes available: Giant, Cube, Motachie
Accessories: Rock Shock, Branded Helmet, Gloves, Light, Locks, Pumps, Bells, Biking Jerseys, Chain stay protector, Stand, Umbrella, Boxer, Arm Warmers etc
Hiring Charge: Not Available
Deposit: Not available
Full Servicing Charge: Rs. 800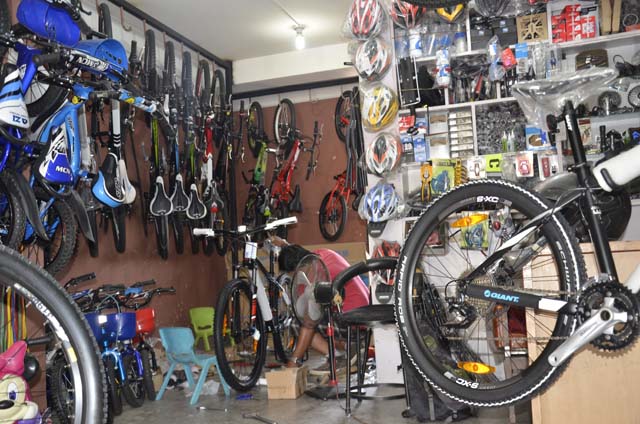 5)      Power Sports (Bhanimandal, Lalitpur)
Bikes available: Cube, Giant, Trek, Hero (All types of Hard Tail Bikes are available)
Accessories: Helmet, Gloves, Tires, Tube, Pump, Cycling Jacket etc.
Cycle Hire Charge: Not Available
Deposit: Not available
Full Servicing Charge: Rs. 800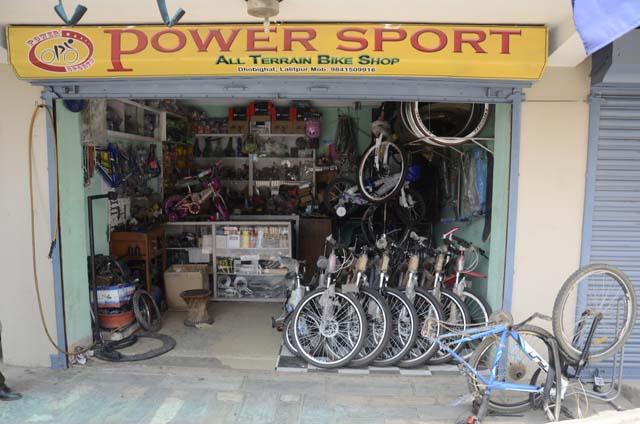 6)      Himalayan Single Tracks (Sathghumti, Thamel, Kathmandu)
Bikes available: Giant (Hard Tail & Full Suspension)
Accessories Cycling Jersey, Gloves, Jacket, Repair Tools, Bike Stand etc.
Cycle Hire Charge: Giant Trance & Anthem US $ 40 per day, Giant XTC US $ 20 per day, Giant Talon US $ 15 per day ( Helmet, Tools, and Spare Parts)
Deposit: Contact Store
Full Servicing Charge: Full Servicing Charge: 1500 to 2000
Contact Info: 01-4700909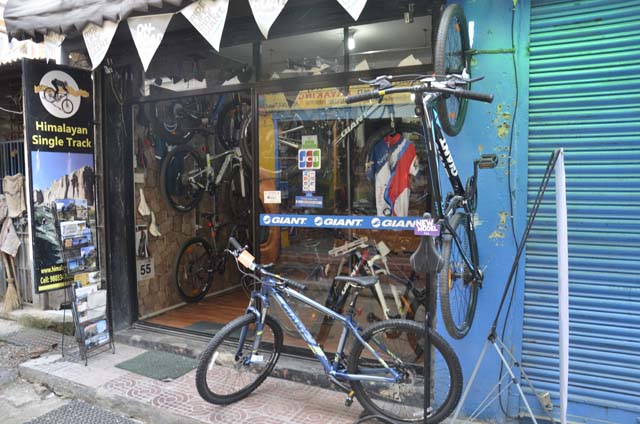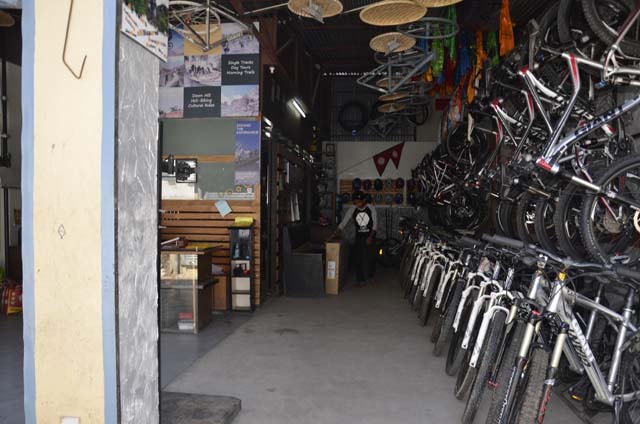 7)      Pathfinder Cycling(Thamel, Kathmandu)
Bikes available: Giant, Cube, Trek
Accessories: Spare Parts, Bike Handle, Chain, Gloves, Tube, Tire etc.
Cycle Hire Charge: Rs. 2500 /per day (Including Helmet, Tools & Spare Part)
Deposit: Contact Shop
Full Servicing Charge: Rs. 1500 to 2000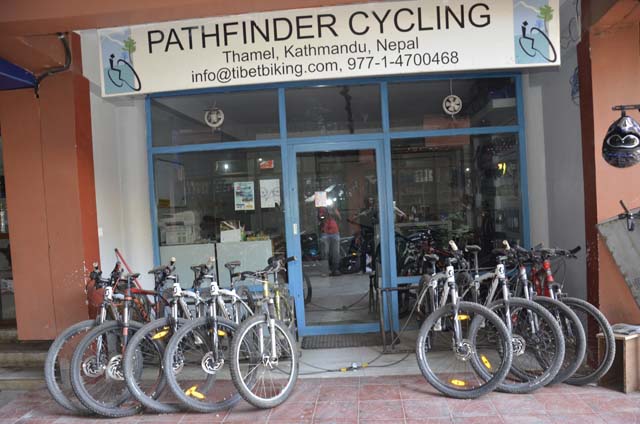 8)      Peddle Sports and Apartment (Thamel, Kathmandu)
Bikes available: Giant, Cube, Trek
 Accessories: Pump, Spare parts, Cycling Jersey, Jacket, Boots, Tire etc.
Cycle Hire Charge: Rs. 500 to 1000 (Including Helmet, Tools & Spare Part)
Deposit: Contact Shop
Full Servicing Charge: Rs. 1500 to 2000
Contact Info: 01-4421762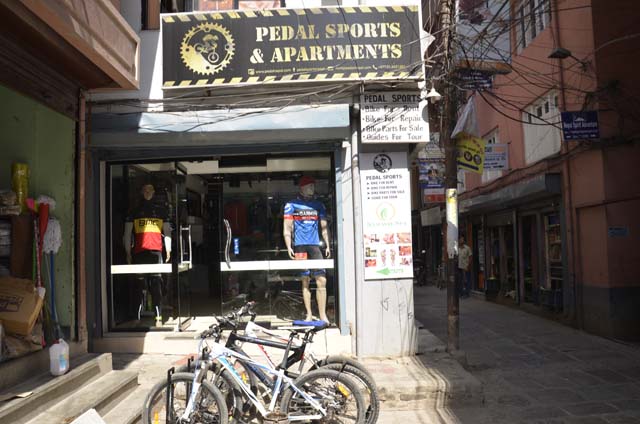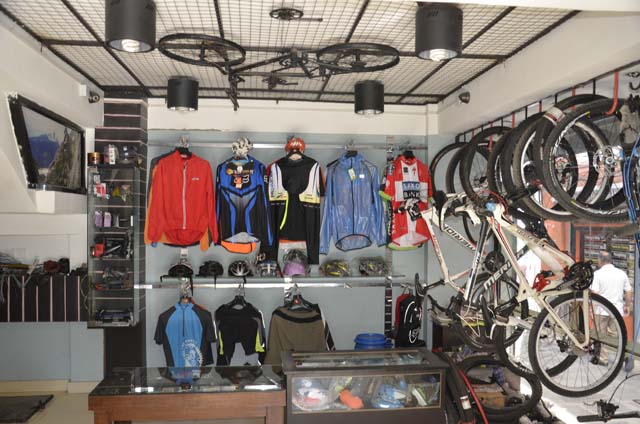 9. Saddle Bike Store
Bikes available: Format, Cube, Giant, Trek, Bianchi
Hiring Charge: Rent (Rs.800.00 per day including helmet air pump, spare     tube, bicycle lock)
Servicing(Class I servicing @ Rs.800.00)
Mountain Bike Buy, Sale, and Repair