Valentine's day just passed by but should lovebirds limit themselves to this particular day to shower some love? We think not. But like it or not, Valentine's Day has become a global festival and is not going away anytime soon, including in Nepal. In the realm of romanticism, traditional manner of going on a date is disappearing fast and a globally standardized way of dating has been established.
Like the lovebirds in every other place, Nepalese people too had their own way of dating or going on a date. It's an entirely different argument whether the lovebirds preferred the traditional way or not but it does not mean the old way did not have its own charm. This piece of literature is an attempt to nostalgically remember the old ways and their charm, but most of all it is a pseudo-instruction manual for any foreigners who are keen to date like the locals. After all, going local is trending in tourism.
Step 1: Select a Location
There are countless locations known as dating spots. But some places are always more convenient or appealing than others, sometimes for reasons we outsiders may never understand. So let's try to understand the reasons behind common dating spots. Shall we?
Despite being a liberal island in a more conservative part of world, Nepal has local rules of romance which may seem a couple of centuries old to western people, that is if you want to "date like a local". It's not like Nepalese are unable to digest the rules of millennials though. Hippies already loosened us up in the 70's.
So, here are the cultural factors that give an insight of why it is what it is.
Labelling holy houses of worship as dating spots may baffle foreigners but they are the most obvious dating spots in this part of the world. Historically, popular temples have always been a favored location to go on a date. Actually, it was more popular for people trying to find a date rather than going on a date itself. Women and girls always tend to be regular visitors to houses of worship whether they are temples, monasteries or churches, among others. Moreover, in a patriarchal society where males control many aspects of women's lives, going to the temple has always been easy, convenient and justifiable to their parents and families. So, select a 'safe' location and be prepared!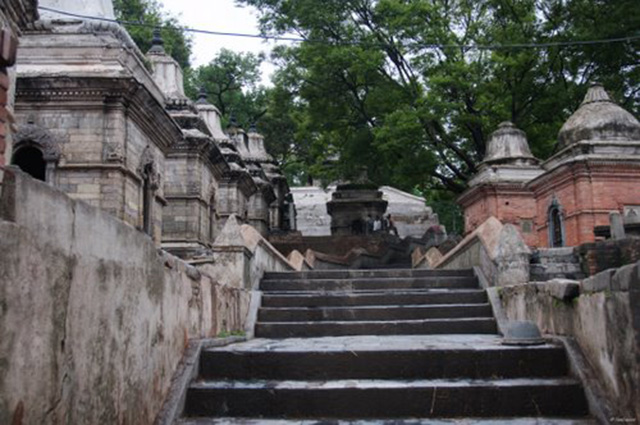 If you are confused which location to select, here are some dating spot suggestions to do it like the locals. If you are really desperate Google might be helpful to find the locations:
Kumbheshwor temple, Patan (more famously known as Bangalamukhi temple)
Chovar, Kirtipur
Pashupatinath temple
Taudaha
Nagdaha
The three Durbar squares (Patan, Bhaktapur, Basantapur)
Swayambhunath temple
Bouddhanath stupa
White gumba
Godawari Botanical garden
Sanga
Garden of dreams
Step 2: Get yourself a date first
We forgot. The idea of a valentines date is to actually have a date. Our apologies to all the loners out there or might we say freedom lovers. Getting a date is a long and expensive process. So getting at it, at least, a month before 'the day' is advisable.
Step 3: Select a location inside a location
The religious sites of Nepal are no less than a fancy restaurant. There will be other couples that you might bump into, so avoid the awkward moment of exchanging eye contacts with other's partners by selecting a 'safe' spot to date. What Nepalese couple do is they select a secluded spot and hope none of their relatives find them exchanging Romeo Juliet conversations. Ironically, Nepalese do love a bit of privacy.
Step 4: The do's and don'ts
No public display of affection! Might we remind you that you are on a public site, mostly a religious one. Be mindful of people around you since in Nepalese society, romanticism in public is severely frowned upon. So if you don't want people to stare at you while you are having those sweet exchanges of love, limit the coziness to your bedrooms. Instead, let the lovely conversations take over.
And if you argue that the erotic carvings in public temple walls and pillars may seem contradictory to conservative beliefs, stop it right there! Don't even think about it. Don't anger the gods.
Do surrender yourselves to soulful conversations and shoulder dashings. Talk about what they ate for their breakfast/ lunch, things you did the day before etc. Slowly get in the groove and loosen up whoever is the shy one. And if you aren't shy, you are not doing it like the locals!
Get yourselves local food to eat. The local junk street food vendors are the popular choice. Chana chatpats (spicy chickpeas), pani puris are some of the favorites to munch on. Pick your choice and back again to the romantic conversations, "How does your spicy chickpea taste?"
Step 5: Remember the time factor
If you really want to do it like the locals always remember the time constraint. Let's look at this through the Nepalese side of things. You and your boyfriend are in a park/ temple (assume you are a girl). What will your parents think if you are not home before night falls? Answer: You have been abducted, or you met with an accident or worse, you were with your boyfriend sharing romantic moments. So, Nepalese girls rush to get home on time so that no questions will have to be answered. For the guys, no problems whatsoever, as is in most scenarios in Nepal.
So, if you want to date like the Nepalese people, end your romantic rendezvous well before the sun starts to set.
Step 6: The post-date
Nepalese do not generally drop off their loved ones right at the doorsteps of their homes. Typically, guys drop off the girls just before they reach familiar neighbourhood of the girls. Nepalese parents usually do not know their sons and daughters are in a relationship and there will usually be severe repercussions if they do find out. The guys call the girls to ensure they are safely home and stretch the romantic conversations further-"What did you have for dinner?".