Shopping!! a universal path to happiness to many and just something to do when needed for some. Most shoppings, especially the former kind can be about consumerism and self-indulgence. In reality, Nepal may perhaps be one of the worst ever places to shop for people who only see value in name like Luis vuitton, Bvlgari, Armani other famous name from the Franco-italian fraternity. There is another dimension of shopping where Nepal stands out and offers something uniquely practical and also adds to the beauty of fashions and lifestyle.
The insinuation made above may simply be laughable to many familiar with both the differing side of shopping spectrum. Scratch below the surface and there is a hidden world that may just have something for you. It is impossible to present something that will appeal to every type of tastes but here are some examples that may entice people to shop here.
1) Tailor-made Suit:
While most westerners may never get to wear tailor made apparels owing to their insane prices but it's exactly the opposite here. Most Nepalese may never wear a ready-made suit in their entire lifespan, but in western countries, it's something you can brag about, or even make you a hotrod among ladies. Well over thousand of such shops exist here and like in all industries, the spectrum includes bad to average to the best. Some places have great tailors and have excellent reputations. Just choose the fabric and let them know your preferences, you will have a suit in a week. Choice of fabrics are wide and they are always way cheaper than in any equivalent shops in the west. You will have all the bragging rights to yell "How dare you touch my suit with that dirty hand, damn it is a tailor-made suit."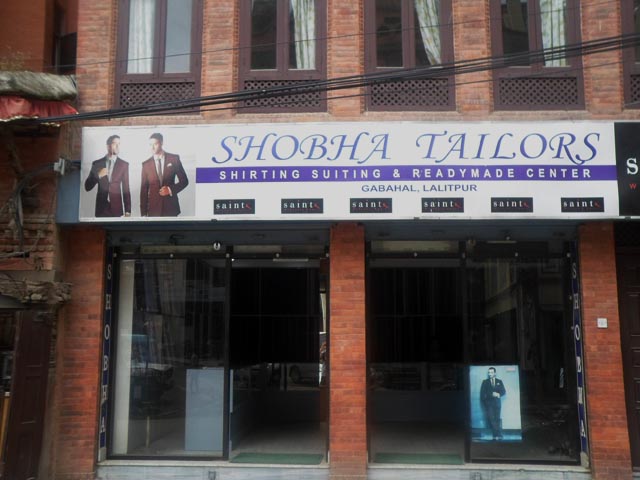 The best part, they will make your suit to any wild specification. If you have wishes to design your own apparels and also at cut-price, pack your bags and head to Kathmandu. A good quality fabric will set you back anywhere between US$ 150- US$ 400, and further US$ 8 to US$ 30 for stitching. OR buy your favourite one and have it converted to a great suit. Give your designs and take a shining tailored suit back home and use it for years.
Elegant Wears at Anapurna Arcade is one of the many shirting and suiting shops in Kathmandu.

2) DVDs & Computer Games:
Tired of paying $10 for a single DVD of outdated movie you may want to watch every now and again? Or of fairly new ones you have not seen? What about paying well over US$ 100 for DVD set of a famous T.V series? If you are headed to Nepal, prepare for a grand bargain. Pirated DVD's and video game CDs are available at dirt cheap prices. Locals pay no more than US$ 0.6 for a single DVD and there are hundreds of South Park fans who bought the DVD set for no more than US$ 20. How about buying video games, they are just slightly more expensive than movies. If you have kids, make sure to buy years worth of video games for your kids. A year's supply may only set you back US$ 50. There is a catch however, when making purchase in bulk, one or two of such items may turn out to be faulty ones but when it's so damn cheap, even the worst of customers do not mind such encounters.
There are a lot of shops in Thamel, the tourist headquarters of town, and shops for tourists are generally overpriced. In this case, even grossly overpriced ones will appear a bargain for people from 'developed economies'. Mahaboudha is an age old shopping district to indulge in such shopping spree. Its purely for locals so if you are headed there make sure to take along an interpreter with you. Perhaps a guide or someone from the travel company you chose to do business with.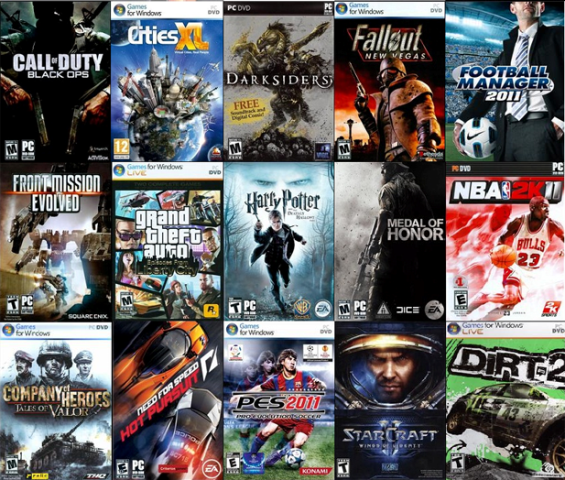 3) Trekking Gears:
Nepal is one of the biggest wholesale manufacturers of gears and apparels for trekking or hiking. For obvious reasons Nepal will always be a good market for trekking and climbing and it's a great platform for such apparel manufacturers. Counterfeits of global brands like The North Face, Mountain Hardware, Berghaus, and many other are easily found and at cut prices. Good quality Duvets are priced from US$ 45 and higher; 5 seasons sleeping bags of good quality will be available for US$ 120 onwards; similarly other gears such as rucksacks, hiking/climbing shoes, and so on are available at good prices. A forewarning is in order though as quality of Nepalese made goods may not be of exquisite quality levels like many of the high end western brands but nevertheless they do satisfy good majority of travelers who come for adventurers in Nepal and what performs good in the Himalayas can be counted as a genuine adventure gear. Sherpa Adventure Gear is an indigenous brand that gives a serious challenge to the good western ones. When in Nepal, try and buy Nepalese!!
If you are still not satisfied with the locally manufactured goods, adventure gears and apparels, virtually all known brands from the west are also available.
If you are in such gears and apparels business, Nepal has big promises and if you want to buy in bulk for your company and club colleagues with your own preferred brand labels, this particular mecca is here in Kathmandu.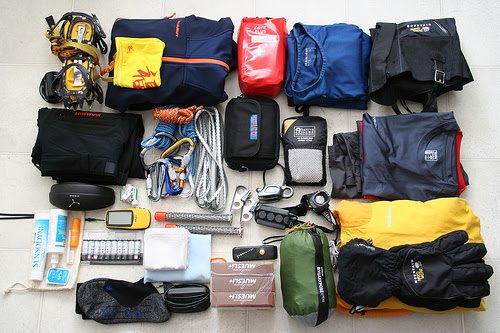 4) Designer Dresses:
If men get to wear tailored suits in Nepal, just imagine how much say women have for their dresses? Hundreds of boutiques are perpetually in overdrive in Kathmandu designing and stitching dresses for women. While most dresses they make are originally of local designs but they have developed a taste for western fashion also. Accordingly the designers and makers are adept enough for western dresses which obviously are much simpler than Asian versions. Bring your own designs or your favourite one or just ask the local designer to make some specially for you. Ladies at HoneyGuide vouch for their quality. Quality, creativity and prices may make some ladies fall in love with Kathmandu and some already have. A warning though, no level of quality at affordable prices have ever known to satisfy women in their search of perfection. Nepal too may fail here!!
Ashriya's apparel by designer Arshiya Banu and Shiwani by designer Shivani Lama are only a couple of designer shops in Nepal.
5) Jewellery:
One does not need to be an expert to judge that Asian societies are more obsessed with jewellery than western societies, and since the ancient days. Within Asia, South Asia stands out from rest of Asia when it comes to jewelery. A fact, unlike most countries, 24 carat gold is widely available here. Like with suits and dresses, most Jewelleries in Nepal are tailor made. Unlike in west, brands do not have high influence in markets. It's hundreds of small family run jewel shops that rule the market here. Like with Suits and Dresses, they specialise in making jewellery to exact specification of customers. Well over half of jewelleries worn Kathmandu are tailor made. No jewellery shop in Nepal can expect to do good business selling only pre-made ones, even the so called big brands rely heavily on selling tailored jewelleries. Bring any design you have in mind and they will make it for you. Did i mention it would be cheaper than in most countries?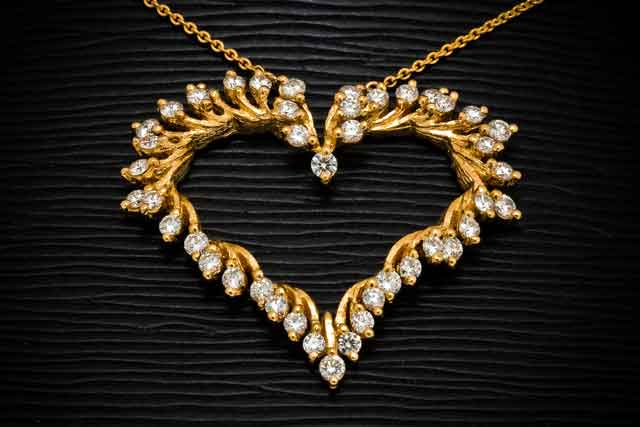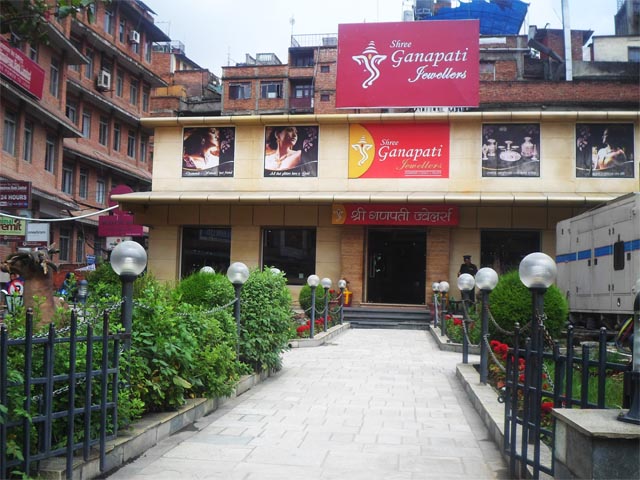 6) Electronics:
Hordes of Chinese electronic goods are cheap and despite the lower prices, they are also extremely good value for money. The eletronic items available here are no big deal, they are available in so many countries if you know where to look. They may or maynot be durable but when things are so cheap, it doesn't hurt to buy some practical things. A pocket sized stereo with good sound quality that can play even the most haphazard playlist copied into a USB drive, or a portable T.V, earphones, or cheap mobile phone that doubles as portable TV for just US$ 80. Like for the DVD's, Mahaboudha is headquarters for such electronic shops.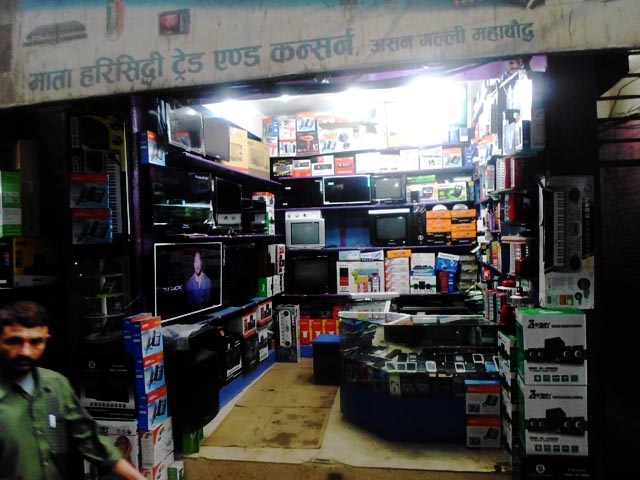 7) Spices:
It's not like spices are not found in western countries but in this part of the world spices are much ore dominant in culinary side of the culture. Any Asian food, with the exception of Japanese are rich in spices. You will find hundreds of spices that will add flavor and fragrance to your food to improve your culinary experience. From organic versions of commonly available ones to more exotic ones, all of them are available in one stop. Some of commonly found spices also popular in the west are Ajowan Seeds, Cardamom, Cilantro, Cumin powder, Fennel Seeds, Ginger, Nutmeg, Mace, Saffron, Szechwan pepper and this does not stop here. You will find these easily in the alleys of new and ancient shopping districts of Kathmandu.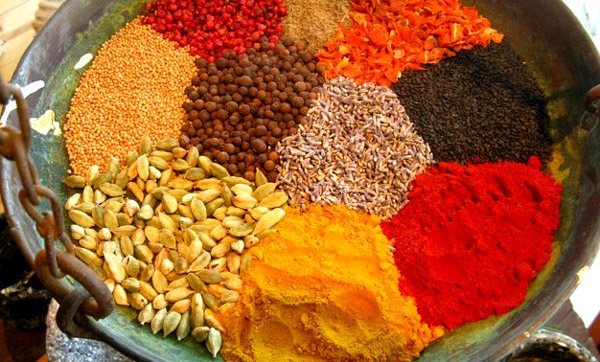 8) Medicine:
Not an item group one would find in a shopping list but westerners who frequent Nepal make use of affordable medications. Unlike in so many other countries, good majority of medications available in the market do not require prescriptions. If you are tired of paying tens of dollars for basic antibiotics or painkillers, come to Nepal, buy and take as much as the laws of your home countries allow. Thousands of high blood-pressure victims spend only few dollars for months worth of medications. Most medications for Acute Mountain Sickness used by mountaineers are flown from Nepal. Save on your healthcare costs.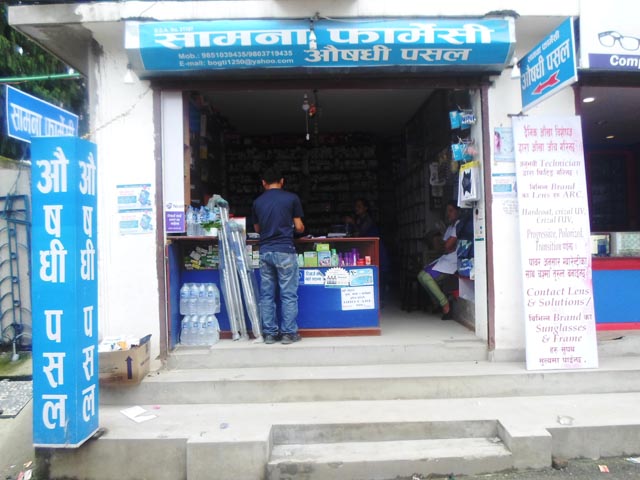 9) Bags:
Handmade clutch bags, embroidered with the 'Pote' – colorful glass beads that have historically been popular here, and again as per your preferred design and at affordable price. It looks exquisite and expensive only till you ask the price and you are left with exquisite. Jute bags and leather bags can also be your options. Unlike the all goods mentioned above, the designs and materials are quite localised and is a niche that may not be part of the mainstream in other countries. They are still beautiful and worth it.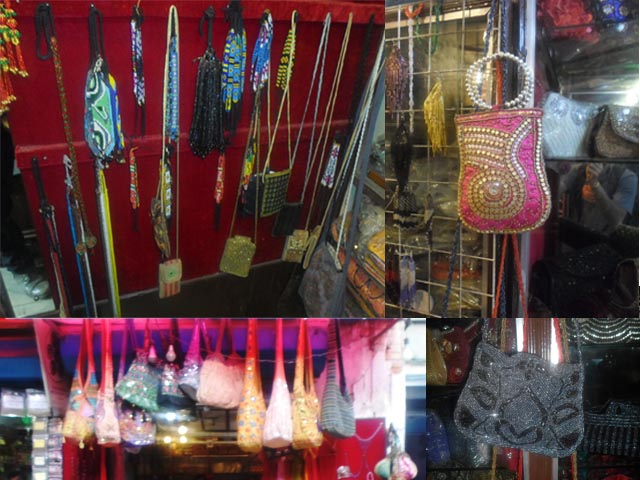 10) Handicrafts:
The term normally covers a wide range of diverse goods from wood carvings, statues, singing bowls, wooden boxes of ancient designs, etc. Go to any popular tourism sites and all the mentioned items are readily available. If those do not excite your shopping senses, those items can be tailor made too. Want a stone statue of yourself, or someone you may want to remember or even your favourite celebrity? There are a handful of people who have the skills to pull off a statue exactly according to the buyer's instructions. The same goes for woodcarvings, they do a pretty good job. Besides statues, there are dozens of items that may interest you.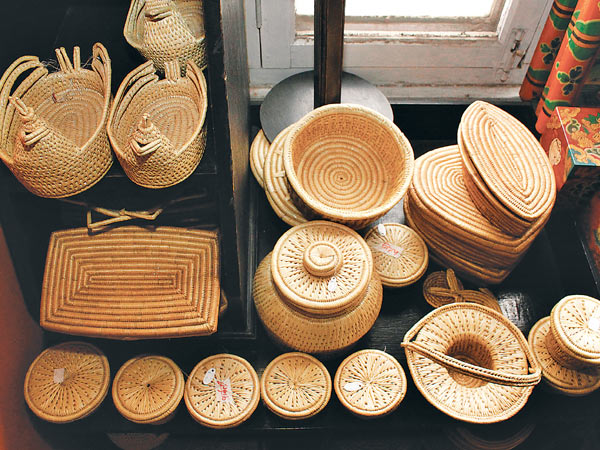 The revelation above may be surprising to many and perhaps exciting too but without a detailed information with inclusion of addresses, locations, prices, and a little graphic representation of what we are on about, it may be hard for traveller to navigate in Kathmandu accordingly but a little assistance from a local will take you to the heartland of all the items elaborated above. All of the goods above are in the mainstream as far as local residents are concerned, so they will not be very hard to find even for international travellers if they do not mind a hands on approach. More detailed guidelines on where to find such goods will follow soon.