You can't understand a city without using its transportation system. But just one look at Kathmandu's system will be enough to convince you that Nepal is going to be one hell of a joy ride. Some people might mistake this excitement for trepidation, but that is normal.
Now, days Kathmandu has become a hub for independent travelers as well as a growing vacation spot catering to all budgets. Comparatively, Kathmandu valley is one of the best places where every tourist wants to spend more time. Every place you visit you will build up more memories. You can find World Heritage Sites like Kathmandu Durbar Square, Patan Durbar Square, Bhaktapur Durbar Square, Boudha Stupa, Pashupatinath Temple, Swayambhunath Temple. Moreover, there are various places like Thamel, Garden of Dreams, Durbar Marg, Sanga, Kopan Monastery etc which you should not miss any chance.​
It is also perfectly normal that cars, buses, cows, bicycles, motorbikes, rickshaws and carts share the road space here. And so is lane splitting, weaving, swerving and stopping. Very soon, you will come to the conclusion that you don't want to understand Kathmandu and just being able to get by would be great. That is where taxis come in.
Taxi:
Hop into one of these little white boxes, tell the driver your destination, pay the fare and tada there you go. We too wish it would be as simple as this but unfortunately it isn't. As tourists, everybody expects you to pay more than the locals and taxis are no exceptions. No taxi driver will operate the meter for a tourist and will usually state a flat rate for the destination. The flat rate could be anywhere from 20 percent to 100 percent more than the usual price. And as a newcomer there is no way you can tell. Here is a little insider information to help you out:
– Do not hire a taxi that has flashy lights or loud and fancy stereo in them.
– It is generally a good idea to stick to older drivers. We know it is a bit of a stereotyping and it isn't foolproof but hey, what is?
– At the time of writing, taxis cost NPR 37 per km (NPR 55.5/km for 9pm to 6am) with a flag down price of NPR 14 (NPR 21 for 9pm to 6am).
So this is what we suggest: Use one of the apps to figure out the distance between your current location and where you want to go and get a rough estimate of the price. Alternately, you could use the mobile app Taxi Fares Nepal which will do the job for you. Now that you have a rough idea, hail a cab and ask politely if the driver would agree to operate the meter. Don't be disheartened if the answer is "No". Ask for the flat rate and negotiate using the rough estimate that you have. However, be prepared to pay about NPR 200-300 above your rough estimate. You will have to pay more than the locals, but with a rough estimate you can be assured that you are not being swindled.
For a quick reference here are some rough estimates:
– Airport to Thamel- NPR 400 (NPR 800 would be a bargain given that airports are usually just crazy even for the locals)
– Thamel to Boudhanath- NPR 500
– Thamel to Pashupatinath– NPR 500
– Thamel to Bhaktapur- NPR 700 (Even NPR 1,000 should be considered a good deal for this one as the taxi driver will probably not get another patron in Bhaktapur)
– Thamel to Patan Durbar Square- NPR 400
– The rough fares we have mentioned will be 50% more if you are hailing a cab in the wee hours between 9pm to 6am.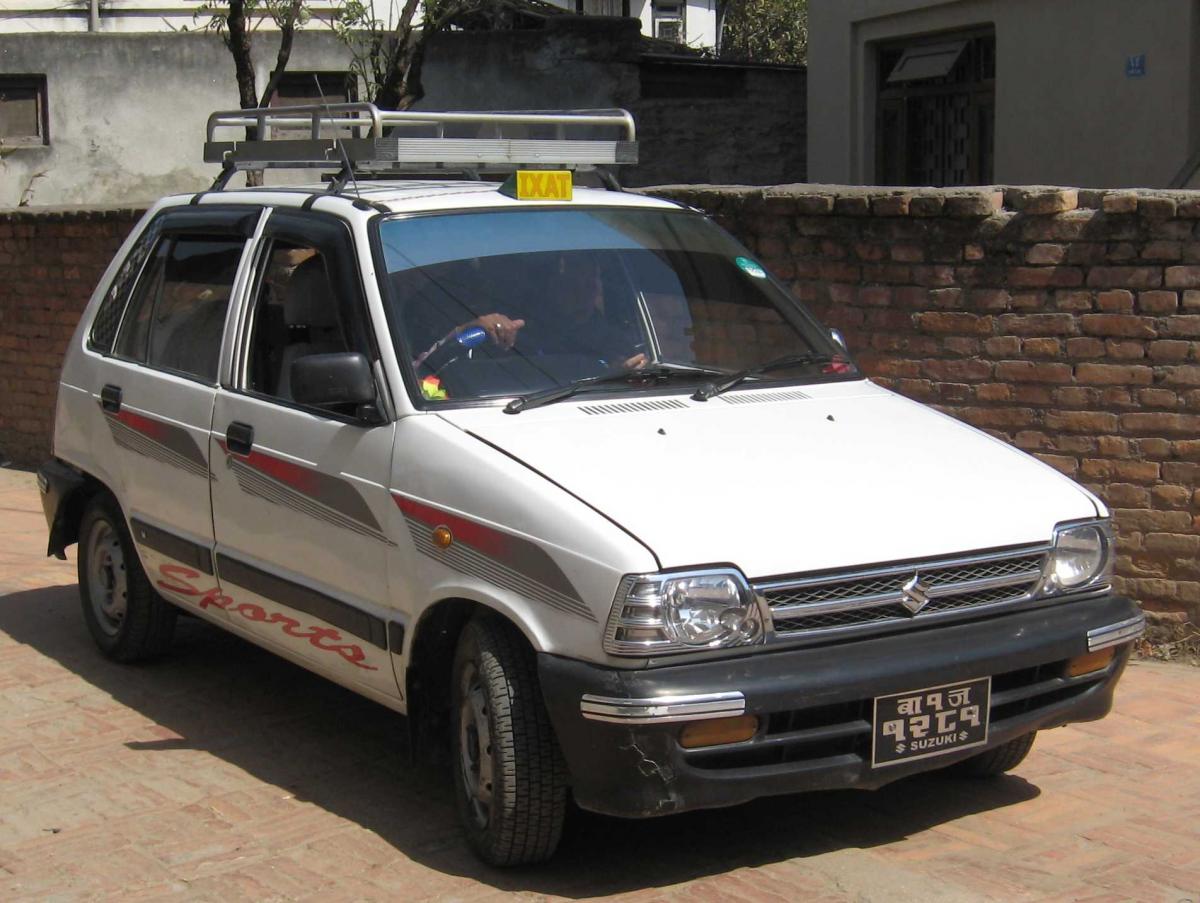 Taxi in Nepal looks like this. Photo: Wiki
Hiring a ride:
For a power packed day trip, it makes sense to hire a car. You could even plan on visiting all the 7 UNESCO World Heritage Sites in one day, but that will be pushing it to a limit. The way it works is that the company or a person you approach will send in a car with a driver who will take you around. You can usually arrange for one through the hotel you are staying in. Prices vary widely depending upon the company and your itinerary, but will generally be between NPR 5,000-10,000 per day and will include fuel costs. Driving yourself is usually not an option and given the road etiquette in Kathmandu, we strongly suggest not to create a scene against this discrimination.
There are also many places in Thamel where motorbikes/scooters and bicycles are available for hire. If you know how to ride one and are willing to brave the Kathmandu traffic, who are we to stop you from realizing your full potential. The most we can say is that a motorbike in Kathmandu is not for the faint of heart and the inexperienced. The price ranges from NPR 700-2500 per day and does not include fuel.
As for bicycles, they are okay if you are in Pokhara or going to the outskirts of Kathmandu, but other than that we suggest staying away from them. We would hate it if you end up hating Kathmandu.
Rickshaw:
These human-powered vehicles are stuffs from the future and are great for a quick jaunt to Kathmandu Durbar Square from Thamel. While it might appear too colonial for some, believe us when we say this, it is not. In addition to enjoying the bustle of the old city without having to brush shoulders, you will also be helping a family of a person in a society where jobs are hard to come by. However, it is advised to negotiate the fare beforehand.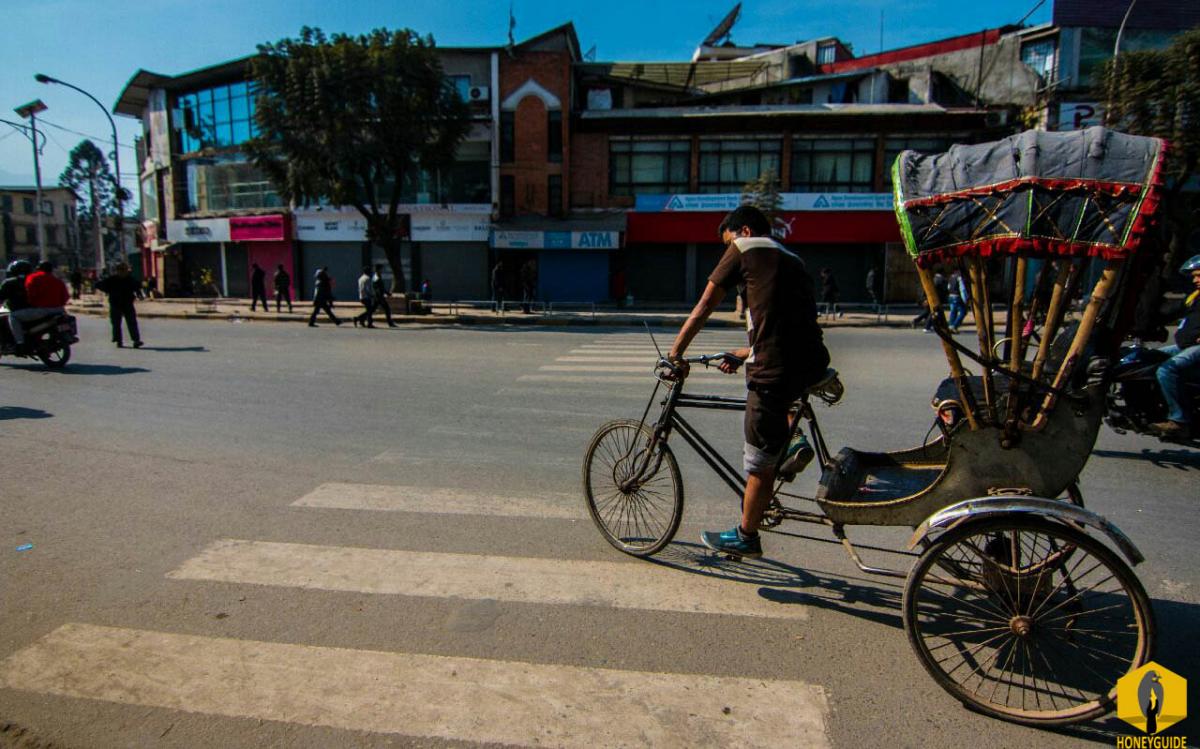 Rickshaw driver waiting for passengers.
Public Transportation:
This is the most authentic and cheapest way to travel in Kathmandu and believe us when we say this, it is frustrating as nuts even for locals. They are invariably overcrowded and the vans (locally called microbuses) are renowned for reckless driving. Buses are generally okay if you know which number to ride.
Even though it will sound a bit condescending, we suggest staying away from public transportation. If you really want to experience the local way of travel find a Sajha Bus. These are the large green buses and they operate between Swayambhunath to Thamel to Pashupatinath. If you enjoy the ride, think of migrating to the next level. A local bus, a tempo or one of those microbuses perhaps.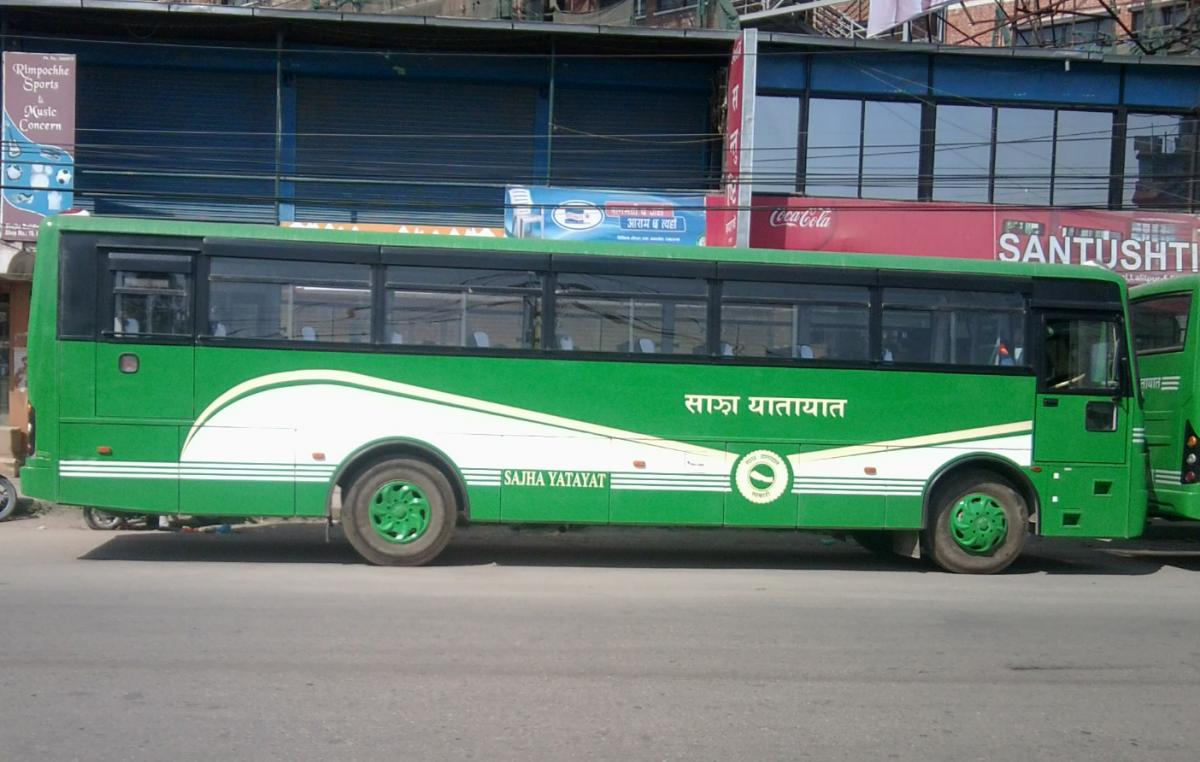 The large green buses you see on the street of Kathmandu. Photo: Wiki
Good luck!!