It's commonly held perception that the best places to experience local foods are places where locals eat. It's a no-brainer and do not require any elaboration. While the statement will always hold true to a large extent, it a time when so many businesses spend much more resources on marketing than on actual products. So, if you are a foodie trying to hone in on the best local and authentic food of any place or culture, there aren't much information on such places on the internet, especially in Nepal's context.
Noise and distortions created by various marketings activities of "modernly run food businesses", an enthusiastic visitor could and do go back home without a true and complete picture of local cuisine. Imagine a tourist in the U.S in pursuit of authentic American dishes being led to McDonalds and Pizza Hut.
This series of blogs filters out all of such noises for anyone who is in search of the best local foods. The places mentioned are in order of popularity among locals.Here comes the first post of the series:
Bhaktapur Durbar Square for 'JuJu-Dhau':
JuJu Dhau – a Newari term that translates directly into 'King Yoghurt'. This particular type of yoghurt has been in craving of many ancient Kings of Bhaktapur. Even though it can be found in many places in Kathmandu now, Bhaktapur is its undisputed home. Considered to be the best preserved and most popular place to visit among tourists, there are many shops in and around durbar square that sells King Yoghurt. It's just a plain and sort of normal yoghurt that just happens to taste majestic indeed. Walk into one of many shops and take a taste of it. JuJu dhau also has a long history of the Durbar Square.
JuJu Dhau, the "King of Yogurt" can be found in Bhaktapur.
Duttatraya Khaja Ghar:
Named after the public square. A properly local style of restaurant, a small canteen, the most common kind. When a place sells local food, for local people in local manners, chances are that hygiene standard could also be of a local standard. If you don't mind hygiene standard of the canteen type of small diners seen everywhere in Nepal, its game on for you. The specialty of the house: Muttons dishes but all from uncastrated goats. If you have never tasted what such meats tastes like, you have your chance. A Most popular dish is "Masu-Chiura" which directly translates to Meat and Beaten rice. The meat dish is a common form of meat curry infused with a combination of spices in the thin broth. Served with plain beaten rice; they are meant to be combined together. The overwhelming stench is so powerful, the aftertaste could remain with you for a couple of days. A hanging taste of testosterone is surely an extreme food adventure for the uninitiated.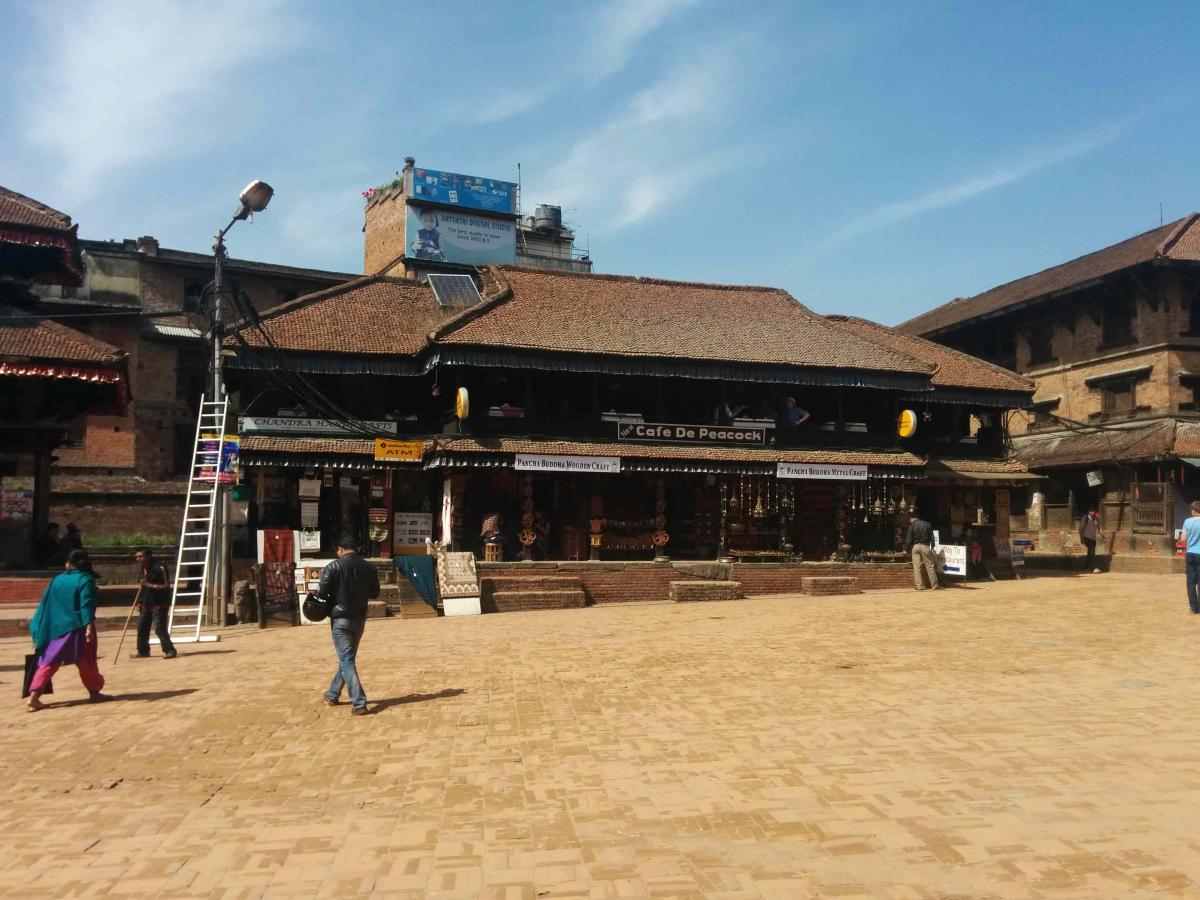 Datrataya square in Bhaktapur, Nepal.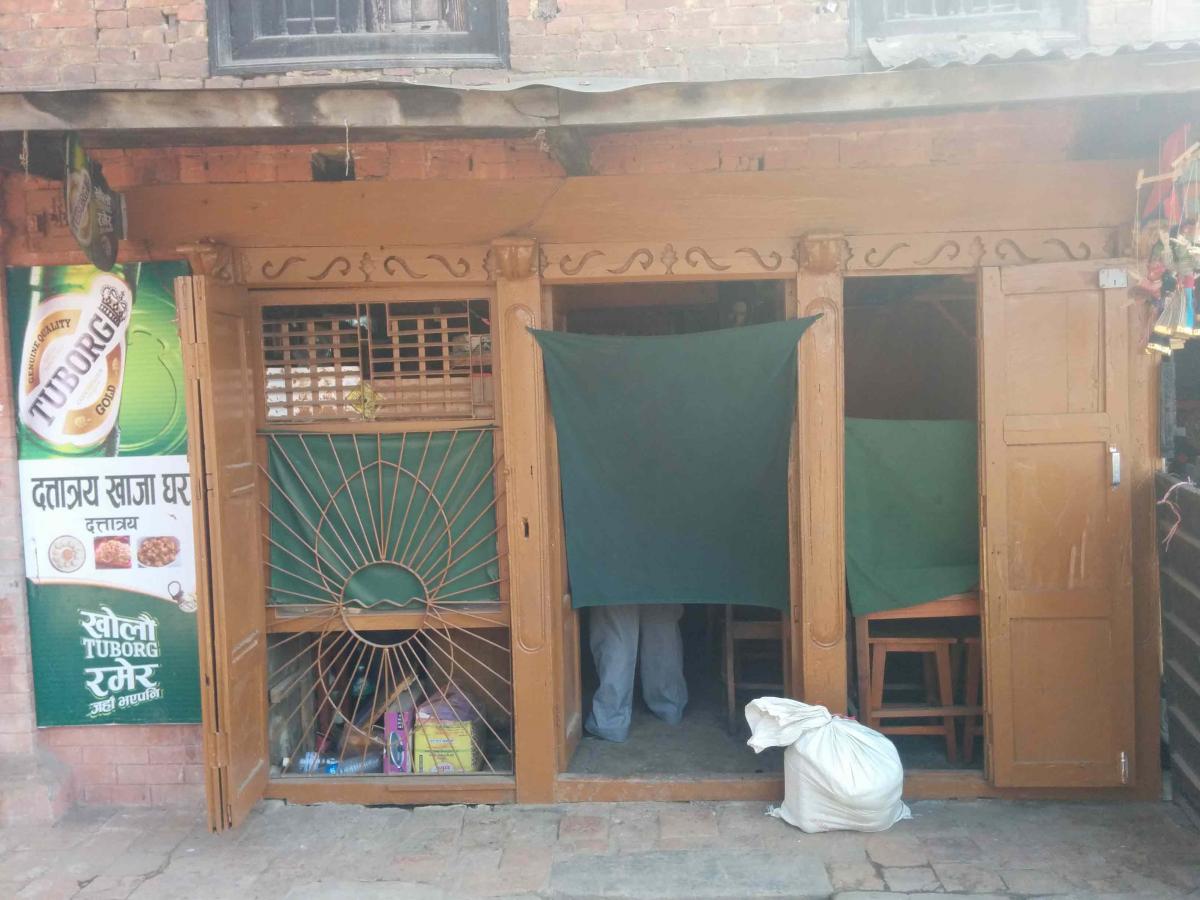 Datrataya khaja ghar, Bhaktapur, Nepal.
Honacha:
This place is as local as it can get and also the most accessible one in the list for tourists. Located visibly in Patan Durbar Square, this could easily be the oldest bistro/tavern not just in Kathmandu valley but also in Nepal. Although no official record of its establishment exists (hell!! the department of commerce could very well be younger than this place), it is claimed to be just over 90 years old. To citizens of Kathmandu, the restaurant has become synonymous with some of the classic but common Newari dishes the places specialises in, namely: Bara, Piro Aalu and Chyang. Bara is a flat bread like sauteed dish while Piro Alu translated directly to Spicy Potato is made of boiled and then lightly fried small potatoes with gravy infused primarily with black peppers. Chyang, of course, is white coloured rice beer. A combo of three is the iconic and most popular demand at the place. It keeps its menu extremely limited and its long history says, it's justifiably so.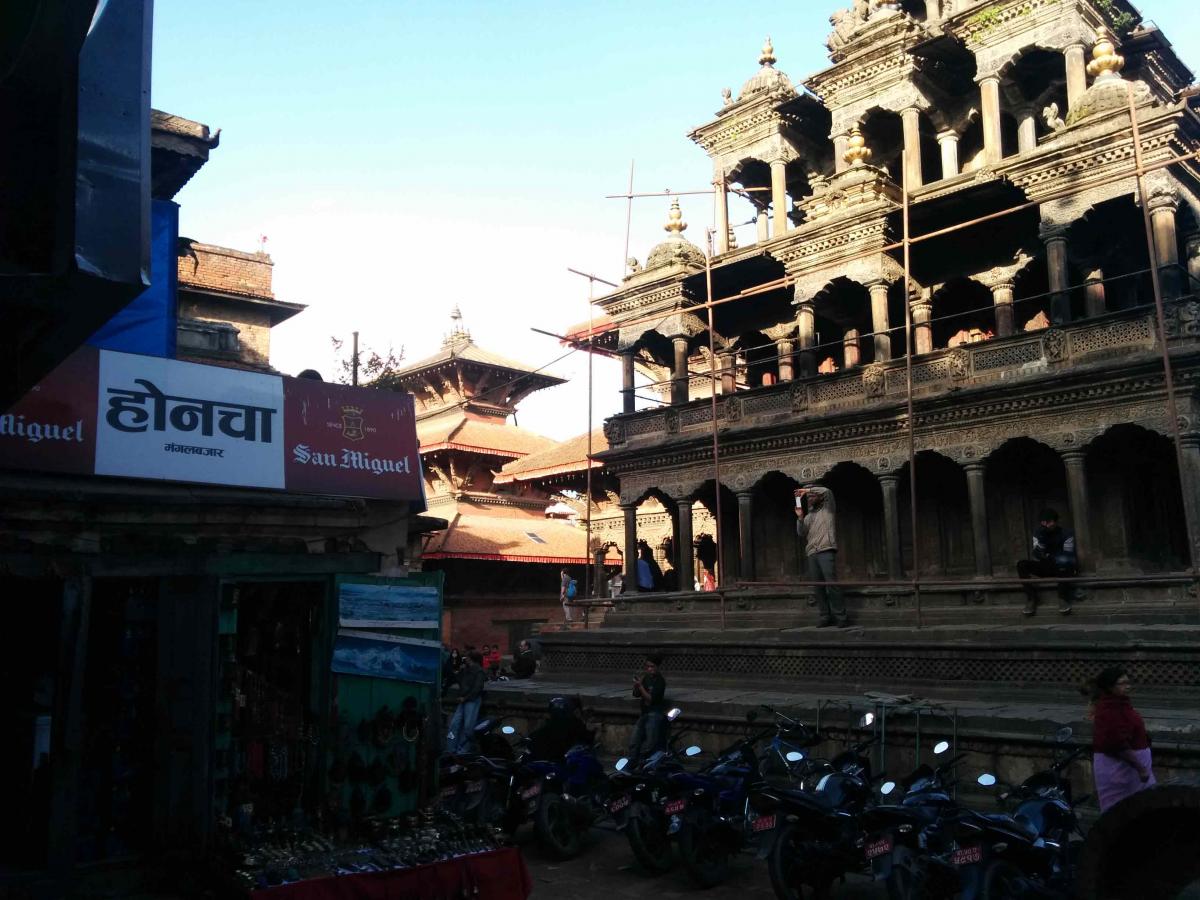 Honacha and Krishna Mandir.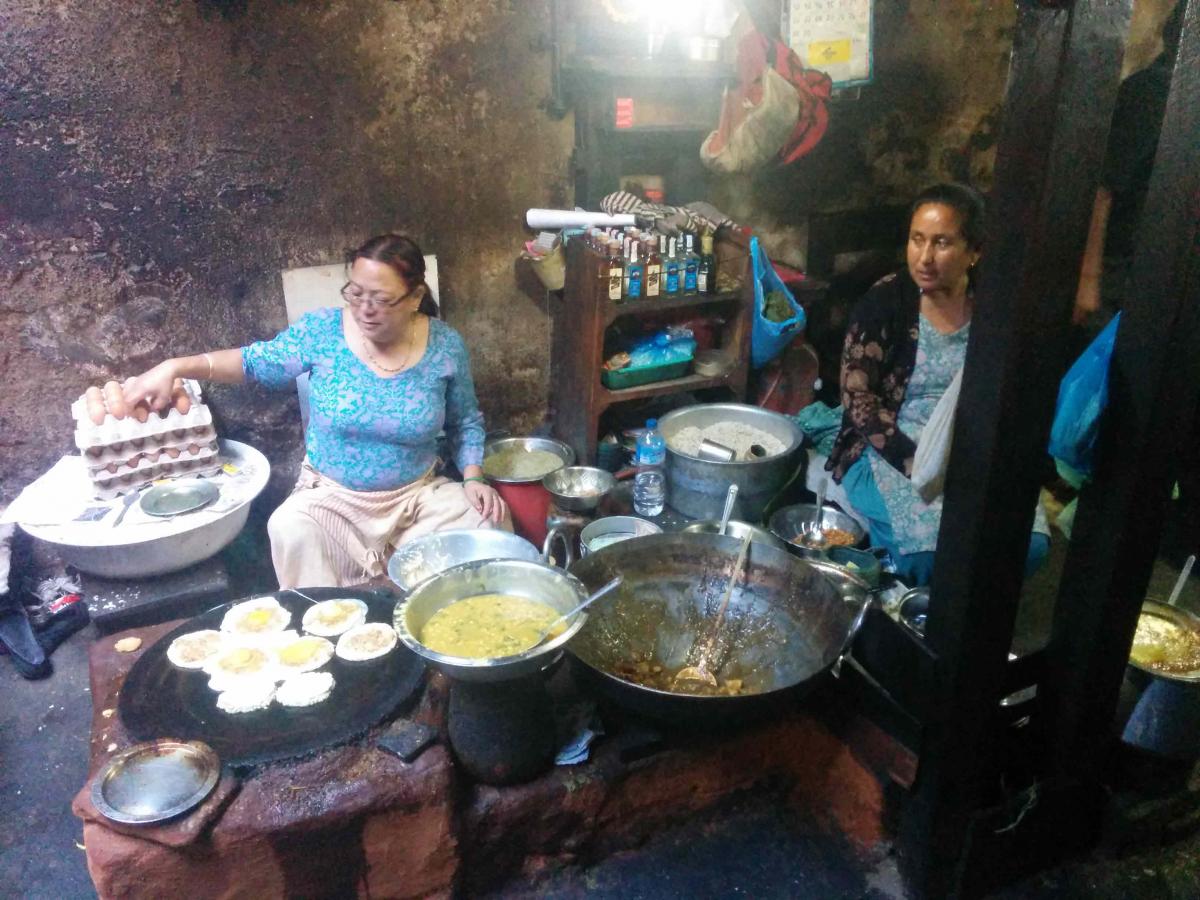 The cooking space inside of Honacha. What else did you expect from a local place?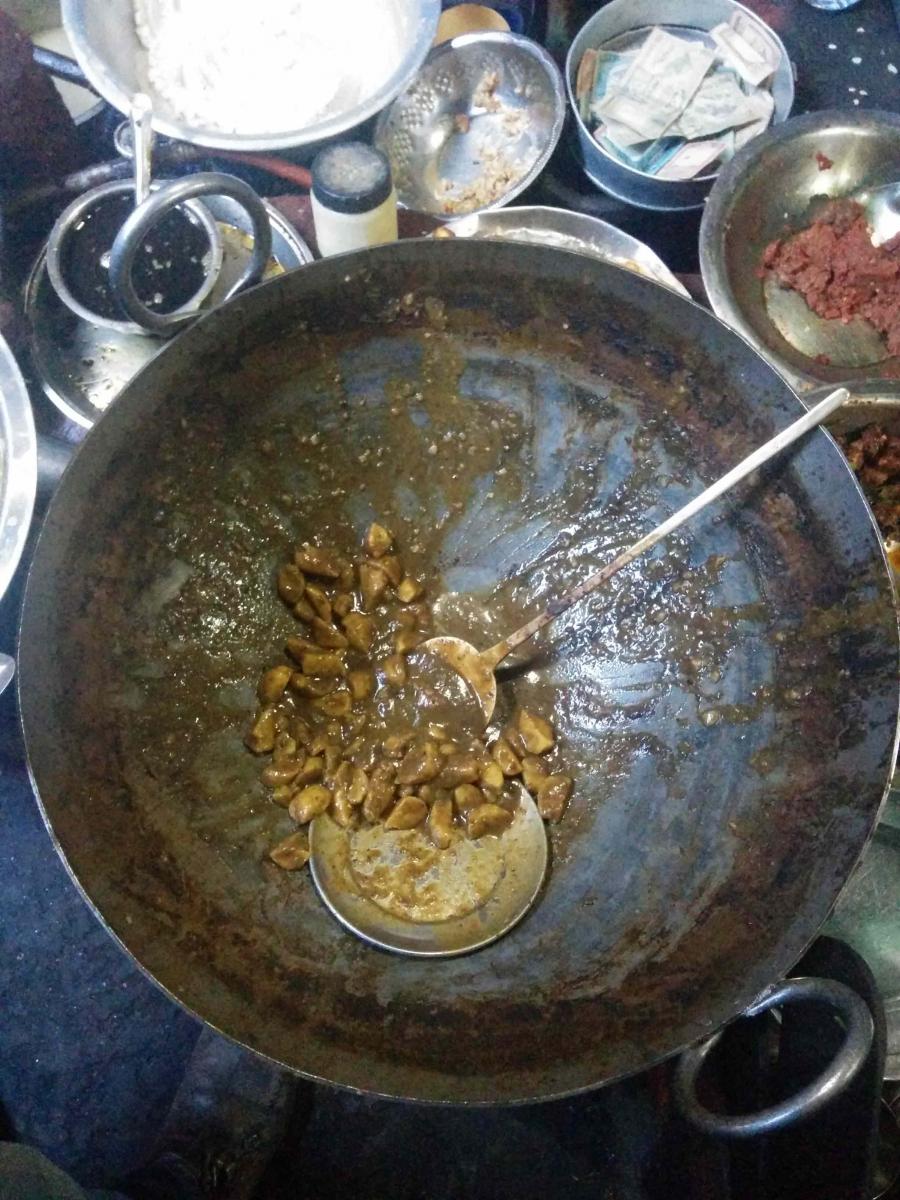 Piro Alu or Chilly Potato in Honacha. One of its signature local food.
Newa Lahana:
The term loosely means 'Newari Civilisation' and it is making its best attempts to preserve at least the culinary aspect of ancient Newari civilisation, probably the richest of all civilisations in the history of Nepal. The restaurant too is a community run; from chefs to waitresses are locals giving a completely unique ambience.
So many authentic and lesser known dishes are in the menu, an attraction in itself. Stereotypical newari dishes found commonly all over Nepal are prepared better here and hence tastes better. Try Choela (heavily spiced boiled & barbecued buffalo meat) or even our current-day unofficial national dish MoMo, are so much better than those of countless places in Nepal. Three distinct varieties of Chyang (rice beer) are known to be available only in Lahana; most Nepalis are unaware there three type even exist at all. Lahana offers forgotten dishes like Jhuku, a blood sausage so forgotten that people believed sausages are fully western.
If you happen to be a culinary adventurer, this place will make you happy. You can test your limits by trying things like Sapumicha (sauteed bone marrow stuffed tripe), Tisyo (steamed and spiced bone marrow) , Nyapu (steamed buffalo brain), Thalthale (buffalo skin melted to jello like consistency). If these things don't scare you then there are lot more other dishes to explore. Beware!! items in the menu can surprise you but rest assured they will taste great. There's rocket fuel available too if you are in the mood for intensely strong liquor.
All in all, this is a place worth a visit even if you don't intend to try anything from the menu. The location, the view, the seating arrangements, the ambience, the town and locals indulging themselves in great food make this a must visit. A sightseeing of Kirtipur – one of the best preserved Newari town can be combined with a lunch there. There are lots of dishes that are completely compatible with western palates. If you don't feel adventurous and want to start with something familiar, start with local version of pizza, Chatamari, they are made with rice flour dough.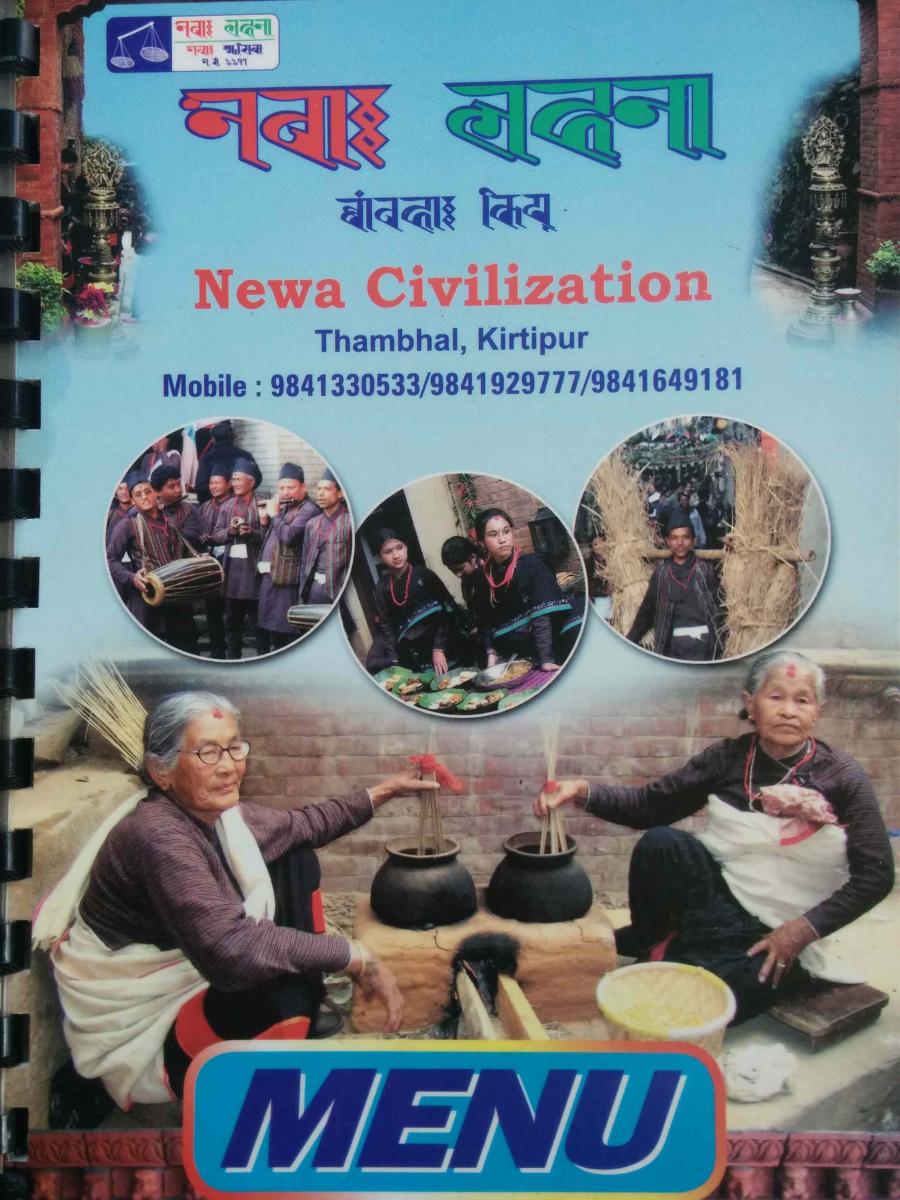 Menu at Newa Lahana, Kirtipur
A plate of fried potato at Newa Lahana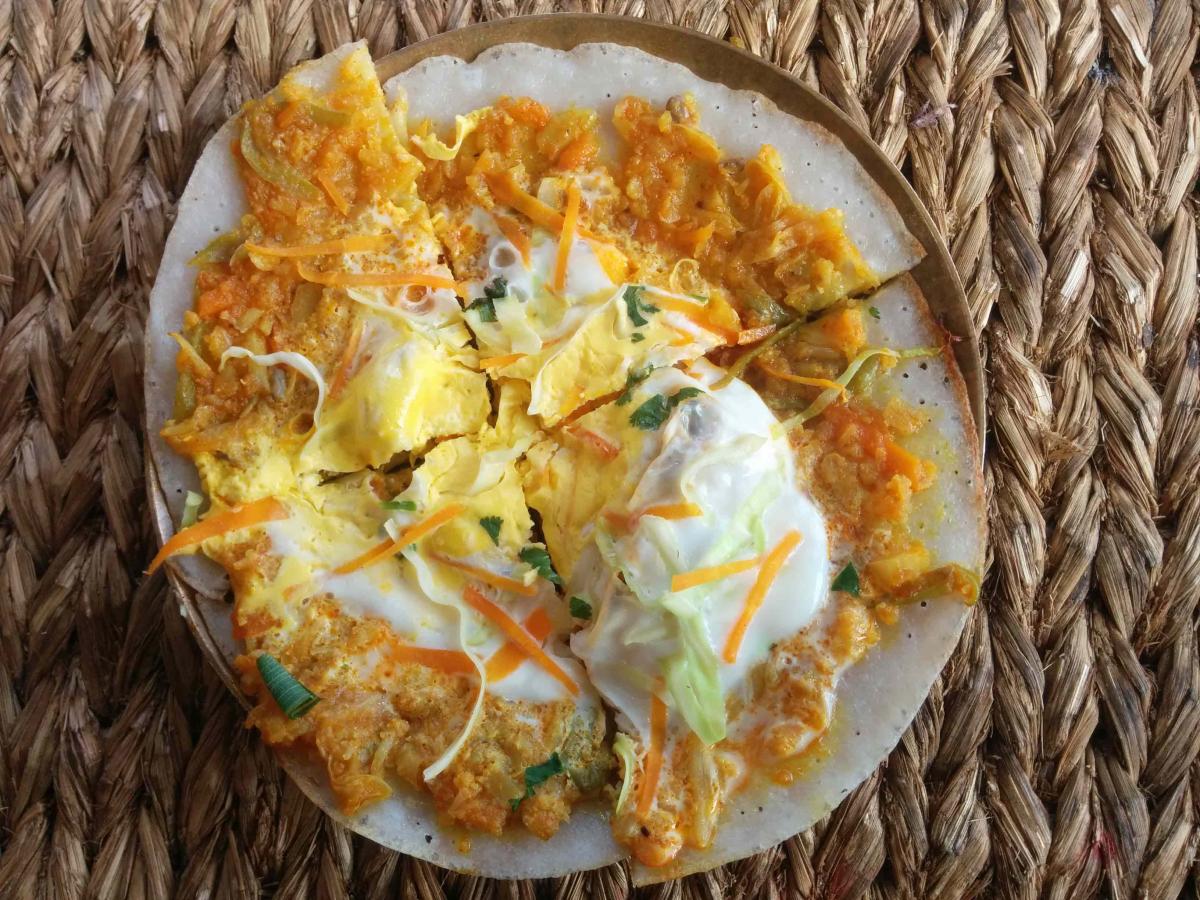 Chatamari or Nepali pizza.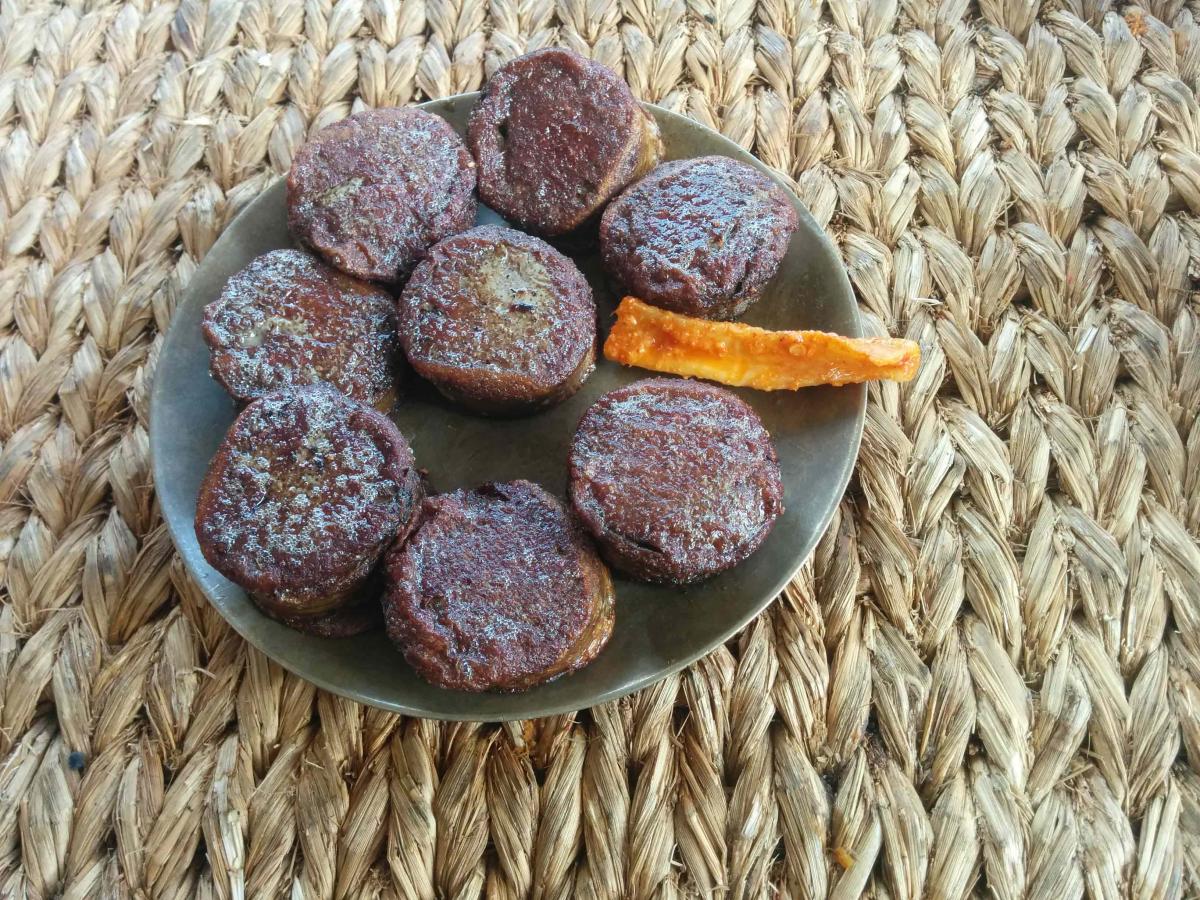 Jhuku, a blood sausage.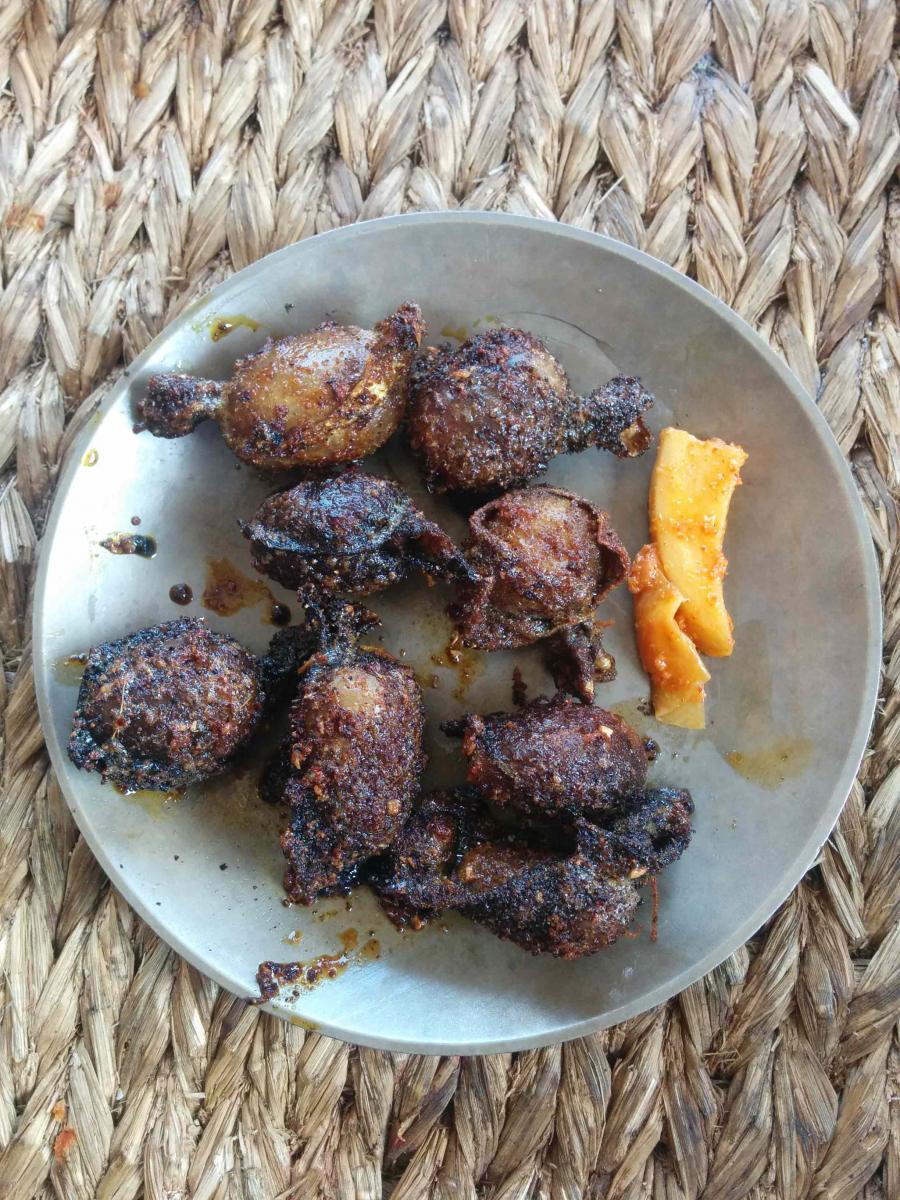 Sapumicha (sauteed bone marrow stuffed tripe)
3 types of Chyang, Buff Choila and Piro Alu
Ranjana Soda
It's just a set of flavoured carbonated water that has now established itself as one of the most loved soft drinks. Soda is made and bottled in an old-fashioned way, with hand operated machines and old-fashioned bottles that have long gone extinct from not just western but also from eastern cities. Located in the commercial heart of Kathmandu city, just beside the most popular cinema of its day, Ranjana. The soda outlet, or stall to more accurate in representation, has been in existence since the sixties. Sealed by a marble ball pushed upward by internal pressure generated by the gas, it opens with a pop sound. Available flavours range from lemon, mango, orange, cola, watermelon, lychee, and so on. The soda is mixed with small amount of lime and black rock salt, it has an iconic taste of its own. Soda drinks have come a long way from the sixties, but it still rocks in Kathmandu. The iconic shop is in Ranjana Galli, New Road, but lots of other shops have this too.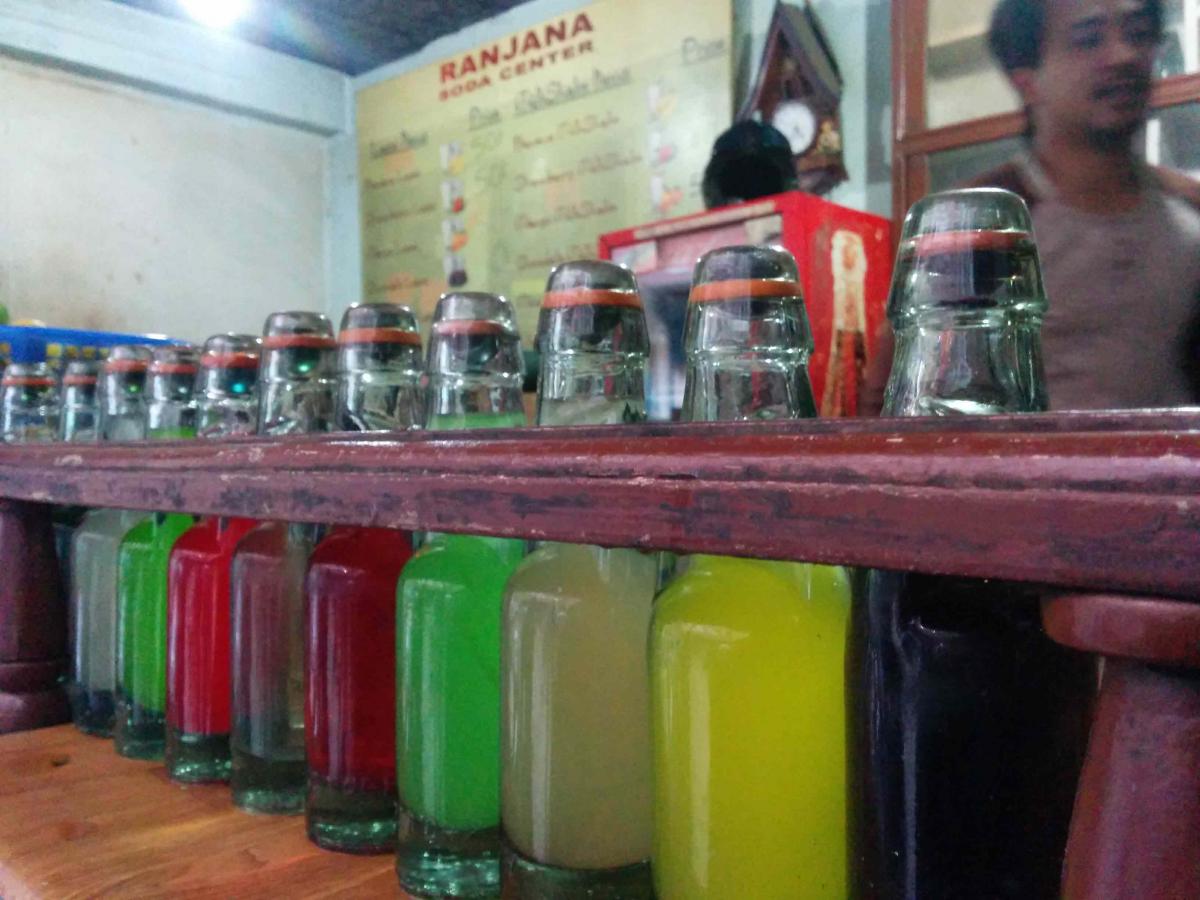 Soda in Ranjana Galli, Newroad.