Talking about the area of Nepal, it is 147,181 sq km, which is 0.03 % of the total land area of the earth and 0.3% of the total land area of Asia. The land area covered by Nepal is really small. What are the chances of finding so much diversity in such a confined space? The chances are great. I am talking about diversity in every sector; diversity in terms of food, people, landscapes, forests etc. Considering the fact that Nepal has a wide array of forests from tropical to Alpine, the wildlife in Nepal blossoms quite prominently. Let's look at the best 3 flora and fauna Nepal has to offer:
Mr. Been "A little word of wisdom before you start with the reading. Don't imagine yourself as Mowgli playing with wild animals in the thick forests just yet. That only happens in books. In reality if you a see a tiger or a bear in the wild chances are they will probably hurt you. But hey, atleast you earn bragging rights of seeing wildlife out in the wild itself. That is, if you live to tell the tale."
Fauna
1. Snow Leopards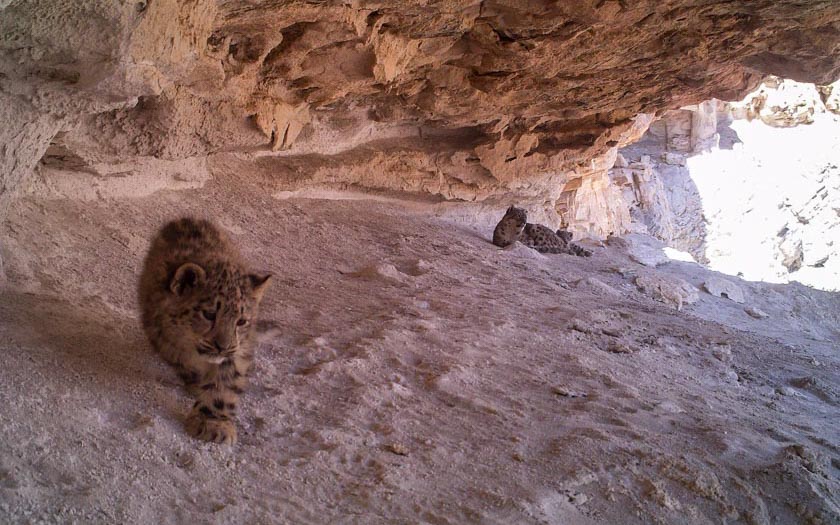 In terms of wildlife Nepal has some of the best to offer. Let's start "high above in the Himalayas" (Imagine Sir David Attenborough narrating that). The elusive snow leopards are a perfect jewel to the beautiful Himalayas. If you ever see this beautiful creature consider yourself blessed as they are very rare and only the very lucky ones get to catch a glimpse of this magical creature. They are also highly endangered and are in very small number. One of them however made it to the Kung Fu Panda movie.
Nepal is thought to harbour 300-500 snow leopards and is considered an important country from the viewpoint of saving these magical creatures.
Jane Knowall "If you do plan a trek specifically in hopes of seeing a snow leopard then Annapurna conservation area and Kanchenjunga conservation area are the best two spots. The best two spots for really lucky and patient people."
2. One-horned Rhinoceros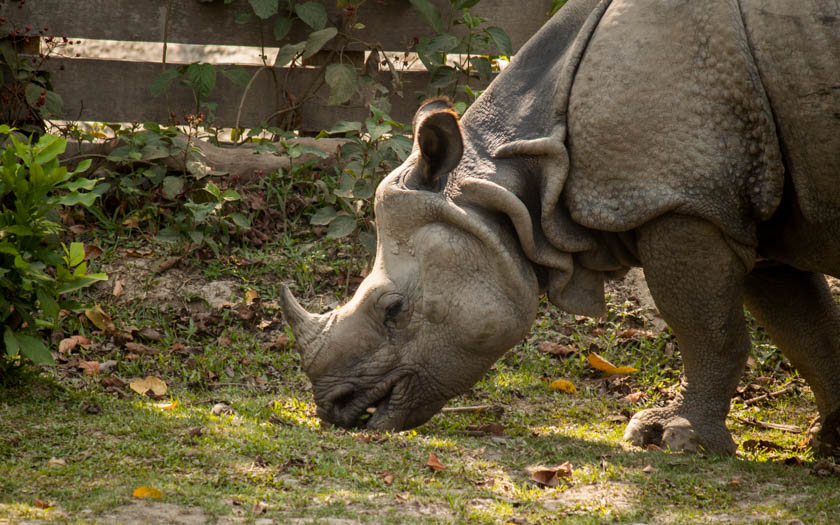 One-horned Rhinoceros are quite a celebrity in Nepal. It helps considering the fact that they fall under the endangered animals list. But it's not just that, the sheer beauty of these animals is hard to ignore. They feature prominently in animated tv ads for cement factories, bank etc. Also the Nepalese national cricket team are symbolically called the Rhinos and the cricket association of Nepal (CAAN)  has got a rhino as its emblem. The first Prime minister of Nepal under the newly adopted Constitution of Nepal, 2015, K.P Oli has made special efforts to mention how special these animals are. Here's what he said in his own words, "Rhinos are not born in America, Europe or Australia. To see a Rhino he has to come to Nepal. If a man hasn't seen a rhino in his life, what has he seen? half of his life is wasted. What has he done earning money, does he eat dollar, euro?". The Gaida speech is quite famous amongst Nepalese. By the way, Rhinos are called Gaida in Nepali.
Rhinos are targeted by the poachers for their horns which are believed to have medicinal qualities. It is believed to cure snakebites, hallucinations, typhoid, food poisoning and many other disorders. Also, these horny rhinos are commonly believed to be prescribed as an aphrodisiac. The population of these one-horned rhinos was alarmingly low in the early 20th century. There were about only 600 individuals surviving in the wild. Thanks to rigorous conservation efforts the number has grown considerably. In fact, as of 2015 there were 645 greater one-horned rhinos in the Terai arc landscape of Nepal alone.
Nepalese relate so well to the greater one-horned Rhinos being Nepali that many argued Rhinos should replace the Holy cow as the national animal of Nepal. That did not happen however, Nepalese don't want the beef eating population to increase, if that population even exists. 
Jane Knowall "You are here in Nepal to see these one horned Rhinos? The best place is Royal Chitwan National park. There you will get to see these armoured beasts even outside the jungles. Just a little luck is enough to see these beautiful animals as opposed to the elusive Snow Leopards which requires a lot more luck and patience."
3. Himalayan Monal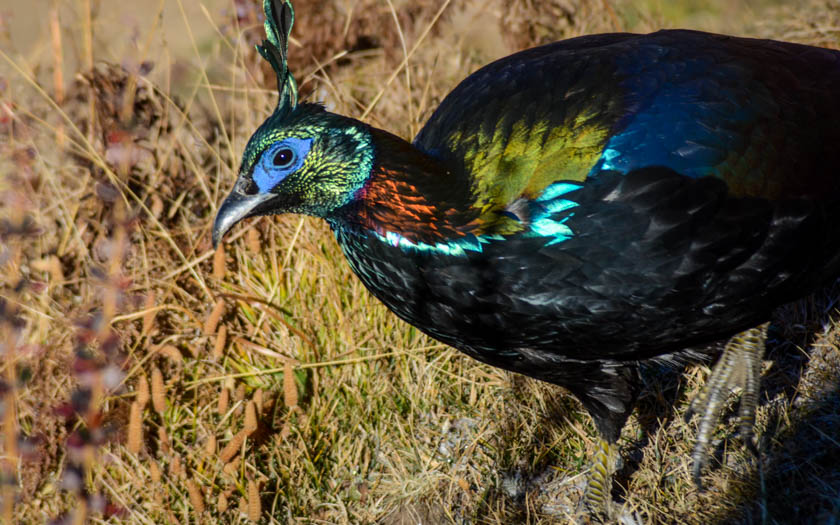 More famously known as Danfe in Nepali, this guy is the dandiest of the high altitude birds with its iridescent plumage. Among the 876 species of birds found in Nepal this colourful bird takes the top position. It is also the national bird of Nepal and loves to fill the morning air with its far carrying high pitched whistle. Like other high altitude birds, they are easier to see during the autumn and winter as they descend to lower altitudes then and also go about in large parties.
It might come as a surprise to you when I say the colorful birds are the males. Females are brown in colour and in front of their male counterparts are not that attractive. While Papua New Guinea has their birds of paradise Nepal has the himalayan pheasants. And Danfe definitely has a superstar status amongst them.  
 Jane Knowall "Annapurna region and Everest region are the best places to see this colourful bird. Make sure you have a good camera and fire away! You will have to get pretty high however, these birds will only be available after the 3300 m mark and upto altitudes of 4570 m."
Flora
1.Rhododendron arboreum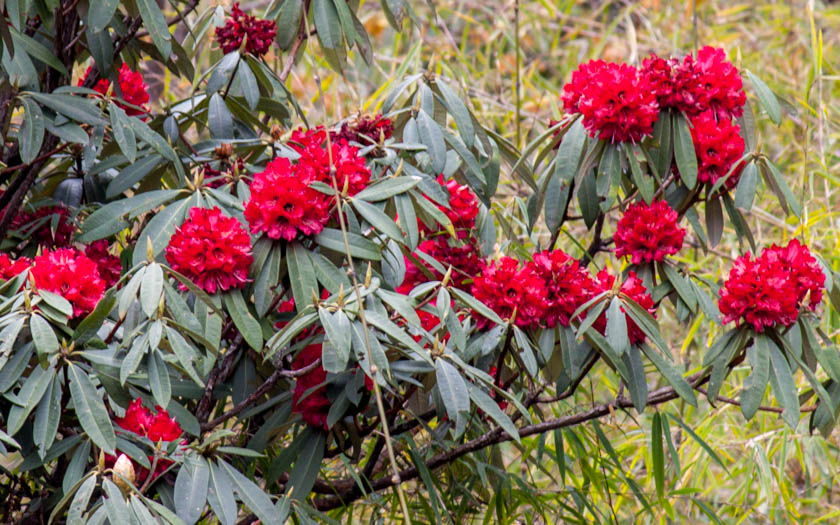 Rhododendron or more commonly known in Nepali as Laliguras is the national flower of Nepal. It is a proper himalayan flower found at altitudes of 1,500-3,600 m. These flowers have the ability to brighten up the himalayas during spring with their bright crimson blossoms. What many people don't know is that they have white and pink variations too. Besides just looking pretty they are important medicinal plants as well. The petals are eaten raw to cure menstrual disorders and the bark juice is prescribed in diarrhea and dysentery. This particular species of rhododendron is sometimes confused with the Rhododendron Barbatum. The Barbatums are the poisonous bunch. This plant is the main reason why the springtime himalayan honey can be toxic. The giant honey bees consume the nectars from the Barbatums and make honey which are highly potent and intoxicating. While such honey is seldom fatal, they can result in dizziness and nausea and in extreme case temporary failure of motor coordination. I think you can guess why this particular species of Rhododendron is not the national flower of Nepal and Arboreum is. Rhododendrons also make for a good wine. Not many people know this but it is made into wine by crushing the flower along with yeast, millet or rice and cooking it in a big pot.

2. Cannabis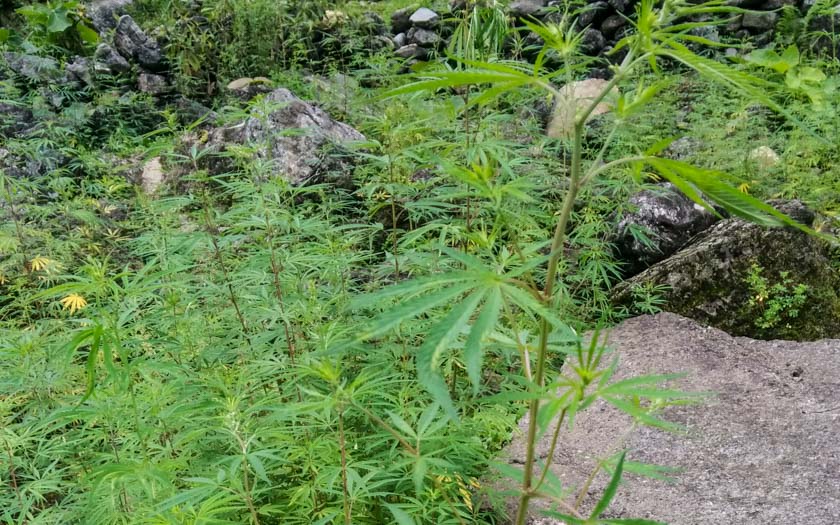 More commonly known as the plant that produces marijuana. I don't smoke myself but there's just so much attachment of this plant with Nepal that it was hard for me to ignore it. The hippie era that started in 1960's has much to do with introducing Nepal as a haven for marijuana or like as we like to call it 'Ganja'. In those times marijuana was legal in Nepal only later to be banned in 1976 largely due to the pressure from the United States. The plant itself is green and can be seen in many places in Nepal. The plant doesn't require special temperature and environment to grow so we can see them growing out in the wild. And the government is least concerned about clearing these cannabis fields. Nowadays we can see many shops manufacturing hemp clothes and accessories too. There is even a separate festival dedicated to smoking pot. Just kidding, the 'Shivaratri' festival is dedicated to the Hindu god Shiva who was a pothead. So indirectly speaking it is somehow a pot smoking festival. In Pashupatinath temple Sadhus, babas (priests) from India and Nepal gather and smoke pot freely. If you are interested in Lord Shiva and his smoking habit you might like our blog "How did a Pothead Shiva come to be a Hindu God?"        
From the hippy era to this day Nepal's reputation as a cannabis hotspot is still high. Although not as it used to be.  
3. Himalayan Edelweiss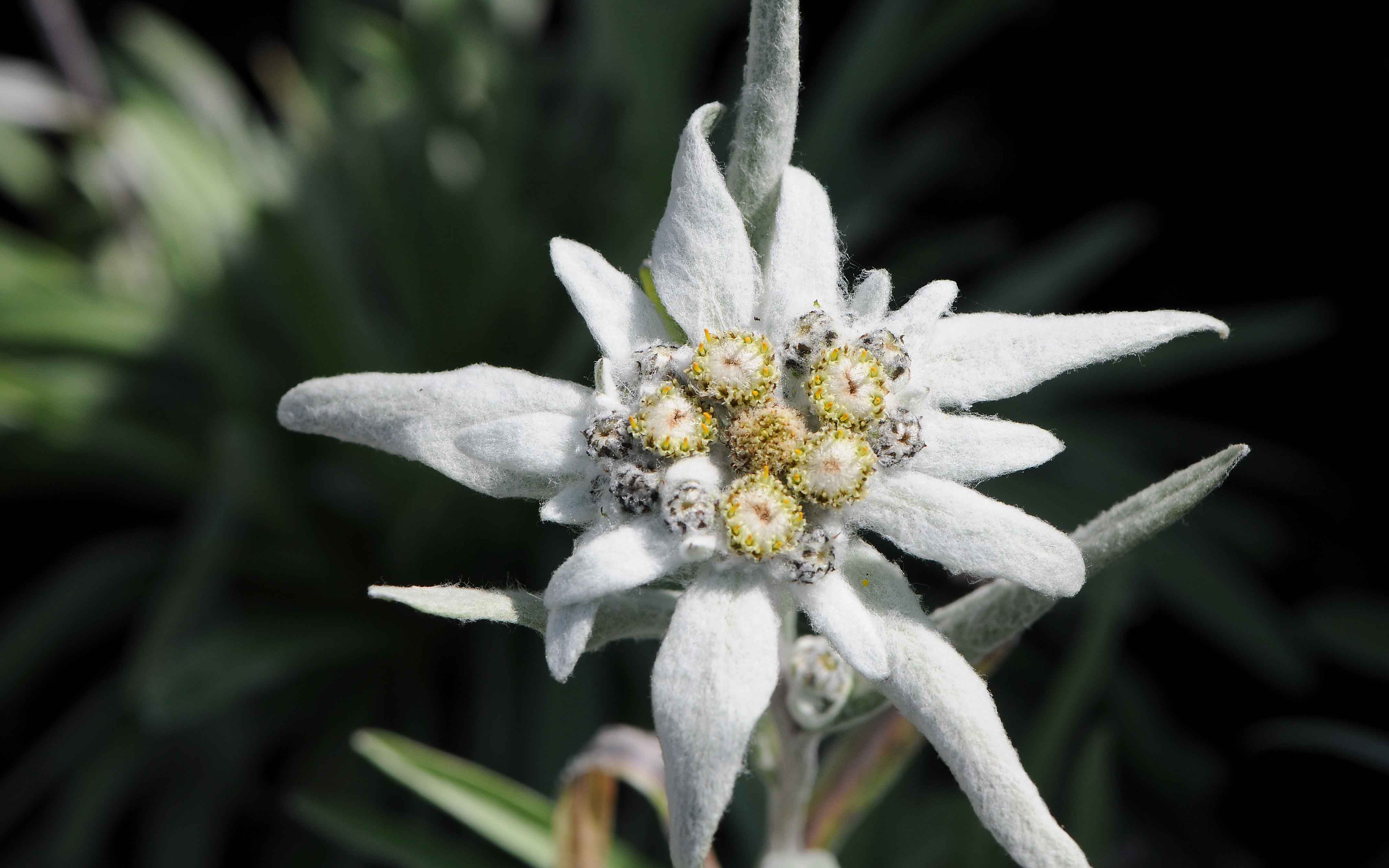 These guys bloom all through the monsoon and sometimes till October. The white wooly petals are actually leaves and it is only the globular heads at the centre that are the actual flowers. A close relative of this plant is the symbol of alpinism in Europe. It also features prominently in folklore, military insignia and coins in many European countries. Which is why many Europeans are surprised and happy to see these plants in Nepal. You will have to climb pretty high as you will not see these flowers until and unless you cross the 3000 m mark. If I may suggest, Everest base camp trek is the best way to see these plants. Check out our Everest base camp app which might be of great help and will tell you when you will be seeing the Edelweiss exactly.
The above three were the best of Flora and fauna but don't get confused Nepal has a lot more to offer. The Musk deers, Himalayan tahrs, Danfe all feature in the himalayas and further add to the charm of the Himalayas. Even Yetis, if you can consider them animals or prove their existence are an attraction in the mountains. For now, keep reading all the myths associated with it. Himalayas is also where the exotic wild plants are. Somalata which is nothing more than just a small weed like plant in the Himalayan settlements is treated with great respect by Shamans and priests. It is from where the Soma Ras, a recreational hallucinogen, is extracted. It is said that the drink brings immortality and divinity to the drinker. So much so it is regarded as an elixir of Life.
Jane Knowall "If you are a bird enthusiast might I mention crane migration in the Kali Gandaki river gorge is a sight not to be missed. It can be viewed from Jomsom and the surrounding places. Also, raptor migration is a beautiful sight that can be witnessed from Thulakharka which is near Dhampus in the Kaski district,  Western region of Nepal. Sometimes these beautiful birds fly at eye level!"
Nepal has many national parks and hunting reserves to help protect the wildlife. Some of the more famous and important ones are Chitwan National park, Annapurna conservation area, Langtang National park, Everest National park. These are there largely to conserve the endangered animals of Nepal. Red pandas, Bengal tigers, snow leopards, Musk deers, one horned rhinoceros etc are all endangered largely due to poaching and hunting of these beautiful animals. The poor status of tigers can largely be blamed to the British and Nepalese royals in the early and mid 1900s for there used to be organized royal hunting trips. The most famous one has to be the royal hunt that included Queen Elizabeth II and Prince Phillip in 1961 AD.