There are many religions in Nepal. But the main religion and the one which is followed most widely is Hinduism. The second most followed is Buddhism. There are other religions as well like Christianity, Islam, Kiratism etc. But it goes without saying that festivals which belong to Hinduism and Buddhism are celebrated more widely throughout Nepal. But there are many other festivals that do not belong to Hinduism but is celebrated with great enthusiasm in particular parts of Nepal. Here are the 3 best festivals of Nepal:  
1. Indra Jatra
Indra, according to the hindu scriptures is the king of heaven. Indra Jatra is a street festival marked by dance of dieties and demons (masked men), display of sacred images in honor of Indra. After all a king has to be entertained. Alongside this festival is another festival by the name of Kumari Jatra; a chariot procession of the living goddess Kumari.
The festival starts with the erection of the Yosin or Linga, a pole from which banner of Indra is unfurled. Family members remember the deceased in the past year and offer fruits and other edible items.
Indra Jatra is the only time when Shwet Bhairav and Akash Bhairav are displayed to the public. Shwet Bhairav in a way has become a pop culture icon featuring in numerous merchandises. The angry face of Shwet Bhairav must be one of the favourite for many designers. One famous custom is where alcohol is poured through a pipe protruding out of the Bhairav's mouth and devotees tussle to get a drop of it. Not to get drunk but to receive blessings in form of alcohol, although getting drunk is often a by product. Akash Bhairav is the one in Indra Chowk not in Basantapur Durbar Square. Another interesting custom is the Pulu Kisi dance. Kisi in Newari language means an elephant. Pulu Kisi is believed to be the carrier of Indra himself. Young lads come under a clothed white elephant structure and dance through the streets of Kathmandu.
Indra Jatra is quite a happening festival. Sometimes a little too happening. Nowadays this festival has been picking up news for brawls and ill manners specially because of drunk youngsters. So you might wanna be a bit careful while witnessing Indra Jatra. Jatra means festival in Nepali by the way.
Indrajatra is celebrated for a period of 8 days starting from the 12th day of bright fortnight (Sukla Paksha) of the month Yanlā (corresponds to September) in the Nepal Sambat calendar. If you are looking forward for this festival then here are the dates for the coming three years:
2016: September 14, Wednesday
2017: October 2, Monday
2018: September 21, Friday
*The dates may vary by a day or two.
Head straight over to Basantapur Durbar Square and the surrounding areas to witness this festival
2. Yartung
Yartung is celebrated high up in the himalayas by Buddhist communities. Just when the monsoon ends and the skies start opening up revealing the blue beauty within is when the Yartung is celebrated. Traditionally the festival was held in celebration of return of horses and other livestocks from high pastures. It is the biggest festival in the trans himalayan region and rightly so. Yartung is celebrated with great energy in the Mustang district. Yartung is basically 4 days of debauchery and daredevilry. It is characterized by drinking, merrymaking, archery contest and horse race. The horse race however is the main attraction of the festival. Riders from surrounding villages gather and take part in horse races, one of which requires the riders to pick up a scarf with money inside it from the ground while the horse gallops at crazy speeds. It is a sight to behold. This is the time when the riders showcase their strength and horse riding skills. Foreigners love this event and surround the area for photographs. There are some great snaps of this festival like the one below.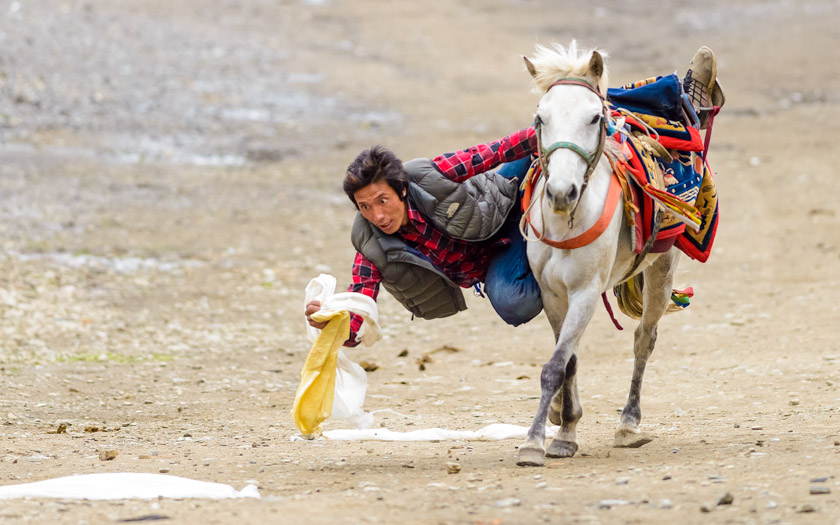 Yartung starts from the kingdom of Lo Manthang. The kings and the villagers there all gather to celebrate this festival.  There are other festivals like Yak blood drinking festival and Mani Rimdu all celebrated with great vigour by the himalayan people. But Yartung takes the cake.
Lawrence of Himalayas "If you wish to witness this festival then here are the dates for the next five years: 18 August, 2016; 6 September, 2017; 26 August 2018; 15 August 2019 and 2 September, 2020. The dates may differ by a day or two. Head over to Mustang and witness this awesome festival in its entirety. Also make sure you have good stamina for lots of booze."
3. Holi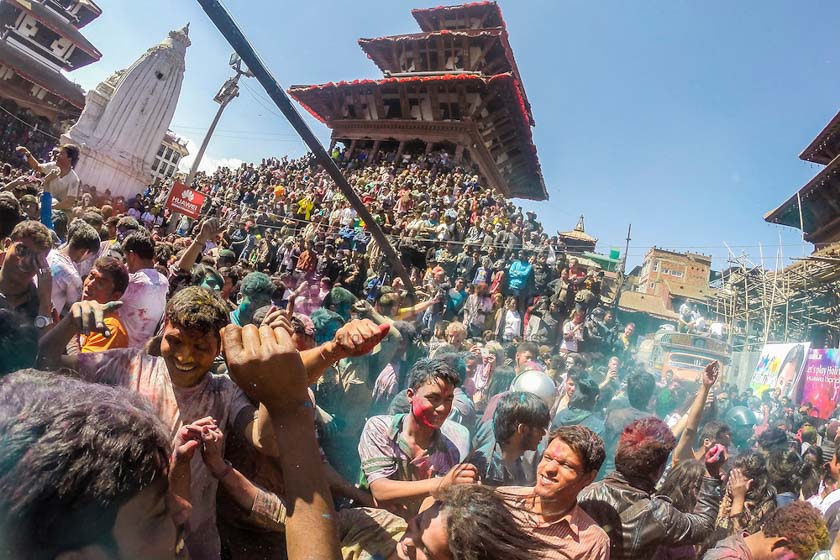 Who doesn't love some colour in their life? Holi obliges everybody who loves color as it is the festival of colours. Yet another hindu festival in the list and definitely the most entertaining one. Colors and water are splashed onto other people. This festival is all about having fun with colors and water, that's it!
It does have historical significance. According to Hindu scriptures there was a king by the name of Hiranyakashyapu who was given a boon that he was indestructible. He became increasingly arrogant and began to think himself as god. His son, Prahlada however did not worship him and instead was devotee of Lord Vishnu. The king wanted to kill his own son but his previous attempts were thwarted by Praladh's believe in Lord Vishnu. So the king tricked pralaadh into sitting with the king's sister, Holika in a fire pyre. Holika was immune to fire but however this time around she burned and the boy survived. Holi is named after Holika and people play with colours to celebrate her death.    
It is somewhat like La Tomatina of spain where people get crazy with tomatoes. Here in Nepal people go crazy on the streets playing with water and colors; Holi in Terai belt is particularly fun. Nowadays, in city areas events are held at different locations and people come together to celebrate. Should you be in Nepal during the Holi you will definitely not want to miss this one. A reminder however, if you ever see some events that organize some sort of small La Tomatina then don't even bother. Let's hear Funny guy's experience last year. 
Mr. Been "Last year I went to this tomato festival on the day of Holi. These folks were trying to copy the La Tomatina festival of Spain. I came out absolutely infuriated! The tomatoes used were rotten tomatoes and I was stinking like anything. It seems that the organizers bought tons of rotten tomatoes at really cheap rate and then we were stupid enough to play with those stinky tomatoes. You have been warned!"
Lawrence of Himalayas "Also be careful of the water balloons they throw at you. It is not always filled with clean water. Let me rephrase, rarely filled with clean water. Kids these day!"