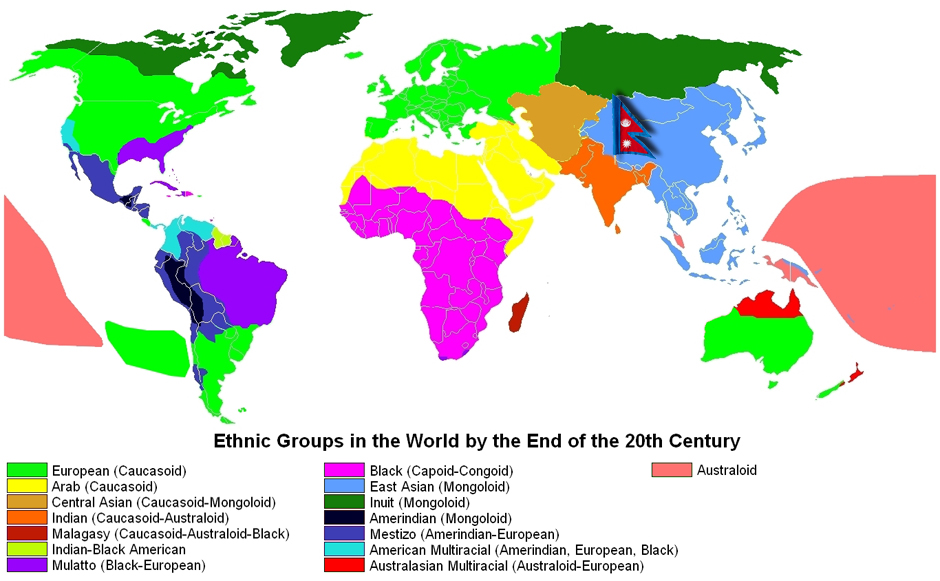 There is no single way to be a Nepali. Ethnically, Nepal has seen migrations of the Austronesian people, that of the Indo-Aryan Caucasoids and has also been at the crossroad of two East Asian ethnic groups. As such, there are so many faces to Nepal that sometimes it is hard to keep track of them all at times.
Ethnically, Nepal can roughly be divided into the following broad ethnic groups:
Tibetan speaking people (Sherpas,

Lobas

, Dolpali, Manangba...) of the high mountains




A tentative migration pattern of these people is from the Tibetan region to the north and some like the Sherpas have settled here in Nepal as recent as the 15th century. As such, they are Buddhist, big fans of Guru Rimpoche and generally a very open and accepting people.

Tibeto-Burmese people (Rai, Limbu, Tamang, Gurung, Magar, Thakali...) of the mid hills


These guys are presumed to have come down to the southern side of the Himalayas from the north Burmese gorges and then spread westwards. While along the way they have been culturally influenced by other groups. However, a common cultural thread that runs through most of these groups is ancestral worship and animism.

For example,

while Gurungs have mostly adopted the Hindu religion and Thakalis are Buddhists, both still maintain strong animistic ties in the form of ancestor worship.

Khas (Brahmins, Chhetris, Kami...) people of the mid hills


These people came to the Nepal from the west and some of its subgroups are big on claiming lineage from the princely clans of India. They are all Hindus now and are well armed with the whole caste system that

come

with Hinduism. They also happen to be the most powerful group in Nepal.

Indo-Aryan People (Tharus, Yadav, Teli, Chamar, Kushwaha...) of the lowlands.
The origins and migrations of this rather mixed bag group of people are very unclear. Some surprising results are found in this paper which shows how some of the Tharu people of lowlands, traditionally assumed to be pure-bred Indo-Aryan have a very high Tibetan component in their genes. 
Genetics aside, the conventional order of things is that these guys are Hindu, speak Indo-European languages, have pointy noses and are dark skinned.