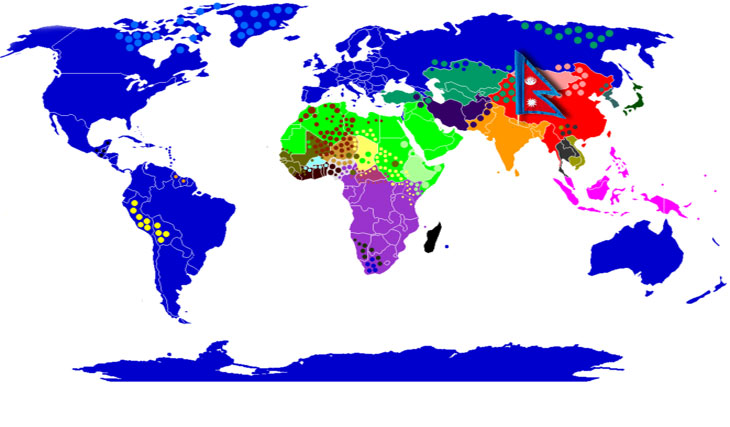 Even though Nepal is at the crossroads of the Indian and Sino-Tibetan civilizations, there is limited influence from the Sino-Tibetan side. Also, as the world is becoming much smaller and the culture more homogenous, the whole concept of a discrete civilization has started to become frivolous. Hence, we will leave the deep stuffs to the scholars and focus on the little things that define our civilizations. Also, rather than contrasting the Indian and Sino-Tibetan Civilization, it will be helpful if we first look at the western and Nepali way of doing things.
Shedding off the fear to be politically incorrect, I think it is fair enough to say that while the west values objectivity and straightforwardness, we Nepalis are a rather emotional and polite bunch. While the west measures, we feel it. While the west values individuality, we value communal feel good and conformity. While the major currency in the west is cash, here it is karma. Okay, now that went a bit too overboard, but you get the point!!
Also on a lighter note, it will perhaps be okay to say that while the west sits in the loo, we squat; while the west uses toilet paper we use our hands. Oh that water bit will make sense once you try out our food. If you use toilet paper the morning after a scrumptious Nepali meal, there is a genuine possibility that it could burn!! Also, while the west sits on chairs and eats with spoons and forks, we sit on the floor and eat with our hands. And no we don't use the same hand we use in the loo. Left is for the loo and right is for eating.
And then there is a western head nod:
And then there is our head shake:
Even though that video showed the Indian head shake, the Nepali way of doing things is very similar too.
As far as the differences between the Indian and Sino-tibetan way of doing things here in Nepal, the most important difference is perhaps the level of boisterousness between the two. Most of the sino-tibetan people who happen to inhabit the higher parts of the country are generally more lively and more open. It is also interesting to note that in this culture women have a higher place than cultures influenced by the Indian civilisation. They are also more receptive to flirting and are much more straightforward about feelings than groups influenced by the Indian civilization.
But then again please note that these are all politically incorrect generalizations. Reality maybe very different. :P